It's 'Energy Data Tuesday' here on the CEIL Blog. We have two sets of data to share with you today, both courtesy of the EIA.
The first is the State Energy Data System. The SEDS, managed by the Energy Information Administration (EIA), has recently released data for energy consumption, expenditure and production for the year 2009. The information is provided for the entire US and is also broken down by state. Visit the site to see how growth in the residential, commercial, industrial and transportation sectors' energy use increased overall US energy consumption by approximately 50 quadrillion BTUs since 1960.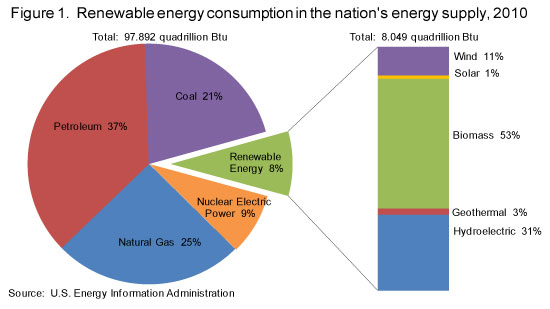 The second set of data is the newly-released Renewable Energy Consumption and Electricity Preliminary Statistics for 2010. This data reveals the changes in renewable energy consumption between 2006 and 2010 and also highlights changes occurring between 2009 and 2010.
Be sure to check out both data sets for a full picture of the changes in amount and types of energy used over the past decades – and in particular the past few years.