GovLoop, the Robertson Foundation for Government and the Association for Professional Schools of International Affairs (APSIA) recently produced, "Making Global Impact: Guide to International Jobs in Government," as a resource for prospective public servants. This blog is part of a series that highlights additional opportunities to launch a world-changing government career.
View a Copy of the Guide Below or Download the PDF
"It's the best job in the world," stated David Leong when speaking about the Foreign Service at USAID. Having served as a Foreign Service Officer for close to 30 years and currently working as the Acting Chief of Foreign Service Personnel, Leong shared with me his insights into the world of the USAID Foreign Service. Joined by Foreign Service officer and Division Chief for Policy Planning and Information Management, Theresa Tuaño, and the Chief of External Outreach and Recruitment at USAID, Thomas Davis, Leong and his colleagues also discussed best practices and tips for anyone interested in pursuing a foreign service career with USAID.
A Day in the Life of a USAID Foreign Service Officer
"Work in the field is fast-paced," Ms. Tuaño responded when I asked her to describe a day in the life of a Foreign Service officer. "You're on call 24/7 and no day is the same," she continued, explaining that being on call was not only an aspect of the job, but a means for accommodating the time differences between DC and posts abroad.
When in Washington, DC, Foreign Service officers have an important role in keeping everyone focused on field realities. As Leong observed, "By virtue of spending most of their careers overseas, Foreign Service Officers rotating back to Washington can bring a needed field perspective to the discussion as we try to develop better ways to deliver development assistance. This adds balance to the discussion and makes us able to incorporate the latest development theory in the most practical way."
The majority of a Foreign Service officer's career will be spent working at different posts abroad on one to four yearlong assignments. According to Tuaño and Leong, however, this is the best aspect of the job. As Tuaño described, "It truly is rewarding to represent the United States and to demonstrate the positive impacts of American generosity in the process."

How to Apply
The process is fairly straightforward and includes the following components:
Online application that includes the submission of a candidate's resume and cover letter. Current vacancies can be viewed at www.usaid.gov/work-usaid/careers/foreign-service.

In-person interview that typically includes a group exercise to test a candidate's interpersonal and problem-solving skills.

Medical and security clearances.
Overall, the whole process takes on average 12-18 months and is extremely competitive. In 2012, only 1-2% of applicants were hired as Foreign Service officers.
Currently, USAID is only hiring at attrition levels, meaning that the agency will be bringing on new employees at the same rate that its Foreign Service officers retire or leave for other reasons.
Other Application Routes for the USAID Foreign Service
In addition to the online application, there are other opportunities at USAID for joining the Foreign Service or for strengthening your viability as a candidate.
USAID Internships: this route allows for non-competitive conversion into the USAID Civil Service and increases an applicant's appeal as a candidate for the Foreign Service.
Presidential Management Fellows (PMF) Appointments: PMFs while appointed to positions within the USAID Civil Service, often work closely with Foreign Service officers, increasing their knowledge and expertise of development work abroad and their chances of being chosen as a candidate for the Foreign Service.
The USAID Civil Service: There are multiple avenues for getting into the USAID Civil Service such as internships, the PMF program, or through a contracting agency. Once in, however, you have the opportunity to convert to the Foreign Service. There is an application process with opportunities for conversion or work at USAID foreign posts being advertised internally for civil servants.
Work as a Contractor: As a contractor, you have opportunities to collaborate with USAID Civil and Foreign Service officers. This type of work will open doors for conversion into the Civil Service and make you a stronger contender for a position with the USAID Foreign Service.
To Learn More about the USAID Foreign Service, Check Out:
*****************
SPECIAL THANKS TO OUR PARTNERS:


Robertson Foundation for Government: Helping government meet its talent needs by identifying, educating and motivating top U.S. graduate students to pursue federal government careers in foreign policy, national security and international affairs.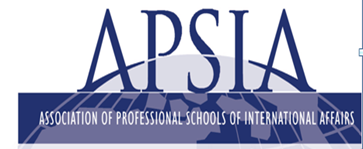 Association for Professional Schools of International Affairs: Dedicated to the improvement of professional education in international affairs and the advancement of international understanding, prosperity, peace, and security.
Related Resources
Want More GovLoop Content? Sign Up For Email Updates