GovLoop, the Robertson Foundation for Government and the Association for Professional Schools of International Affairs (APSIA) recently produced, "Making Global Impact: Guide to International Jobs in Government," as a resource for prospective public servants. This blog is part of a series that highlights additional opportunities to launch a world-changing government career.
View a Copy of the Guide Below or Download the PDF
The Acting Chief of Foreign Service Personnel at USAID, David Leong shared with me his insights into the world of the USAID Foreign Service. Joined by Foreign Service officer and Division Chief for Policy Planning and Information Management, Theresa Tuaño, and the Chief of External Outreach and Recruitment at USAID, Thomas Davis, Leong and his colleagues also discussed best practices and tips for standing out as a candidate for a position at USAID.
To be competitive for a position with USAID, and more specifically with the Foreign Service, you should demonstrate the following characteristics:

A commitment to public service
This can be demonstrated in a number of ways, but some of the most common are pursuing internships with government agencies or volunteering for organizations such as the Peace Corps. In particular, the Peace Corps has traditionally been a foundational piece of almost every USAID Foreign Service officer's background. Though not a prerequisite or as common among Foreign Service officers as it once was, volunteer work with the Peace Corps exemplifies a dedication to public service and is an excellent way to prepare for a Foreign Service career.
When asked to explain why there are so many former Peace Corps volunteers at USAID, Tuaño stated, "Work with the Peace Corps demonstrates a commitment to development and public service and the ability of a candidate to live and work abroad, especially in hardship posts…it also shows that an individual has the ability to work effectively across different cultures."
A deep interest in development work
Most strong candidates have pursued development work in their academic and professional experiences. They have worked for NGOs, served in the Peace Corps, and studied subjects such as international affairs, economics, public health, and environmental science. Regardless of your major or recent work history, make sure to show how your experiences have supported the development of your local or global community. As Leong mentioned, "Work in disadvantaged communities in the United States [though not internationally focused] is a good way to demonstrate a commitment to development."
Substantial international experience
International experience is definitely an asset when applying for a position with the USAID Foreign Service. However, both Leong and Davis stressed that your international experience should first be substantial, involving at least 1-2 years working and living abroad; and second, that it should be development related. "It [also] helps if your experience abroad is in a region where USAID officials normally work," added Leong.
Ability to work across different cultures
This is an essential aspect of the Foreign Service officer job and candidates can pull examples of collaboration with other cultures from their international, academic, and professional experiences.
Foreign language skills
USAID Foreign Service officers are expected to be able to read and speak at a level three (on a scale of 1-5) in the foreign language of their post. Both Leong and Tuaño shared that officers are given training in needed foreign languages and that language requirements can vary based on your post and position. However, they emphasized that coming in with a strong fluency in a language is definitely an asset during the application process.
Fluency in a foreign language when applying for the Foreign Service also makes you a stronger candidate because it demonstrates that you have the ability to learn languages. As an officer, your training in a foreign language generally lasts between 30 and 36 weeks. During that time, you are expected to reach that level 3 fluency.
* * *
As a potential candidate, it is important to keep in mind that the average entry-level Foreign Service officer at USAID is 5-6 years out of grad school and in their early 30s. There is a reason for this, as Leong explained, "There is a narrow window of opportunity to gain the necessary experience but still qualify for an entry level or mid-career position in the Foreign Service. Typically, as your level of experience increases, so does your pay, but if USAID is only hiring at a junior level, you will have to decide whether you will want to take a cut in pay to become a Foreign Service officer." Tuaño added that for "many of our entry-level officers, they have had to take pay cuts to join. It was a very conscious decision."
Given all that you have learned, if you are ready to embark on an exciting career in the USAID Foreign Service, keep in mind the above five characteristics that USAID is looking for in its officers. If you are in high school, college, or early grad-school and interested in a Foreign Service career in the future, remember these characteristics as well and begin with the end in mind. Pursue internship opportunities. Volunteer with NGOs or local missions. Live and work abroad. Essentially, equip yourself with the experiences that will prepare you to successfully navigate both the application process and the job of a Foreign Service officer.
"We [in the USAID Foreign Service] are kindred spirits. We are all idealists who want to change the world and make it better. When you surround yourself with people like that it becomes infectious. And USAID is a fun organization to work for because it has this mission that strives to show America's face to the world by giving a helping hand."
– David Leong, Foreign Service Officer & Acting Chief of Foreign Service Personnel
To Learn More about the USAID Foreign Service, Check Out:
*****************
SPECIAL THANKS TO OUR PARTNERS:


Robertson Foundation for Government: Helping government meet its talent needs by identifying, educating and motivating top U.S. graduate students to pursue federal government careers in foreign policy, national security and international affairs.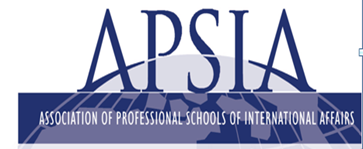 Association for Professional Schools of International Affairs: Dedicated to the improvement of professional education in international affairs and the advancement of international understanding, prosperity, peace, and security.
Related Resources
Want More GovLoop Content? Sign Up For Email Updates