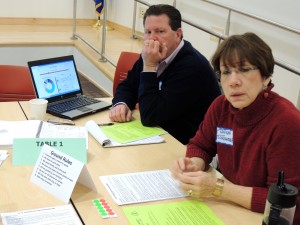 Most citizens are completely disconnected from the public budget processes that dictates where their tax dollars are spent or collected.
The public budget process is one that evokes images of thousand-page budget printouts, dry dialogue and sparsely attended public meetings, so who can blame citizens for not paying attention?
The creation and implementation of budgets, however, is one of the most important roles of government, and it has direct impact on citizens' wallets and the public infrastructure and services they may or may not want.
According to the 2012 Census of Governments, there are 89,005 public budget entities in the United States. These include the budget of the federal government, as well as the budgets of 3,031 counties, 19,522 municipalities, 16,364 towns, 12,884 school districts, and 37,203 special purpose districts (utility, fire, police, library, etc.)
Those budgets use a wide variety of citizen engagement processes, the most basic being a public posting of the proposed budget document or a single public meeting. At the other end of the spectrum are cities like San Antonio and Kansas City. These cities are pioneering multi-layered engagement efforts that connect citizens with the budget through both traditional and technology driven approaches.
Public meetings are still an integral part of these cities' processes. But so are civic technology tools that promote data visualization, financial transparency and participation by more citizens through their mobile phones, tablets and computers. These cities are using online tools to complement, rather than supplant, more traditional methods with the goal of effective, efficient and authentic processes.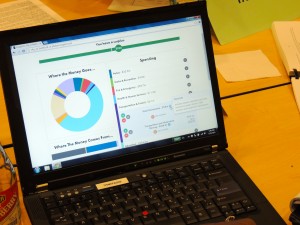 Kansas City, for example, is embarking on its third annual Citywide Business Plan, and is introducing the Balancing Act budget tool to educate residents on the tough trade offs involved in balancing the budget. The tool allows residents to adjust spending and revenue priorities to balance the 2015-16 budget. With the interactive online tool, it is something they can do anytime, anywhere from a web browser.
"Through visually-appealing charts and multiple layers of explanatory detail, residents learn about the City of Kansas City's various revenues sources and expenditures," says the city's Budget Office Blog. "Balancing Act also allows residents to construct their own local budget, subject to the same constraints that elected officials experience in balancing the annual budget, using real budget data. Currently, residents have the opportunity to individually balance the budget by using the Balancing Act web tool at our Citizen Work Sessions."
Kansas City also does an annual citizen survey and uses the KCStat and OpenData KC platforms by Socrata to promote budget transparency and monitor its progress toward the five-year Citywide Business Plan.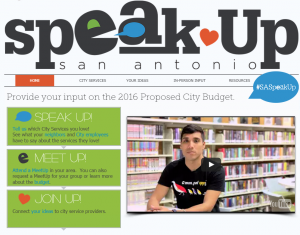 The City of San Antonio uses a multi-layered public engagement process to develop its budget. For the 2016 fiscal budget, this included a conversation about the budget through #SASpeakUp, a multi-pronged initiative that enabled residents to join the budget conversation through in-person meetings or from the comfort of their homes on a computer or smartphone. All of the priorities and ideas gathered were then presented to City Council.
"We thought about it from the residents' perspective, and saw that we needed to make the budget process more accessible and easier than ever to participate," said Bryan Layton, assistant director for innovation. "Instead of just asking residents to come to us, we went to them – digitally and physically – as much as possible."