When we think of leadership, we often conjure up images of individual heroic figures who made their mark on history. Our culture loves to celebrate its heroes. Many of our treasured national park sites include statues, monuments, and memorials to the likes of George Washington, Martin Luther King Jr., and Theodore Roosevelt.
Our persistent culture of hero-worship, eagerly reinforced by Hollywood, frequently causes those of us who aspire to positions of leadership in public service to believe we must be strong, organizational leaders who direct and manage the actions of others. However, the myth of the heroic leader was never as absolute as it seemed, and the world has fundamentally changed in the last century. We've moved beyond the industrial revolution into the knowledge economy. It's time we accept that our commonly held misconceptions about leadership can stunt our own effectiveness as leaders.
Challenges in our Modern World
In the book Leadership Without Easy Answers, Ron Heifetz writes that organizations today face two types of challenges: technical challenges, those we know how to solve, and adaptive challenges, which require changing people and the systems we have created – usually because of an environmental change, a new technology, or other development. Adaptive challenges include poverty, climate change, or workplace culture; these are issues that require thoughtful, often novel approaches; prior experience with similar challenges may not be applicable. Solving them will require ongoing creativity as well as behavioral and attitudinal change over time.
Today, the majority of government agencies, global corporations and nonprofits operate under a structure introduced in the late 1800s. This system is familiar to all of us; the pyramid-shaped org chart with lots of employees at the bottom, middle managers in the next rows, followed by increasingly fewer senior executives as you move towards the top. This system works well; it is efficient, excels at planning and organizing, and solving technical problems. However, it can bog down when faced with complex, systemic, adaptive challenges. Organizations today face far more adaptive challenges than they did in the past. It is simply no longer possible for one or two heroic individuals to "figure it all out at the top"; we need integrated thinking, information sharing, and action at all levels.  Within the public sector, there is a critical role for intentional, smart networks working toward a common vision with the goal of making a difference.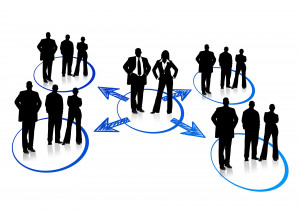 Networks offer many of the same advantages as a start-up; they are fast, flexible, adaptable and innovative. Action in networks is self-organizing. Self-organization occurs when an individual or group sees an opportunity to do something, and takes action to pull others together to intentionally initiate movement. When leaders encourage and empower self-organizing, many more people will initiate collaborative projects.
Hurricane Sandy
When these traits are paired with the efficiency and productivity of formal agency structures, leaders can successfully capitalize and leverage the strengths of both. For example, In the wake of hurricane Sandy, the Occupy Sandy Network was actually able to provide faster relief and aid than FEMA. Because they had such a wide, distributed network already in place from Occupy Wall Street, they were able to quickly reach out to those on the periphery of their network and determine where the most dire needs existed in the wake of Hurricane Sandy, and could quickly move aid to those areas. Organized agencies like FEMA and the Red Cross provided the supplies; Occupy Sandy knew where they needed to go.
Our great fondness for heroes often prevents us from seeing that effective leadership is all about networks – now more than ever. Would George Washington be revered as he is without the likes of Adams, Jefferson, Greene, Madison, or Hamilton? Would Martin Luther King Jr. have risen to lead the civil rights movement in the absence of Rosa Parks, E.D. Nixon, John Lewis, Ella Baker, and the Student Nonviolent Coordinating Committee? Could Theodore Roosevelt have been the unflinching champion of conservation without Gifford Pinchot, George Grinnell, John Muir, or the pioneering work of George Perkins Marsh?
Leaders must be aware of the networks that exist around them as well as the opportunities to develop intentional networks and coordinate their actions for maximum effect. With whom do you regularly work and interact? How diverse is your network of connections? Are your networks informal & social or organized and intentional? The beauty of networks lies in their adaptability. There are many ways to implement and organize them. How will you as a leader go about doing so?
Dylan Mroszczyk-McDonald is part of the GovLoop Featured Blogger program, where we feature blog posts by government voices from all across the country (and world!). To see more Featured Blogger posts, click here.