Writing simply sometimes isn't simple. Turning scientific and technical prose into stories for the general public isn't easy.
It was a struggle when I made a living as a newspaper reporter. It still is as a government communicator. Often, the struggle was with a source — whether someone I interviewed as a reporter or I work with as a communicator — who disagreed with my suggestions on how to write something in a simpler fashion.
I've taken to using a simple graphic to illustrate the challenge. Here it is, as drawn on my favorite writing tool, a pocket notebook, and transferred via a cell phone picture: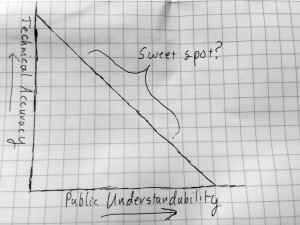 The words we use in science, engineering or any other technical field aren't familiar to the general public. So we use them — translate them, as it were — and in the process arguably lose the technical accuracy of the language we use.
The trick is finding a spot on the downward sloping line that we can live with. And how, you may ask? Well, here's my attempt at working with a paragraph from a somewhat technical report. It's the annual report by the American Society of Civil Engineers. I picked it because I love this report, and respect and enjoy working with engineers.
There's nothing wrong with the writing in this report. It's appropriate for the audience the report is written for. It's just that the general public would find it a bit much.
So let's see if we can make this paragraph more readable for more people — how far we can go toward public understandability.
Let me know where you would stop in the comments.
I used three main resources to work with this paragraph.
The first is StoryToolz, where you can paste text and get readability statistics.
The second is WordNet, a database that links words together, sort of like a scientific thesaurus.
The third is the Collins thesaurus.
Here's the paragraph from the report:
"We know that investing in infrastructure is essential to support healthy, vibrant communities. Infrastructure is also critical for long-term economic growth, increasing GDP, employment, household income, and exports. The reverse is also true – without prioritizing our nation's infrastructure needs, deteriorating conditions can become a drag on the economy."
The average grade level in terms of readability is 16.3. So let's assume not everyone we want to reach is halfway through college and try writing it differently.
My first rewrite uses some simpler words and shorter sentences:
"Good roads, bridges, sewer and drinking water pipes, sewage treatment and drinking water plants, and power lines support our lifestyles. Infrastructure also helps our economy, household incomes and exports. Without more support, deteriorating infrastructure can hold back our economy."
Average grade level: 13.7. Not quite where it could be for a busy, general audience. So let's try shortening and simplifying a bit more:
"Roads, bridges, wastewater and drinking water systems, and power lines support our lifestyles. Good infrastructure also helps our economy and incomes grow. Letting our infrastructure decline will hurt our economy."
Average grade level: 12.6. Getting there. Let's try getting rid of a few words, such as wastewater and industries that seem to be causing problems. Let's also experiment with leaving the last sentence out, because it seems to be causing problems.
"Good roads and bridges help us travel safely. Water treatment plants keep us and our rivers and lakes healthy. Reliable power lines bring electricity to our homes and businesses. Good infrastructure makes our lives better and helps our economy grow."
Average grade level: 8.7. That's pretty good.
But would you go that far down the slope with your writing? Did we leave out something that's too important to skip?
Craig Lincoln is part of the GovLoop Featured Blogger program, where we feature blog posts by government voices from all across the country (and world!). To see more Featured Blogger posts, click here.