Let's cut right to it: I strongly recommend employing a Social Media Action Plan.
This is not a social media policy, which provides governance for how to use social media. Action plans help with the onboarding process and outline why we should use social media. If you have any questions about "why" you do what you do, watch this landmark TED Talk by Simon Sinek.
If you've ever worked in marketing or with a public relations firm, the creative brief is a hugely beneficial step. It helps project teams "kick off" their discussions, and grounds everyone in what the true focus is. Staff members may have different assumptions going into a project, and this helps get those assumptions on the table and everyone on the same page.
Our Social Media Action Plan (SMAP) at King County, Wash., is required for all new social media channels being considered by agencies and staff. It gets submitted to me as the Social Media Specialist, and I provide feedback to help drive strategic direction.
Teams looking to start new social media pages—or any communications channel, for that matter—should think about how it integrates into existing communications and public outreach plans. Basically, the SMAP prevents our teams from "winging it" on social media.
We want to be smart and strategic. This is how we lay the groundwork for that.
What does the SMAP accomplish?
Overall vision for social media strategy
Why a specific channel (e.g. Facebook) is the right fit
Goals
Objectives
Target audiences
Resources and staff time needed
Equity considerations
Marketing and public outreach
Success metrics
Here's a snapshot of what the Social Media Action Plan looks like:
GOALS
What do you want to be able to tell your manager/director about this project?
King County Road Services on Twitter
The existing roads website does not have simple two-way communication. We need an additional and flexible tool to continue to inform and educate, and foster dialogue with people affected by county road projects, or the lack of maintenance as funding continues to decline.
Result: A customer service-focused Twitter strategy for @kcroads.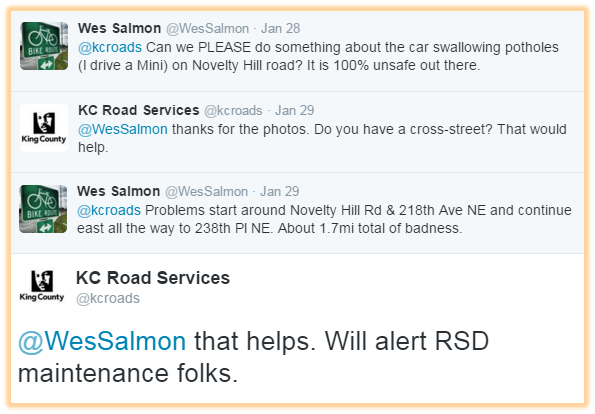 OBJECTIVES
What specific actions will help you achieve your goals?
Public Health – Seattle & King County on WordPress
Relying on the media to share news means we aren't always given the chance to frame our story. Publishing our own stories allows us to be the source of information, which is more transparent. From here on out, press releases will be used exclusively to communicate major public health threats, while our blog posts will handle the rest.
Result: Award-winning content strategy for Public Health Insider.
TARGET AUDIENCES
Who will you be talking to? How does social media help you do that?
Household Hazardous Waste on Facebook
We would like to start a conversation with mothers in King County. Household hazardous waste is an important topic affecting many families in our area, and Facebook gives us a creative place to have this dialogue and share info, tips and pictures that inform mothers about everyday things they can do to keep their families safe.
Result: One of King County's most engaging and accessible Facebook pages.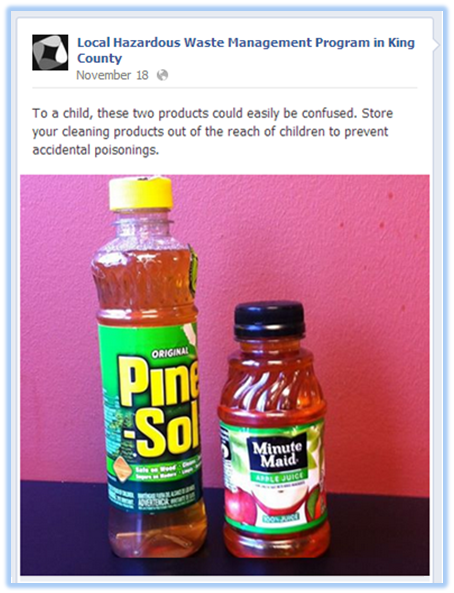 SUCCESS METRICS
What does success look like? What will you measure to gauge your performance?
Solid Waste Division on Instagram
Success will be measured by the amount of followers and likes, and also by the amount of photographs submitted from employees for use in our newsletter. If we can have staff from throughout SWD submitting pictures, we'll know we have an engaged community and that the site is useful and important for them.
Result: Increased employee engagement through compelling photography.
Some other things to consider during the onboarding process include 1) Marketing and promotion: How will you let the community know about this new social media opportunity? 2) Publishing: Who is authorized to post on this page? How much time should they spend on the work? 3) Equity: How is this page advancing equity and social justice goals? For example, we can't just show pictures of African-American youth if sharing stories about juvenile justice, as that perpetuates negative stereotypes. 4) Influencers: Which partner organizations or stakeholders can you interact with online?
You can view and download King County's Social Media Action Plan to see how the document could work for you. Remember, no matter what social media channel your agency chooses, consider early on how it integrates with existing communications.
Social media can't happen in a vacuum. We are way past that phase. Bake it into your everyday work, and plan accordingly. Where there's a plan, there's a way.
Derek Belt is part of the GovLoop Featured Blogger program, where we feature blog posts by government voices from all across the country (and world!). To see more Featured Blogger posts, click here.