If you are part of the public safety, fire or EMS community on Twitter or Facebook then you certainly have heard about "The Chronicles of EMS" Social TV Reality Series (Twitter hashtag #CoEMS. If you are not, and do not know about it then you have been missing out on a truly unique project that is only possible because of the connections people can make through social media.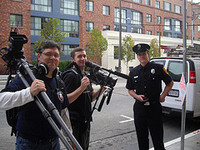 Cast and Crew of Chronicles of EMS during filming
The idea for "The Chronicles of EMS" was born after Thaddeus Setla – Paramedic/ Filmmaker was a guest on EMS Garage along with Justin Schorr, a paramedic/firefighter with the San Francisco Fire Department and author of the blog The Happy Medic, and Mark Glencorse, a paramedic from the UK with North East Ambulance Service in Newcastle upon Tyne, and author of the blog UK Medic 999. During the podcast it was explained about an exchange between Justin and Mark exploring their prospective EMS systems in person and did at one time have the BBC interested in filming, but their participation fell through. Thaddeus expressed an interest in the project but required minimal funding to get started. In 5 days the website was up and the name "Chronicles of EMS" was born raising over $9000 through facebook, Twitter and other social media outlets. The experience was shared throughout the EMS community as the crew uploaded behind the scenes footage and interacted with the audience as they filmed the pilot episode in a first of it's kind Social TV experiment.
Thanks to Twitter, Facebook, YouTube, Vimeo. EMS1 and the EMS/fire blogging community–the very types of media that brought Mark and Justin together — "The Chronicles of EMS" has created an amazing buzz. The anxiously awaited trailer was released on December 17, 2009 and it did not disappoint! View it here. The pilot episode is premiering February 12th at 5pm online at Chronicles of EMS.com. The event has become a networking meetup at the Hotel Frank in San Francisco and the information can be found at the MeetUp Site. There are high hopes that the series will continue.