If you missed President Obama's 2015 State of the Union address or just want to relive the highlights, these GIFs show the moments that government workers—and the nation—got either giddy or giggly about.
1. The ultimate comeback
It was the mic drop moment that caused a social media sensation. When some of the crowd cheered after Obama said, "I have no more campaigns to run," the POTUS went off-script with a doozy of a response: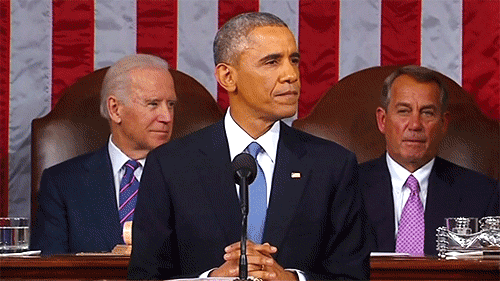 Though not created for this particular presidential zinger, this reaction GIF quickly made the rounds on Twitter: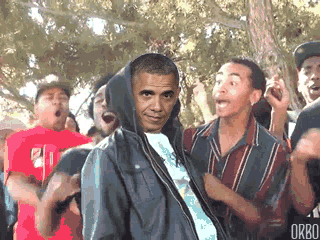 2. Economic upside, mostly
The White House is proud of the successes of its "middle-class economics" and in the State of the Union, the President cited recent positive jobs growth, as shown in this GIF from The White House's Tumblr account.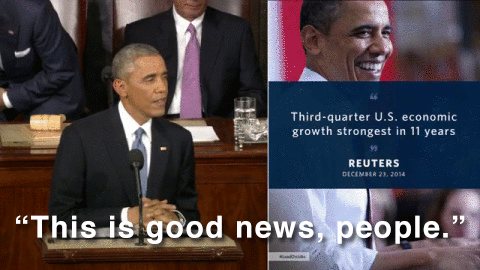 However, that economic indicator might be a tough rub for some who work in the public sector. Although the government added 12,000 jobs at the end of 2014, the percentage of workers in government is the lowest its been in 54 years. With just 15.6% of all employees in government service, the latest jobs report has a downside.
3. To infinity and beyond
In his comments about climate change, President Obama recognized some of "the best scientists in the world" at NASA and NOAA, and also gave a shout out to U.S. Astronaut Scott Kelly, who is headed for the International Space Station:
"Last month, we launched a new spacecraft as part of a re-energized space program that will send American astronauts to Mars. In two months, to prepare us for those missions, Scott Kelly will begin a year-long stay in space. Good luck, captain—and make sure to Instagram it."
Caught on camera at this moment, Kelly looked like his mind was already in orbit.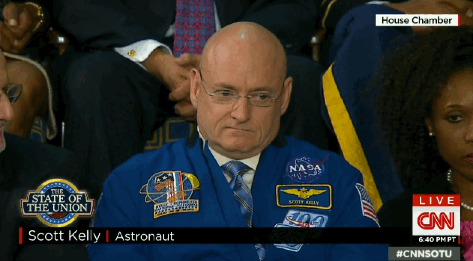 4. Gratitude with attitude
President Obama welcomed home Alan Gross, a subcontractor for the U.S. Agency for International Development (USAID) who was recently released after spending 5 years in prison in Cuba. His freedom has been considered a sign of improved U.S.-Cuba relations.
Mr. Gross' reaction was a heartfelt fist pump and a "thank you."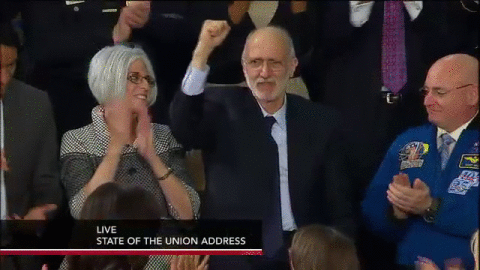 5. With a nod…
Simply because this is a glorious GIF, here's Vice President Joe Biden giving the POTUS an approving nod.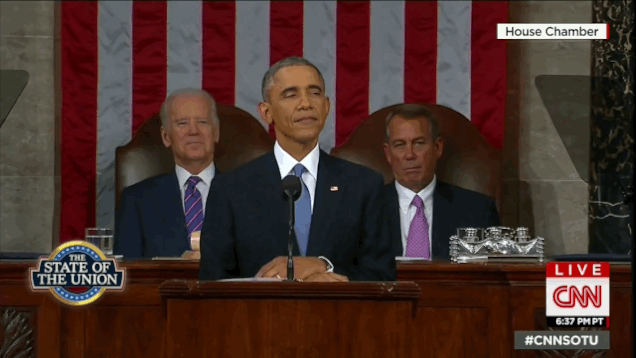 6. …and a wink
For his second-to-last State of the Union address, it seems like the President couldn't resist giving a wink to Congress.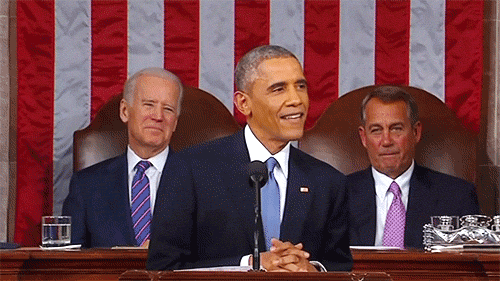 If these GIFs have made you long for the long-form version, watch the State of the Union online at whitehouse.gov/SOTU.
Lauren Girardin is a marketing and communications consultant, writer, and trainer. Find her on Twitter at @girardinl.