This summer, you don't have to get up from your beach chair to take steps that can help advance your career. Pick up one of these books about leadership, public speaking, negotiations, productivity, and other knowledge important to success in the public sector, and you'll learn lessons that can improve your professional standing while taking a much-deserved break.
If this list isn't enough, check out last year's GovLoop's previous summer reading list. If you find yourself inspired by one of these books, be sure to come back here and share your thoughts in a comment.
TED Talks: The Official TED Guide to Public Speaking
Chris Anderson (May 2016)
carefully crafted short talks can be the key to unlocking empathy, stirring excitement, spreading knowledge, and promoting a shared dream. Done right, a talk can electrify a room and transform an audience's worldview. Done right, a talk is more powerful than anything in written form. This book explains how powerful public speaking is achieved, and equips you to give it your best shot.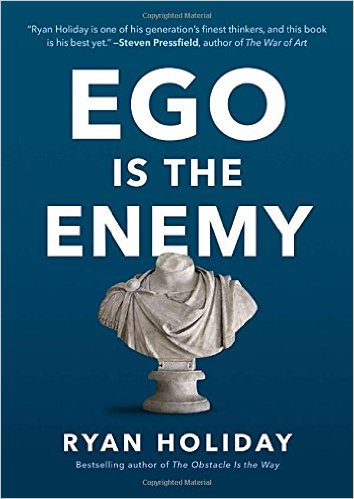 Ego Is the Enemy
Ryan Holiday (June 2016)
Many of us insist the main impediment to a full, successful life is the outside world. More likely, the enemy lies within: our ego. Early in our careers, it impedes learning and the cultivation of talent. With success, it can blind us to our faults and sow future problems. In failure, it magnifies each blow and makes recovery more difficult. At every stage, ego holds us back. This book draws on stories and examples, from literature to philosophy to his­tory, of people who all reached the highest levels of power and success by conquering their egos.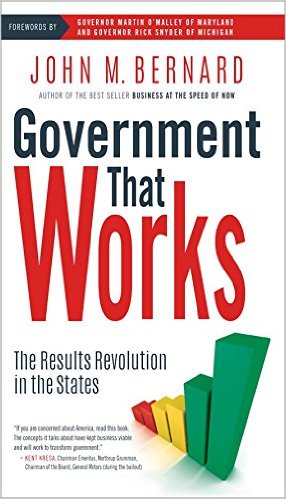 Government That Works
John M. Bernard (February 2015)
In this book, Author John Bernard takes a look at how state governments are using accountability and transparency to transform government. Government That Works provides a detailed, practical blueprint for a new system of management any state and its agencies can use. The system relies on collecting and analyzing data, setting ambitious goals for improved performance, measuring progress toward those goals, and closing the gap. Stressing the need for transparency and accountability, Bernard says the system drives the breakthroughs and innovative solutions every state needs in order to satisfy its customers.
The New Era of Regulatory Enforcement: A Comprehensive Guide for Raising the Bar to Manage Risk
Richard H. Girgenti and Timothy P. Hedley (May 2016)
Authors Girgenti and Hedley—two professionals at KPMG who work with organizations around the globe—draw upon their years of experience in both the private and public sector to provide an overview of the new regulatory and enforcement landscape and a framework for compliance. Assisted by a team of subject matter professionals, the book covers a broad range of topics including bribery and corruption, money laundering and trade sanctions, market manipulation, financial reporting fraud, off-shore tax evasion, and unfair and abusive consumer finance practices.
Speakrets: The 30 Best, Most Effective, Most Overlooked Marketing And Personal Branding Essentials
Ruth Sherman (May 2015)
Author Ruth Sherman argues that, no matter how skilled you are, how experienced, how many years you've been in business, or how much you love what you do, if you do not have a commanding presence on every platform, you will continue to struggle, continue to be underpaid and under-recognized, and continue to labor to attract recognition. In this book, Sherman shares advice on how to become more effective at speaking and communicating with confidence and charisma, including exercises you can use to practice and improve your skills.
What Millennials Want from Work: How to Maximize Engagement in Today's Workforce
Jennifer J. Deal and Alec Levenson (January 2016)
Based on fieldwork and survey data from global research on more than 25,000 Millennials and 29,000 older workers in 22 countries, this book paints a comprehensive picture of what really motivates Millennials around the world. Learn more about workplace issues that matter to Millennials, including workplace flexibility, support and feedback, coaching instead of micromanaging, competitive salary structures, and providing ways for employees to volunteer and give back. To be fair, many workers want these things, so this is a worthwhile read even if you're not fretting over your Millennial employees.
A Passion for Leadership: Lessons on Change and Reform from Fifty Years of Public Service
Robert M Gates (January 2016)
Across the realms of civic and private enterprise alike, bureaucracies impact our security, freedoms, and everyday life. With so much at stake, competence, efficiency, and fiscal prudence are essential, yet Americans know these institutions fall short. Many despair that they are too big and too hard to reform. Robert Gates, former secretary of defense and author of the best-selling memoir Duty, disagrees. He offers an urgent assessment of why big institutions are failing us and how smart, committed leadership can effect real improvement regardless of scale.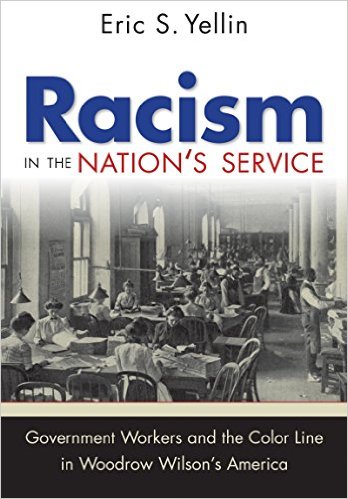 Racism in the Nation's Service: Government Workers and the Color Line in Woodrow Wilson's America
Eric S. Yellin (February 2016)
Between the 1880s and 1910s, thousands of African Americans passed civil service exams and became employed in the executive offices of the federal government. However, by 1920, promotions to well-paying federal jobs had nearly vanished for black workers. Using vivid accounts of the struggles and protests of African American government employees, Yellin reveals the tragic racism at the heart of the era's reform politics. From the hopeful days following emancipation to the white-supremacist "normalcy" of the 1920s, Yellin traces the competing political ideas, politicians, and ordinary government workers who created federal segregation.
North Korea and the World: Human Rights, Arms Control, and Strategies for Negotiation
Walter C. Clemens Jr. (July 2016)
In North Korea and the World, author Walter Clemens poses the question, "Can, should, and must we negotiate with a regime we regard as evil?" Weighing the needs of all stakeholders—including China, Japan, Russia, and South Korea—he concludes that the answer is yes. After assessing nine other policy options, he makes the case for engagement, because there still may be time to freeze or eliminate North Korea's weapons of mass destruction. Grounded in philosophy and history, this volume offers a road map for government employees working on on policy or other strategic negotiations in which there's a need to balance both ethical and practical concerns.
How to Be a Productivity Ninja
Graham Allcott (March 2016)
Author Graham Allcott is a productivity expert and the founder and CEO Think Productive. In his book, How to Be a Productivity Ninja, and his workshops, Graham teaches people how to work better, not harder. He focuses on how to manage one's attention (he thinks time management is obsolete in our modern climate), how to get one's inbox to zero, how to create the ultimate to-do list, and more.
We Have a Deal: How to Negotiate with Intelligence, Flexibility and Power
Natalie Reynolds (June 2016)
Natalie helps people develop negotiation strategies through coaching and training. In We Have a Deal, she turns the table on traditional negotiation beliefs, such as when she asserts you're better off putting a number on the table first, rather than waiting for the other party to do it. Though Reynold's negotation advice applies to both men and women, as Linda Babcock, author of the negotiation book Women Don't Ask, put it, We Have a Deal "acts as a rallying cry to all women that they can and should speak up and ask for what they want."
Front Line Leadership: Applying Military Strategies to Everyday Business
Nicholas R Ripplinger (March 2016)
Front Line Leadership delivers life lessons and business insights the author learned from his time serving in military. Author Nick Ripplinger illustrates how leadership decisions, both good and bad, impact a situation and the lives of those involved. The book contains many lessons that apply not only to military service but to leadership success in the business world as well, such as the danger of using fear as a leadership style, the importance of taking care of yourself, and the consequences of not having a plan.
The Price They Pay
Karen Solomon and Jeffrey M. McGill (October 2015)
This book is a useful reference for anyone who works with or support first responders, including police officers. The authors expose the difficulties that officers face in a professional culture that traditionally demands silence about their feelings. Through storytelling and research, the book explores the traumatic stress that results from dealing with exposure to death, pain, suffering, fear, and anger, as well as societal and organizational pressures. (Thanks to law enforcement veteran and blogger Paul Grattan for recommending this book.)
Women In Government: 10 Key Strategies to Advance Your Career
Chantal R. Wynter (January 2016)
This book offers practical career advancement advice for women in government from women in government. Author Chantal Wynter is a federal government employee who shares her own career development knowledge as well as the insights of 15 other women leaders in government from different agencies and grade levels. The book includes tactics women in government can use to overcome the unique obstacles they face, tips on how to get your first leadership role, and resources to help advance your career.
Enabling Collaboration: Achieving Success Through Strategic Alliances and Partnerships
Martin Echavarria (November 2015)
Enabling Collaboration offers companies a practical, accessible approach to building real-world business partnerships that marry effective and innovative group leadership practices with a process for building a successful alliance. The methods described can be applied no matter the industry or the size of the partnering organizations. This book is essential for any corporate innovator who is interested in driving tremendous value and success for themselves and their companies in this new world of global business alliances.
The Respectful Leader: Seven Ways to Influence Without Intimidation
Gregg Ward with Walter G. Meyer (August 2016)
Gregg Ward is a leadership consultant, speaker, and executive coach with over 25 years experience serving companies and government agencies. The Respectful Leader tells the story of Des Hogan, a new CEO who discovers that disrespectful behavior by his leadership team is eroding his organization's morale, sales, and profits. Hogan sets out to revamp the culture and turn the company around—but first, he has to take a good look at his own behavior. The book hopes to help people create a winning culture of respectful leadership and  overcome intimidation, micro-management, and other negative leadership behaviors.
What books are on your summer reading list that can help you succeed at work? Share them in the comments.
Lauren Girardin is a marketing and communications consultant, writer, and speaker based in San Francisco. She helps organizations and do-gooders engage their communities and tell their stories. Her website is laurengirardin.com and you can connect with her on Twitter at @girardinl.