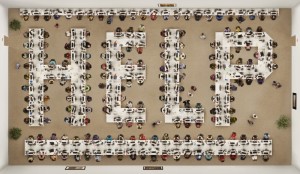 Most of my friends would say I live in a sitcom, but we all live in reality…regardless of what's on reality TV.  And the reality of today's business community is an ever-increasing reliance upon technology.  Nothing new here.
Also no surprise, the business community, whether private sector or government-based, tends to focus on the knowledge, skills and abilities related to job performance or career development.  But rare is the job advertisement that warns:
– Successful applicants should be prepared to remain seated for biologically unnatural periods of time.
Or how about:
– Ability to withstand lengthy stares into pixelated HD computer screens a plus.
It sounds ridiculous, but these two "KSA's" are integral to such a wide swath of job types, albeit to varying degrees, that we end up taking them for granted.  Many of us have come home from work with migraine-quality headaches from staring at screens all day…and then help it out by staring at the TV. Many of us have also experienced a stiff back, or sciatica making your thigh numb from sitting down for extended periods…and as the masochists we all must be, we help this out by sitting for our commute home, followed by sitting down for dinner ,etc.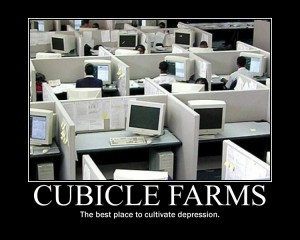 Two things for everybody to remember:  20/20/20 and Andy Warhol
20/20/20 is a little something I picked up from a friend in optometry.  Every 20 minutes, for 20 seconds, look at something 20 feet away.  Aside from proper eye health, glasses, drops, etc. this little trick has saved me from many a headache.  You too can easily give your eyes a much needed chance to get a different perspective.
Andy Warhol, among other things, was famous for his perspectives on fame…everybody wants their proverbial 15 minutes in the spotlight.  Whatever helps you remember 15 minutes is key, not the 60's Renaissance man.  Many places have two 15 minute breaks per day, usually only smokers take advantage, but why not everyone?  Get your Warhol on, take your 15 (hopefully outside, but at least away from your desk) and recharge.
Feel free to share any of your cubical survival tactics with the rest of our "Tribe."
Paul Grugin is part of the GovLoop Featured Blogger program, where we feature blog posts by government voices from all across the country (and world!). To see more Featured Blogger posts, click here.