Of all the benefits provided by the federal government, have you ever stopped to consider the benefits of your unused sick leave? Each pay period, you are accruing leave credit hours that could be used during your career, but what happens to those hours if you don't use them before retirement?
How does sick leave affect my retirement eligibility?
Retirement eligibility rules vary for CSRS and FERS employees. You must obtain both years of service and age to qualify for a normal full annuity. These requirements are laid out in the charts below.


*Note: These rules are for regular employees only. Special Provisions have a different set of rules. MRA is defined as Minimum Retirement Age.
Recently the government noticed a funny discrepancy between how CSRS and FERS employees were using their sick leave as they neared retirement. CSRS employees have been working diligently all the way until the end of their careers while FERS employees tended to suddenly and mysteriously come down with various afflictions in their last year of employment. The reason? CSRS employees were allowed to add their sick leave to their annuity calculation and receive credit for these hours
Thankfully those rules have now changed, and FERS employees retiring after January 1, 2014, are now eligible to add all of their unused sick leave to their annuity computation just like CSRS employees.
Although sick leave now counts as time served, it is not a one-for-one conversion. Also, be careful to note that your sick leave credit hours cannot be used to meet your years of service criteria for retirement. For example, if you are a FERS employee, age 60 with 19 years of service and you have one-year's worth of sick leave. That year of sick leave, in theory, would add up to 20 years of service. However, in order to meet the qualifications for a normal full annuity, you must have 20 years of actual service worked for the federal government. In this example, if you were to retire, there would be penalties to your annuity for not meeting the requirements outlined in the above charts.
How is my sick leave applied to my annuity?
As mentioned earlier, while you will receive credit for your sick leave it is not a one for one conversion. You will need to reference the Credit for Unused Sick Leave Conversion Chart published by OPM to determine how many service days can be added to your calculation.
Determining how your sick leave adds to your annuity does involve a bit of extensive math. We believe this is best described as an example. Please watch the video below for a more in-depth description of how this benefit can be applied to you.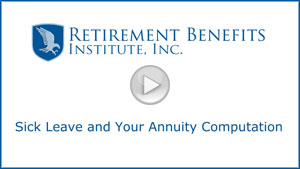 About Us
Retirement Benefits Institute provides benefits and retirement training to Federal employees. Our trainers and sponsors have provided training to thousands of Federal employees. The team includes former Federal management staff (CSRS & FERS), CPAs, and retirement planners ready to assist you.
Many of our sessions are free of charge to all Federal employees and spouses unless otherwise indicated. Please join us at one of our upcoming training events.
Disclosure
The information contained in this article should not be used in any actual transaction without the advice and guidance of a tax or financial professional who is familiar with all the relevant facts. The information contained here is general in nature and is not intended as legal, tax or investment advice. Furthermore, the information contained herein may not be applicable to or suitable for the individuals' specific circumstances or needs and may require consideration of other matters. RBI is not a broker-dealer, investment advisory firm, insurance company, or agency and does not provide investment or insurance-related advice or recommendations. Brandon Christy, President of RBI, is a registered representative of Christy Capital Management, Inc. (CCM), a registered investment advisor.