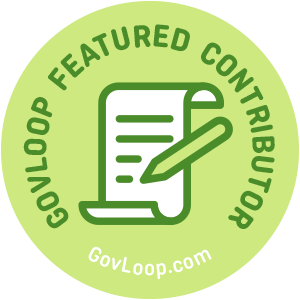 It has been my pleasure and honor to write for GovLoop.com over the past 12 weeks as a featured contributor. This is my final article about three topics of critical significance not only to government and business in general, but to the success of the greater population and quality of life.
Alignment has been somewhat overlooked as a key factor in business and individual success. I suppose it's easier for business leaders to focus on a specific initiative rather than ensure that all components are aligned toward the same goals. Ignoring the need for alignment is detrimental to one's ability to achieve grand outcomes.
As a star athlete aligns their training, mind, diet, lifestyle, and other activities to achieve peak performance, so must an organization that seeks to optimize results. In fact, because of the complexity and coordinated effort necessary for business success, it is even more pressing that organizations align all aspects to achieve their strategic objectives. Ideally, organizations begin with a deep understanding of their customers' preferences which suit the business' purpose, then align their strategy accordingly. Success is enabled with quality leadership and their ability to align People (and culture), Processes, Property (facility, data, IT, equipment, etc.), Policies, Programs, and Products.
Accountability is the next challenge beyond alignment. Sadly, accountability is one of the greater shortcomings evident in government, business, and personnel management. This needs to change if we are to progress. Often, accountability turns into finger-pointing where employees are quick to point out where others have underperformed. Instead, effectiveness results when people start by looking in the mirror, placing the burden on themselves first. Humility goes a long way where accountability is concerned.
Only then, can leaders and followers begin to hold each other mutually accountable. Though accountability is generally considered a top-down process, effective operations demonstrate strong followership accountability. I.e. Not only do they hold themselves and their peers accountable, but staff are also encouraged to hold their leadership to comparably high standards.
Ardency goes over and above selecting the right people, devising techniques to motivate them, and gaining employee loyalty. It is about managing them effectively and casting staff appropriately so that they eagerly and passionately apply the best of themselves to fulfill their role and the organization's needs. Leadership and management play such a crucial role in realizing ardency and must be accountable for its creation or absence. Ardency results in exceptional performance, growth, and collaboration. Not only will this reap superior output/outcomes but will create an amazing culture of high productivity.
Please join me by leading the charge in your respective business toward alignment, accountability, and ardency. Become an advocate of these in your operation and build a following. With that, I'd like to share a bit of wisdom embedded in my personal philosophy, through a trusted mentor.
In the 1990s, I was fortunate to have had the opportunity to work with an incredibly insightful gentleman, Dr. George Kanahele, who shared a single powerful word with the world. He introduced the concept of Kīnāʻole to business. Roughly translated, this word means flawlessness, which he describes as…doing the right thing, in the right way, at the right time, in the right place, for the right individual, for the right reason, with the right feeling, the first time, and every time thereafter (he later added).
In this, my final blog for GovLoop, I implore you to strive for Kīnāʻole. Aloha, Lori O.
Lori Okami is a GovLoop Featured Contributor. She has over nine years of experience in local and state government in Human Resources, grants management, and as an educator, as well as over twenty years in the private sector. Lori has written over 400 health and fitness blogs for Hawaii's premiere online news publication. Lori's expertise is in organization alignment, change management, and customer relationship management (CRM). You can read her posts here.