I live in the City of New Haven, CT (#gscia).  I am reading a super famous book about cities called City by Douglas Rae. It is one of the best books I have ever read.
It has 12 chapters. This is a 12-blog post series about each chapter. This post is about Chapter Two: Industrial Convergence.
—
The book I dream of reading:
A book that brings together the worlds of business and community.
This book would draw from an understanding, critique, and appreciation of Silicon Valley, Black Lives Matter,  venture capital, and the Women's March. It would quote Audre Lorde, Fred Wilson, Grace Cho, Jeff Bussgang, Bell Hooks, and, of course, Douglas Rae. And it wouldn't weaponize either world's terminology — but instead use them to reveal shared space, tools, and vision.

My feet are firmly planted in these two worlds every day. I work for a private company (connecting citizens with their local governments). And I'm a community organizer (for transportation equity through neighborhood empowerment). This past winter break I read Seth Godin's The Purple Cow to learn his take on authentic marketing and influence. And I also read Maggie Nelson's The Argonauts to hear the complexities (both utterly normal and radical) of building a queer family household.
It's clear how these two worlds intersect and inform each other's work. In fact, they often share similar ideologies, exercises, and tools. But, most of the time, they feel really far apart — even at odds which each other.
Both business and community could not only learn a lot from each other — but must. And a place is to start could be sharing language better — with a book (or many) that uses language common to both worlds, accessible to both groups.  
For example, take the word investor.
When we think about an investor, we reserve it for the business world. We often have a specific idea of who they are and what they do in a city. In particular, we picture them having capital — and using that capital to make more capital.  
And this kind of investor has an important place in a city. But the definition feels limiting.
That's why this section in City's Chapter Two stood out to me:
"The built city is to be understood as a geographic cluster of commitments by first hundreds and then thousands of investors . . . some are placed by investors of large capital, other by small-timers, some by those who seek to accumulate great wealth by planting small wealth in the ground, others by those who seek nothing more than shelter and a place to make ends meet."

-Douglas Rae, City (Chapter Two)
To Rae, being an investor in a city encompasses more than who expects capital returns. It's who uses that capital, who doesn't get to use that capital, who regulates that capital, who profits from that capital, and who is left behind by that capital.
I'd push Rae's definition further: to be an investor is to be someone who builds a stake in a city.
During one of my first conversations with my girlfriend, Elizabeth (they/them/theirs), they asked me: "What is your stake in New Haven?" It was an interesting, and pretty assertive way of telling me that building something in a city starts by building your own stake in that city. If you have stake, that means you love something, own something, are responsible for something, can risk something.
We all own a piece of our city; therefore we are investors. And, perhaps by understanding ourselves as investors, we can see more clearly both our value, our responsibility, and our stake.  
Who are investors in New Haven
In order to help define, it feels useful to name examples of investors in the City of New Haven, CT.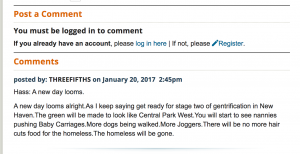 THREEFIFTHS
Almost every single article in the New Haven Independent, New Haven's grassroots online newspaper,  has dozens and dozens of comments. And almost every single article in the New Haven Independent has a comment by THREEFIFTHS.
THREEFIFTHS is one of the most prolific commenters on NHI — and is also, from my understanding, completely anonymous. Known for lengthy (and, admittedly, pessimistic) responses, THREEFIFTHS is often investing their voice in order to uphold the rights, visibility, and needs of New Haven's most vulnerable populations.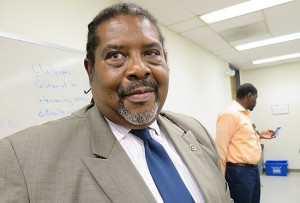 Photo by New Haven Independent.
Stacy Spell
Truth is, I will never write a better description of Stacy Spell than the New Haven Independent when they named him "Man of the Year" in 2011. Here's a tiny attempt to capture part of his investment in our city:
Spell is a retired detective known for both teaching West River neighborhood kids to play chess and planting the over 100 potted plants in his home. Since 2014, he's been heading Project Longevity — New Haven's increasingly famous gang-violence effort — where Spell centers "building relationships".
His approach to New Haven has been much like his approach to tending his flowers: "You have to be consistent." He has shown consistency in so much of his work: from showing up every Saturday to teach kids how to get to checkmate with their Queen or giving steady, respectful eye contact at Project Longevity's gang "call-ins". Spell is life-long New Haven investor — providing our city decades of returns.
CJ
CJ is 21 and lives in New Haven's Fair Haven neighborhood. He's known for being the best bike repair mechanic in the whole neighborhood, the wheelie king, and a leader and friend.
He's a community organizer (although I'm not sure if he'd use that word for himself — I'll ask!). CJ is changing the way neighbors and neighborhood cops are seeing wheelieing.  For neighbors and cops, they see a group of rambunctious (maybe even threatening) kids tearing down the wrong way doing dangerous tricks. For CJ's buddies, they are spending time together, having fun, and, yeah, showing off too. For CJ, he's gathering a group of younger neighborhood kids that might otherwise be getting into trouble to instead learn a new awesome skill.
Instead of being frustrated with cops, CJ invested in them by engaging them. Recently, the neighborhood cops met up with CJ near the neighborhood substation. CJ talked through what wheelieing meant to him and his friends. Now, instead of pulling them over, cops whoop and cheer when CJ and his friends ride by.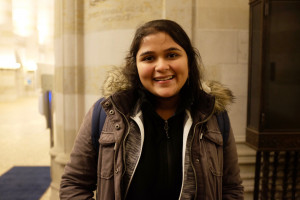 Diksha Brahmbratt
Diksha Brahmbratt is a junior at Yale University and the Student Outreach Director for the Yale College Council. Brahmbratt invests deeply in every community that she becomes a part of — therefore identifying as both a Yale student and a New Haven resident.
She has made it the #1 goal for the Outreach Committee of the Yale College Council to build more pathways for Yale students to more easily invest in New Haven too. She organized the 1st ever New Haven Fair in the center of Yale's campus and ran a Collaboratory where a group of diverse New Haven residents and Yale students tackled Yale College Council's challenges in improving Yale-New Haven connectivity.  
Brahmbratt makes it clear that investment begets investment; as she invests in the institutions, communities, and neighborhoods that are defining her four or more years in New Haven, other students do too.
Now it's your turn: Who are the investors in your city?
Caroline Smith is part of the GovLoop Featured Blogger program, where we feature blog posts by government voices from all across the country (and world!). To see more Featured Blogger posts, click here.