I live in the City of New Haven, CT (#gscia).  I am reading a super famous book about cities called City by Douglas Rae. It is one of the best books I have ever read.
It has 12 chapters. This is a 12-blog post series about each chapter. This post is about Chapter Four: Living Local.
—
Every morning at 7:30am, my girlfriend, Elizabeth (they/them/theirs pronouns), and I walk with my bike 0.8 miles downtown to work.
Unless Elizabeth decides to wear their combat boots with notoriously tedious laces — then we leave at 7:45am.
Here's a map from a coffee shop near my spot and where I work: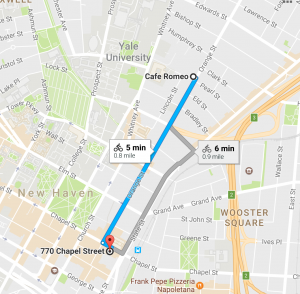 Living so close to where I work is an *immense* privilege.
Another example: One evening a couple weeks ago, I was able to leave work, buy a cup of green tea from B Natural, attend an immigration rally in front of City Hall, help host a community planning meeting for New Haven Bike Month at the New Haven Free Public Library, grab a drink and fries with friends at the Beer Collective, and bike home — all within a few blocks of each other.
And to Rae, this privilege extended to all is necessary for urbanism in cities.
—
In Chapter Four of City, Rae builds the case that one core part of urbanism is people living where they work. He says a million beautiful things about why this is valuable in this chapter, captured in this sentence:
"Success of place was bundled together with the success of self, of family, and of enterprise."
In the early 1900s, a vast majority of people lived extremely close to where they worked.
Rae goes into painstaking (and impressive!) detail, down to addresses and maps, of where people worked relative to where they lived then in New Haven. For example, in around 1910, 85 percent of people working at the Sargeant Company — manufacturer of locks and hardware — lived within 1.5 miles of the plant. And, most of the entire group of plant workers lived within the city of New Haven.
What was most striking to me is that this localism wasn't just true for working class families; decision-makers and business leadership also lived directly in the city. Here's a breakdown:
75% of CEOs lived in New Haven (121 CEOs)

94% of Yale professors live in New Haven (123 professors)

100% of Proprietors of the New Haven Green lived in New Haven (6 individuals)
There are a lot of reasons why a large percentage of city business leadership and owners do not live in the cities that they work anymore. Rae's hypothesis is that, over the course of the 20th century, corporate integration took place (touched on briefly but significantly):
Horizontal integration: Competing firms combined in a single industry across the country, centralizing top management in one city far away from the cities where the subsidiaries were originally.

Vertical integration: Firms at each step of the process (raw materials, manufacturing, sales, distribution) combined, centralizing top management in far away towns where there otherwise may have been local component firms.  
Why is this important
Decision-makers and business leadership living where they worked had a powerful effect on New Haven:
"All these people led lives locked firmly in the central city: New Haven was their place of work, it was where where they lived, it was where they made their friends, it was where they married off their children, and in innumerable other respects it was their community . . . City decline and more personal failure were implicitly connected for these people as they are now connected for only very few." —Douglas Rae, City
And the farther decision-makers and business leadership live from the cities they work, other (unfortunately still powerful) effects occur:  
"[It] would isolate income classes, encouraging upper-income people to detach their interests and experiences and identities almost entirely from those of inner-ring workers . . . It would also deeply deprive the city of a leadership cadre that would otherwise find its members deeply involved in the daily routines of the city and identified with the interests of the municipality itself." —Douglas Rae, City
It's important for decision-makers to live in the city that those decisions will affect.
Here are a few examples of decision-makers and business leadership that live in New Haven: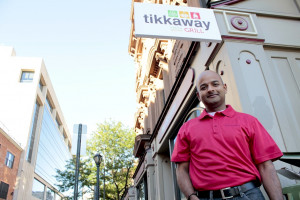 Photo credit to Daily Nutmeg.
Gopi Nair, Owner of Tikkaway  
Gopi Nair is the Owner of the super delicious Tikkaway — located in the Downtown and Hill neighborhoods. As a resident of New Haven, Gopi wanted to his restaurant to invest in the neighborhoods in which they were built — including the individuals living there.
When he was first opening up, over 40 people applied to work there. Gopi had one main criteria: Can you walk to work? He ended up hiring the 7 applicants who could walk to work in less than 5 minutes.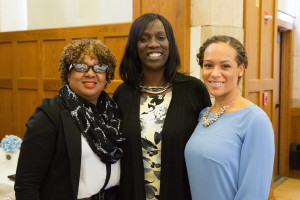 Jeannette Morrison is the center individual pictured. Photo Credit to SOT Adventures.
Jeanette Morrison, Alder for Ward 22
Jeanette Morrison is the Alder for Ward 22 — one of the most diverse wards in New Haven. It includes both folks who have lived in New Haven their entire lives and Yale students who have lived in New Haven for less than 4 years. Alder Morrison has, with grace and poise, built relationships — embracing and celebrating the complexity of her neighborhood.
Her understanding of multiple perspectives helps her make decisions for her neighborhood and the broader city. She works closely alongside her Ward Co-Chairs, one a Yale student and the other a New Haven resident, to organize events that are accessible to all groups. And she brings these concerns into the Alder Chamber — impacting policy and legislation.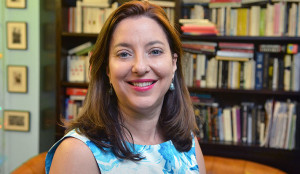 Photo Credit by Yale News.
Camille Lizarríbar, Yale Dean of Student Affairs
Although she's only been Dean of Student Affairs for a little over a year, Dean Lizarríbar is leading significant efforts to improve the Yale-New Haven relationship. Dean Lizarríbar is a resident of New Haven; in fact, she just moved into a house in Ward 22 (Alder Morrison's Ward!).
Her combination of perspectives, as a New Haven resident and Yale Dean, have been invaluable. For example, she changed a presentation during Yale's Freshman Orientation called the "Safety Meeting" to "Welcome to New Haven" — a powerful shift in the way students are introduced to the city.
—
After thinking through these examples of New Haven decision-makers and business leadership, here are a couple patterns I notice:
Living in the city they work gives decision-makers opportunities to listen

: Their time and ears are more accessible — whether formally at community meetings (that often happen in the evening after work hours) or informally hanging out at the same coffee shops, buses, and events.

Living in the city they work means decisions affect decision-makers too

: If decision-makers are living where their decisions will have effects, those effects are more evenly shared. They'll affect the same shared spaces and shared streets that everyone — including themselves — use. It feels important to note that this is, of course, not the complete picture — many decisions disproportionately affect some groups over others.
—
This morning, Elizabeth wore their combat boots and I had a call at 8am. We were still able to get downtown by 8:30am — so they could grab a coffee nearby and I could finish this post.  
Caroline Smith is part of the GovLoop Featured Blogger program, where we feature blog posts by government voices from all across the country (and world!). To see more Featured Blogger posts, click here.