While strict dress codes are not very common anymore, dressing professionally is highly encouraged in today's work environments. Historically, the private sector has been known for the "corporate look": sharp suits, sleek pencil skirts and shiny shoes. While you see some of that in government work environments, it is still not the "norm". While I do believe in comfort, I also believe in looking professional. Yes, it is possible to find comfortable professional attire and shoes and still look sharp and professional. Below are four things you shouldn't wear to work along with some alternatives that can serve the same purpose.
Sneakers or Flip-flops– It is one thing to wear these on your way to work if you have to walk a long distance, but it's another thing to continue to wear these throughout your work day. Wearing flip-flops or sandals in the office means your feet are basically bare and no one wants to look at your toes during the staff meeting. If you have a condition that makes it hard or impossible to wear closed work shoes, consider wearing work-appropriate flats or even orthopedic dress shoes. There are plenty of options out there that don't include sneakers or flip-flops.
Wrinkled anything– Whether it's your shirt, your pants or your skirt, if they are wrinkled it makes you look sloppy. It sends the message that you don't care enough about your job to take the time to iron your clothes. Yes, ironing is painful; I personally don't enjoy it much. If this is your case, then go for wrinkle-free shirts or consider a steam iron. They are much easier to use and you get fantastic results faster.
Glittery and/or dark eye shadow– Unless you are going to a disco straight after work, stay away from makeup that has glitter and dark eye shadow like electric blue or black. Keep it simple and tasteful with soft colors like earth tones.
Leggings– Yes, they are super comfortable and also inappropriate for most work environments. They are tight and sometimes see-through and wore with a short top; they definitely don't send the message "I take this job seriously." While I highly discourage you to wear leggings for work, if you are going to wear them, please make sure they are not see-through and that you wear an appropriate top like a long blouse with a blazer like the picture below.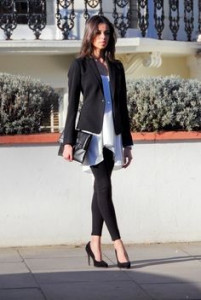 When it comes to dressing for the workplace we need to be more cautious with our choices. Although our appearance is not a reflection of our intellect or potential, it may have an impact on the opportunities we are provided at work. More often than not dressing for success leads to success.
Michelle Rosa is part of the GovLoop Featured Blogger program, where we feature blog posts by government voices from all across the country (and world!). To see more Featured Blogger posts, click here.