There's a saying that not all heroes wear capes. In fact, some heroes instead have impenetrable green skin, are 6'7", and work by day as an attorney at law firm GLK&H. I'm talking about Marvel Comics' She-Hulk. Disney+'s latest Marvel Universe series, She-Hulk: Attorney at Law, follows Jennifer Walters/She-Hulk (Tatiana Maslany) as she balances the day-to-day work of being an attorney, a thirty-something and a superhero.
There's much that can be learned from her when it comes to work-life balance (good and bad). The following are some best practices and tips found both in the show and from several reputable sources.
(Disclosure: This blog post contains spoilers for the first season of She-Hulk: Attorney at Law.)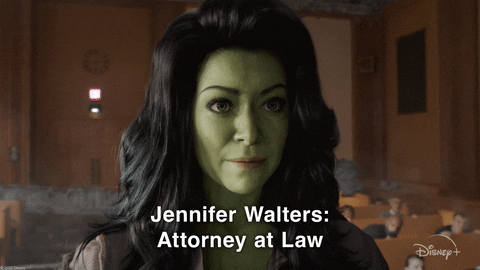 Pause and Denormalize
According to a 2021 Harvard Business Review study, this work-life balance principle focuses on rethinking your priorities on what causes stress, unbalance or dissatisfaction. She-Hulk is forced to deal with this in episode five of the season where she's being sued for copyright infringement over the use of her superhuman name, "She-Hulk."
Throughout the season she struggles with accepting her dual identities and having them balanced at work and home, which creates underlying stress. When legally threatened with the possibility of not being able to use her superhero persona, Jennifer realizes she needs to embrace her new identity to be successful in her professional and personal life.
The same can be applied to everyday public sector professionals. Take time to step back and identify your priorities.
Pay Attention to Your Emotions
Harvard Business Review's 2021 study also recommends focusing on the concept of "emotional reflexivity." This is the ability to recognize how a situation is making you feel. As tough as a "hulk" may seem, emotions are a core factor in how they coexist around others. As her masculine counterpart says, "You wouldn't like me when I'm angry."
When Jennifer Walters is overwhelmed or moved to anger, her hulk persona kicks into overdrive, and she loses her capacity for emotional reflexivity. For example, towards the end of the season she is ambushed at an awards ceremony and "hulks out," terrifying her colleagues and family.
This applies to the non-hulk professionals, too. Identifying how your environment fosters different emotions can help you focus on the situations that help you stay motivated to produce your best work — while also finding time for what's important outside of work.
Prioritize Self-Care
In a recent article, the Cleveland Clinic shared this evergreen work-life balance concept that so easily gets deprioritized. When it comes to self-care this includes mental, physical, and emotional well-being.
By mid-season of the series, Walters is long overdue for self-care, obsessing over a love interest who has ghosted her. Work provides a welcome distraction as she's asked to check on a client whose house-arrest monitor malfunctions. (Don't you hate when that happens?) This takes Jennifer to a wellness retreat, where despite her best efforts, she eventually succumbs to the peaceful environment and participates in a ceremonial sweat yurt. This restores her well-being.
While a sweat yurt may not be everyone's go-to method for self-care, it's essential to find ways to focus on self-care while at work. And no, that does not mean napping while working from home on a rainy Wednesday afternoon. Or does it?
Set Boundaries
Cleveland Clinic also offered this foundational work-life balance principle: Being honest with your leadership about your need for work-life balance. You need to create boundaries between work and other responsibilities.
This concept is probably Jennifer Walters Achilles' heel. Her employer requires her to be in She-Hulk form while at work since she represents superhuman clients. The produces a persistent conflict between who she is and who she isn't at work. In her case, setting boundaries could cost her.
Setting these boundaries can also be tricky due to remote and telework. But working from home shouldn't preclude drawing a line between work time and home time.
Bring Back the Lunch Hour
Finally, 2022 research from WebMD highlights one more work-life balance best practice: Take lunch. An actual lunch hour allows your eyes a break from screens and gives you an opportunity to reset before finishing out the day.
In the series, Jennifer discovers a breakthrough in a case while on her lunch break. An actual lunch break. Sitting outside and chatting with a coworker, she realizes the solution to winning the copyright infringement case! Leaving her desk for getting some fresh air let her think more clearly. That's true for many of us.
While this seems simple, the concept of the lunch break has definitely eroded. It can be easy to overlook due to the pressure of constant emails and from the blurred lines between home and office when you work from home.
The important thing this series reflects about work-life balance is that it's a process that isn't effortless. But smashing through those barriers will help you in the long run — both at work and home.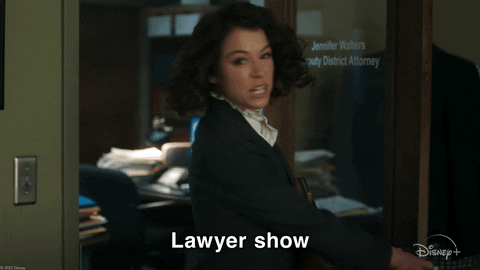 ---
Ryan is a Public Affairs Specialist working at the U.S. Environmental Protection Agency. He has over 10 years of federal service with a B.S in Marketing from George Mason University and an M.A. in Communications from Johns Hopkins University. Ryan lives in Washington, D.C., enjoys running, traveling and being a plant dad.
Photo by sydney Rae on Unsplash