This article is an excerpt from GovLoop's recent guide, "Intelligent Innovation: Tech Trends Taking Root in State and Local Governments." Download the full guide here.
Try to imagine watching TV without a remote. There would be no guide feature, showing you overviews of all the channels, and no searching for apps. Flipping through stations would be time-consuming and random, and forget about features that let channels interact with each other, such as the "last" button or picture-in-picture.
Well today if IT applications and solutions are the channels, state and local governments are the TV – without a remote. These governments exist in disparate and scattered IT environments aswarm with hybrid cloud and multi-cloud applications, but there's no way to capitalize on all of their features. These applications often aren't available centrally, and the same challenges that cloud was supposed to answer – issues of silos and isolation – reappear.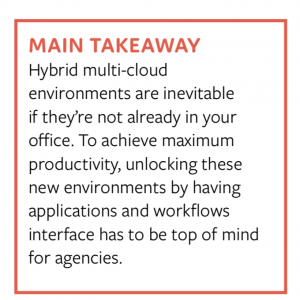 Overcoming a tangle of applications and enabling the full range of cloud potential is still in reach, however. To learn how digital workspaces can help state and local governments orchestrate applications in the cloud to promote maximum user productivity, GovLoop spoke with David Smith, National Director for State and Local Government at Citrix. Citrix offers digital workspace – a digital framework that hosts apps, data and desktops – solutions to governments looking to maximize the capabilities of solutions across hybrid cloud and multi-cloud environments.
"Every organization is going to be in a world of hybrid multi-cloud," Smith said. "The challenge for IT is: Can you control and manage all as one?"
The cloud comes with a lot of promises, but simply adopting cloud applications isn't enough. To maximize the potential of the cloud, state and local departments need to centrally manage their policies and procedures that should apply to all systems.
Digital workspaces provide this forum, creating a unified hub where state and local governments can manage access, security, automation and usage for all of their solutions, irrespective of whether these features use cloud or on-premise. With a digital workspace, they also control their network, centralizing systems and data to prevent the lockdown of information within one vendor.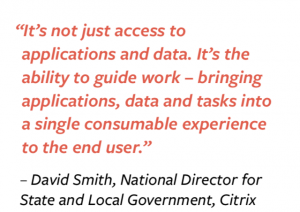 Citrix offers digital workplace solutions that are uniquely tailored to hybrid cloud and multi-cloud workplaces, and enables data-sharing, automation and agencywide security across systems.
For employees, these features can be accessed through a central, online platform. Remote workloads are easy to exchange, and specific applications can be tailored for individuals. If a city employee only uses a payroll and calendar function of an HR application, these functions can be presented to the user without needing to navigate through the application.
With digital workspaces, state and local governments are able to promote going to the cloud – attracting the next generation of digital natives while ensuring accessibility for every member of the workforce.
"It's not just access to applications and data," Smith said. "It's the ability to guide work – bringing applications, data and tasks into a single consumable experience to the end user."