Is our current healthcare system reaching a breaking point? A recent IBM infographic and research report points to yes. The infographic notes that 17.6% of U.S. GDP is consumed by healthcare spending, 9 million deaths are due to preventable risks, and half a trillion in annual costs could be avoided by improving medicine adherence.
"Perhaps no factor is driving change in healthcare as much as the increase in the number of elderly people worldwide," said the same IBM report. "The U.S. Centers for Disease Control and Prevention have indicated that the aging population has contributed to an increase in the use of ambulatory medical services because the elderly seek medical attention more frequently than any other population excluding infants. Between 1995 and 2005, hospital emergency room and physician's office visits increased by 36 percent to 1.2 billion total visits."
These statistics indicate that to make sure our system doesn't collapse, we need to find a way to be smarter on how we address healthcare issues. Realizing the complexity of social programs, and how they often intersect with each other, policymakers are looking at other factors that impact health.
IBM refers to these factors as "determinants," which include housing, education, work, income, early life experience, race and ethnicity. As policymakers focus more on the determinants of health, in addition to social programs, they can create more holistic policies.
To help government overcome obstacles in providing community care, IBM has been championing the Smarter Care program. Smarter Care transitions an agency to stop thinking about what it delivers, and focus on what an individual needs. Smarter Care also emphasizes collaboration across government and takes a holistic approach to social programs, life sciences, health plans and providers.
"Smarter Care is about the intersection of social programs and health care, and how we can promote the interoperability and a wider view of the individual or family, so we can help them maximize their productivity and participation in society," said Nicole Gardner, Vice President, Global Industry Leader, Social Security and Government Healthcare, IBM, in a report by GovLoop.
But how can agencies get started with Smarter Care? IBM provides five activities that can help achieve better health outcomes, identify, assess, respond, manage and measure, each described in the graphic below: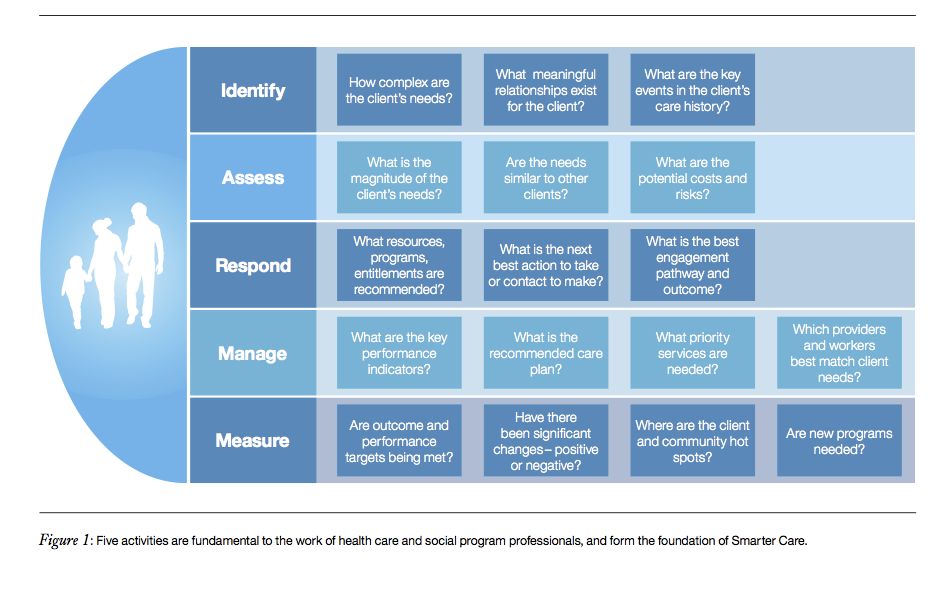 Many organizations have already adopted the Smarter Care approach as a new way of thinking about community wellness. The report includes some quick examples of communities that have put Smarter Care in action, enhancing their ability to meet community needs.
The Partnerships for Older People Projects in the UK was aimed at promoting healthy living among older people. The results are leading to an integrated approach to health and social care with the express purpose of reducing health sector costs.

The Camden Coalition of Healthcare Providers in the US focuses on "hot spots," places with a high density of people with complex medical and behavioral needs, which leads to lower healthcare costs.

A community enterprise center, Station 20 West, in Saskatchewan, Canada, addresses fundamental social needs in the community that leads to health benefits.

New York's Medicaid Health Home Program in the US addresses the high-risk, high-need beneficiaries by providing coordinated care where the patient's caregivers all communicate with one another so that the person's needs are comprehensively addressed.
"Implementing a smarter approach to care is not simple," warns the IBM report. "Therefore, before you embark on this journey, you must ask some hard questions about how far you are willing to go to address the ever increasing cost of healthcare."
Although there are obstacles to overcome, the Smarter Care approach positions agencies to be able to meet the demands of citizens.
In times of economic uncertainty, smarter government is a mandate. When information can be analyzed and presented more effectively, the result is better decision making, reporting and insight. For more information on how to use analytics to deliver better services to citizens, check out IBM's Analytics to Outcomes group on GovLoop.
 Photo: David Goehring, FlickR