This article is an excerpt from GovLoop's recent guide, "Solving the Cloud Conundrum: Security, Procurement, Workforce." Download the full guide here.
The cloud computing agreements between agencies and vendors are increasingly hard to enforce as more applications enter the picture. Although valuable, these apps require agencies to handle more information before operating them intelligently.
This situation occurs as service level agreements (SLAs) grow more complex as more apps are deployed on clouds. SLAs are the agreements between agencies and their cloud vendors about how the technology should operate and be monitored. For agencies, administering these pacts becomes difficult without business intelligence, or analysis of an agency's past, present and future business operations.
To understand how agencies can better enforce SLAs by seeing their entire app landscape, GovLoop spoke with Sami Begg, Sales Engineering Manager, U.S. Federal at AppDynamics. AppDynamics is a performance monitoring solution that has the capability to produce business insights and can help agencies continuously monitor their apps' performance in cloud. "Implementing AppDynamics is extremely easy," Begg said. "We're typically showing users valuable insights about their apps on day one."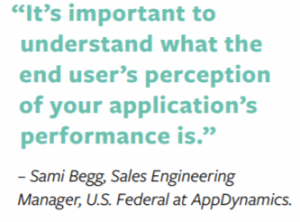 For example, improving business intelligence about current and past app performance rates can help agencies understand which of their cloud-based apps are loading slowly and why. These insights enable agencies to determine why specific apps aren't meeting their SLA performance requirements. Agencies can also determine why apps are underperforming before fixing them with their cloud vendors and delivering a better customer experience (CX). "It's important to understand what the end user's perception of your application's performance is," Begg said.
For instance, an app might be consuming more data resources than necessary or have code that is responding to queries slowly. "It's important to identify the different pieces of functionality within an app, and establish performance baselines for each, to understand what normal looks like," Begg said. "it is critical to ensure that the end user experience is not degraded when you migrate the application across infrastructure providers."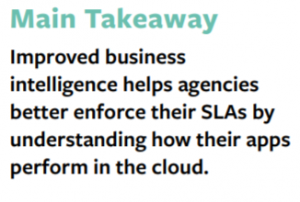 Ultimately, business intelligence aids agencies by helping them understand how people are using their apps. Agencies can analyze how many citizens they serve from one region, helping them prioritize where they focus their efforts. Insights such as these enable agencies to accomplish their missions quicker and more efficiently. "You have to understand your applications from the perspective of the business functions they serve," Begg said. "Correlating this information provides deep insights into the underlying success of the mission and is enabled by the Business IQ capability set within AppDynamics."
Although cloud is valuable for hosting apps, some agencies have struggled to create SLAs that explain how the technology should meet their needs. Agencies that better comprehend how their apps work in the cloud can more easily explain to their vendors what they need in their SLAs.