The move to a more distributed workforce predated the COVID-19 pandemic, which forced many government employees to work remotely. And remote work will become even more common at most agencies in the next 18-24 months, according to a survey of 105 federal, state and local government employees and contractors. The survey was conducted by GovLoop in partnership with Fortinet and Carahsoft.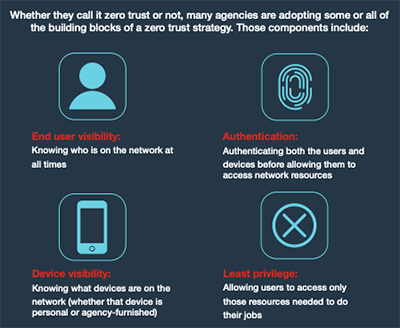 In response to this shift, many cyber experts recommend a zero-trust approach to network access, which applies security measures at the level of individual applications, data and systems.
Zero trust is not a technology but a strategy that integrates numerous technologies and policies. With the widespread adoption of cloud, mobility and related technologies, government workforces are becoming more widely distributed – meaning that agencies can no longer rely on perimeter-based defenses to keep their networks secure.
The threat of insecure or unknown devices attaching to the network, along with a host of breaches due to stolen credentials, has stretched continued reliance on perimeter-based security beyond the breaking point.
In this recent infographic, Building a Foundation for Zero Trust, we explore the results of a survey of federal, state and local government employees and contractors about the role of zero trust in their agencies, the building blocks of zero trust and solutions agencies can use for zero trust network access. Download the full infographic here.