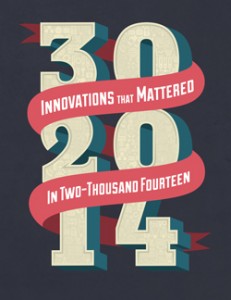 It's easy to find ways in which the Internet of Things (IoT) has affected private and consumer-facing enterprises — you probably have heard of the Nest thermostat or fitness devices that can monitor your movements, location, and workouts throughout the day.
But the effect of the Internet of Things on the public sector and government is less concrete. What's clear, though, is that although government may not yet be taking advantage of the technology and applications that IoT can offer, it's coming hard and fast toward the public sector — and it's time for government workers to get ready.
That's why we decided to feature five of the top "Internet of Things Trailblazers" in our 30 Innovations that Mattered in 2014 guide.
The number of "things" connected to the Internet has outpaced the number of people connected to the Internet since 2008. These connected things — mobile devices, parking meters, medical devices and more — will grow to 50 billion by 2020.
So how is government taking advantage of this shift in technology? One place is at the General Services Administration. GSA's office in D.C. is in a stately building that was designed and constructed in the early 20th century. But on the inside, an innovative IoT experiment is taking place that's catapulted this agency that manages and supports the basic functioning of federal agencies well into the future.
Intrigued? You should be. The massive cost savings that GSA is already seeing likely because of IoT are reason enough for government and public-sector workers to get excited.
So click through at the link below to read other case studies of how the government is starting to dabble in the Internet of Things. From air pollution sensors at the EPA to a 'FitBit' for Chicago, you'll be inspired to start an Internet of Things pilot at your agency.
To learn about our top 5 Internet of Things Trailblazers, as well as our other top picks for government innovations in 2014, check out our guide: 30 Innovations that Mattered in 2014.