How people are learning is changing. Learning happens everywhere. It's a continuous, interactive cycle that is increasingly occurring online.
Think about how you learn. You may search the Internet for articles, watch video tutorials, post on a discussion forum, or read case studies. All of these combined actions create your learning experience, and it happens over different platforms, tools, and activities.
You may be thinking, "So what? That's a good thing." We agree, it is! But how can all of these diverse learning activities be tracked and assessed?
That's where Learning Management Systems (LMS) and learning performance technologies come into play for your organization's human resources and learning teams.
Let's take a look at the different standards for learning performance, SCORM and Tin Can, to better understand how modern learning happens.
SCORM:
SCORM, or Sharable Content Object Reference Model, is a set of technical standards to govern how learning is tracked that was developed by the Department of Defense. SCORM created freedom for eLearning instructional designers and developers, as well as course administrators, by enabling them to include web-based content from many sources. But SCORM's tracking capabilities are limited to web-based content and events. In other words, it can't handle diverse learning experiences.
Tin Can API or xAPI:
The next evolution of SCORM, the Tin Can API (also known as the Experience API or xAPI) makes it possible to collect data about the wide range of learning experiences a person experiences online and offline. The application program interface (API) captures data in a consistent format about a person or group's learning from many technologies and activities.
Instead of communicating with the LMS, the Tin Can API communicates with a Learning Records Store (LRS). In addition to recording and tracking traditional learning events, Tin Can can account for real-world experiences that take place outside of the classroom, as long as they are defined with an event name and a verb.
This handy chart breaks down the specific capabilities of SCORM and the Tin Can API.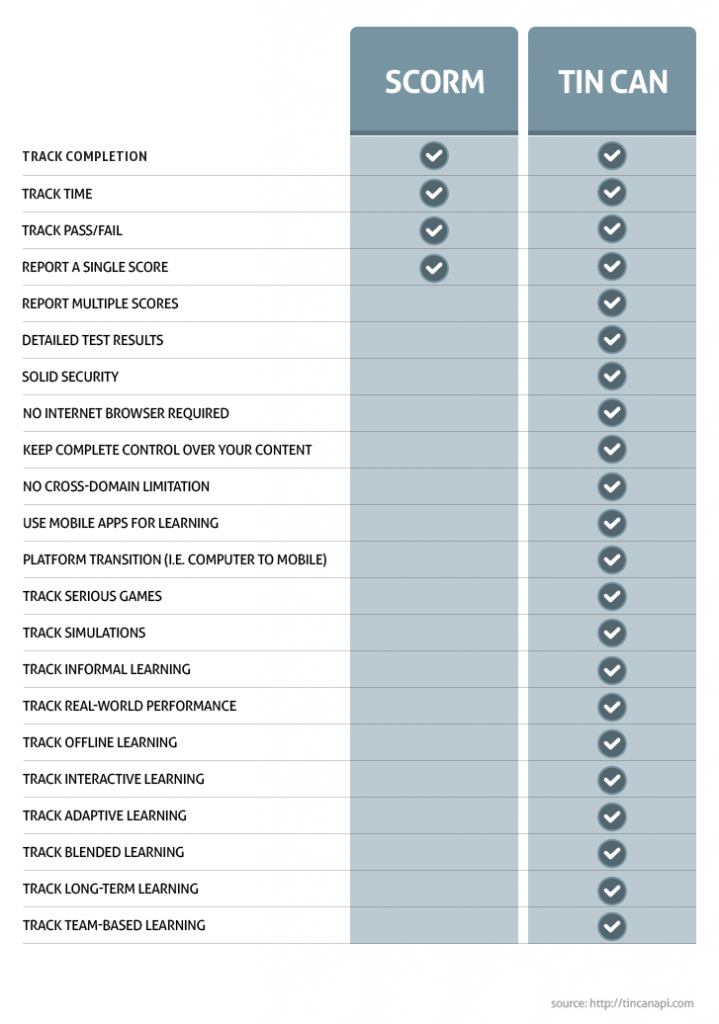 Experience-based learning programs are exciting and offer great opportunity for the learning function to demonstrate a more direct and measurable impact on the organization's success than ever before! With the Tin Can API, we can combine formal and informal learning in new ways that improve learning performance.
Now I'm curious, is your organization using SCORM or Tin Can? Let me know in the comments!