---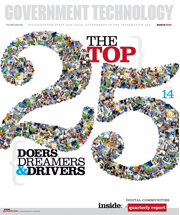 Mar 1, 2010, By The Staff of Government Technology
Since 2002, we've dedicated the March issue of Government Technology to 25 people who cut through the public sector's infamous barriers to innovation — tight budgets, organizational inertia, politics as usual, etc. — to reshape government operations for the better. This year, we honor an eclectic group of individuals from government, academia and the private sector who share a willingness to challenge convention and find new answers to long-standing issues. Congratulations to our 2010 Doers, Dreamers and Drivers.
2010 Doers, Dreamers and Drivers
Kamal Bherwani, CIO of Human Services, New York City
Peter Corbett, CEO, iStrategyLabs
Toni Cramer, CIO, Bellevue, Wash.
Wanda Gibson, CTO, Fairfax County, Va.
Linda Gibbs, deputy mayor of Health and Human Services, New York City
Bill Greeves, communications and IT director, Roanoke County, Va.
Bill Hobgood, project manager, Richmond (Va.) IT Department
Michele Hovet, IT director, Arvada, Colo.
Karen Jackson, deputy secretary of technology, Virginia
Anne Margulies, CIO, Massachusetts
Harlin McEwen, chairman, Public Safety Spectrum Trust Corp.
Beth Noveck, deputy CTO for open government, U.S. government
Gov. Deval Patrick, Massachusetts
Steve Ressler, founder and president, GovLoop
Elliot Schlanger, secretary, Department of Information Technology, Maryland
Selvi Stanislaus, executive officer, California Franchise Tax Board
Eric Swanson, director, Center for Shared Solutions and Technology Partnerships, Michigan
Shannon Tufts, director, Center for Public Technology, University of North Carolina