Many millennials are unsure of how to make the transition from college to the workforce. Figuring out if public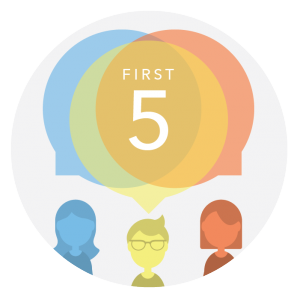 service is right for you can be equally challenging. You may find yourself looking at your peers who seamlessly transitioned into the workforce and find yourself wondering how in the world did they get there? First 5 sat down with a millennial who did just that. She has some insights on how she was quickly able to transform from student to full-time employee.
Behind the Staffer
Jessica Carroll is a Public Affairs Specialist at the Office of the Deputy Mayor for Planning and Economic Development for the District of Columbia. She explained, "my main job is to make my boss's job easier." In order to do this, she drafts newsletters, writes event briefing memos, posts on social media platforms and staffs Mayor Bowser and Deputy Mayor Kenner at economic development events.
Carroll knew public service was a good choice for her from the value that she finds in her job on a daily basis. "Being at the forefront of economic development in DC while it transforms from a 'government town' to a destination for many is incredible," she said.
While Carroll admitted that she didn't really think much about government before she was working there, it gave her an advantage as she did not have any preconceived notions of what to expect. She explained, "I was able to just jump in and learn from the fast-paced and rewarding environment." Not knowing what she wanted to do after college made it easier for Carroll to dive head first into the opportunity to work at the Deputy Mayor's office.
Myths and Facts of the Public Sector
Myth: You can only get involved in the public sector if you have all the right degrees and years of experience.
Fact: Working for the public sector is a great option for those who have just finished up their undergraduate studies.
Carroll explained that once she graduated she had a lot of pressure to get a job. Fortunately, she stumbled upon an opening in the Deputy Mayor's office. Four months later she was a public sector employee. However, in Carroll's office they are starting even younger than recent grads. She explained, "we just worked with a cohort of six high school interns who helped us with social media and other office tasks." Carroll emphasized that all the high school participants had really high aspirations and it was a unique experience to watch them get involved with public service at such a young age.
Myth: Public service requires having a lifelong interest in politics.
Fact: Public servants come from all different kinds of backgrounds and not having an interest in politics during undergrad doesn't preclude them from a post-grad job in public service.
Carroll emphasized, "I actually didn't have a huge interest in politics growing up but ever since I've been in DC, I've been immersed in the political culture and it's been very interesting." It's important not to limit yourself when you are applying to jobs. Being open to positions even if you don't have a strong background in them can open doors that you never even knew existed.
Advice to Millennials 
Don't be afraid to take risks. How did Carroll shift from homecoming games to staff meetings? She took a risk by moving away from everything she knew and coming to DC. "Being from the deep South, I didn't really want to venture too much further North than North Carolina however, I had heard from friends that DC was the place to be for millennials so I figured I would apply to one job and see," Carroll said. "As it turns out it was the right opportunity for me."
 Find a good office culture if you can. Carroll underscored the impact that a positive office culture has had on her transition from college to the workforce. She explained, "we work hard during the day but also make time for team bonding. That may be softball games, quarterly all-hands meetings, or volunteer opportunities to help better the city." Having a support system at work and being able to draw on a dynamic environment makes branching out into the workforce infinitely easier.
Be prepared to grow. While Carroll faces challenges in her day-to-day role, she explained that her biggest challenges are more closely associated with the transition from college to the workforce. "It is hard not having a summer break anymore and living 10 hours away from my family and friends in a completely different, high-speed environment takes some adjusting to. It's especially challenging coming out of college and jumping right in" she said.
However, Carroll underscored that challenges and growth have been good for her. She concluded, "the part of this job and my journey that still blows my mind is that I work on Pennsylvania Avenue every day telling the story of the two people that help the District function on a day-to-day basis." Her entire experience would not have been possible if she hadn't stepped out of her comfort zone and pursued growth.
Love hearing millennial stories straight from the source? Check back the first Thursday of every month for a new inside perspective from young govies. If you want to be our next featured millennial, email us here.
This post is part of GovLoop's millennial blog series, First 5