As many millennials leave behind the world of academia for a career in public service, some are more than happy to never hear the words 'peer reviewed' again. However, others are a little more hesitant to say goodbye to abstracts and research. First 5 recently sat down with a millennial, Liliana Besosa, who is starting her public-sector career off as a researcher. She gave some interesting insights into how to navigate the nexus of research and policy.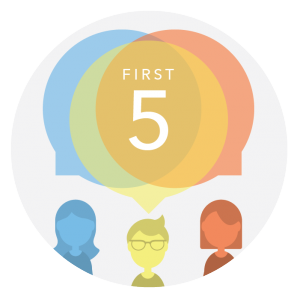 Behind the Public Servant
Liliana Besosa is an academic assistant and intern coordinator for the William J. Perry Center for Hemispheric Defense Studies at the Department of Defense's National Defense University. Throughout the National Defense University (NDU), Besosa and her colleagues host a variety of courses for civilian and military officers in the U.S. government and from around the globe.
The NDU has three regional centers in Washington, DC: the Africa Center, the Near East and South Asia Center, and the William J Perry Center (WJPC). Besosa works in the Latin American Regional Center in the WJPC. Some of the topics she researches include defense policy, complex threat assessments, terrorism, and human trafficking. Her main duties include providing assistance and research to the professors that teach in these subject areas.
Besosa actually started her journey with the NDU about five years ago when she was a research assistant intern for the Latin American Regional Sector. After the internship, she left to work at the U.S. Embassy in Madrid but decided to come back and give full time research a shot when she saw there was an opening in her own division.
Here, Besosa gives us her best tips on how you, too, can shine as an academic in the government.
Network, network, network. Besosa explained that one of the coolest parts of her job is that people come from all over the world to the Latin American Regional Center Group to take classes. "Most of our students come from Latin America so this gives you an opportunity to talk to people from Colombia, or Guatemala or the Caribbean and it provides a great platform for networking and communication," she explained.
Additionally, Besosa recommends that millennials who know they want to work as public servants to go out and contact individuals who are in the departments they are interested in and set up informational interviews. "This was something I did when I was looking for jobs and I was very determined but also very fortunate," Besosa said. She was able to take time and choose the right organization to work for because her parents were able to support her while she was job searching. She said "this allowed me to meet with all these different organizations and get to know them as a whole so I was sure I was getting involved with an organization that I was comfortable in and would have a great career in."
Fake it till you make it. Not only does Besosa work on the research side of things but she also has management experience as the intern coordinator for her organization. She explained that this is sometimes an awkward position to be in because often times the interns she is hiring are older or have more experience than she does. In order to alleviate potential awkwardness, Besosa works hard to keep platforms of communication open and makes an effort to get to know each intern personally.
Besosa also underscored the importance of putting yourself out there and be willing to learn. She explained that in her office they speak Spanish frequently because most of the courses are taught in Spanish. This can be difficult for colleagues who are not as confident in their Spanish skills and are afraid of using incorrect grammar or pronunciation. In order to get over this challenge, Besosa recommended being confident in the skills you do have and start acquiring the ones you don't.
But know your stuff. However, at the end of the day if you want to go into academia, it is critical to have a base of knowledge in your subject and of global events. Besosa said she listens to NPR every day on her commute and tries to read credible news so she can stay well informed on what is going on around her and how it could potentially impact her policy area. "It really helps when you can analyze and explore events that have happened around the world," she said, "not only for your own situational awareness but also so you can be aware of how global events affect your agency and their policies."
Ready to bring your academic experience to the public sector? Remind yourself of Besosa's tips and you'll be in your dream government position before you know it.
If you love hearing millennial stories straight from the source, check back the first Thursday of every month for a new inside perspective from young govies. If you want to be our next featured millennial, email us here.
This post is part of GovLoop's millennial blog series, First 5