During the initial response to the coronavirus pandemic, agencies scrambled to support remote workers while pursuing their missions. NASA, an agency known for succeeding under duress, wasn't exempt. The COVID-19 pandemic imposed significant IT demands on the agency, said Jeff Seaton, Acting Chief Information Officer (CIO) at NASA.
Early on, network outages disrupted NASA's remote workers, prompting quickly implemented architectural improvements to resolve those issues. "I like to say that we experienced three years of transformation in the first three months of the pandemic," Seaton said.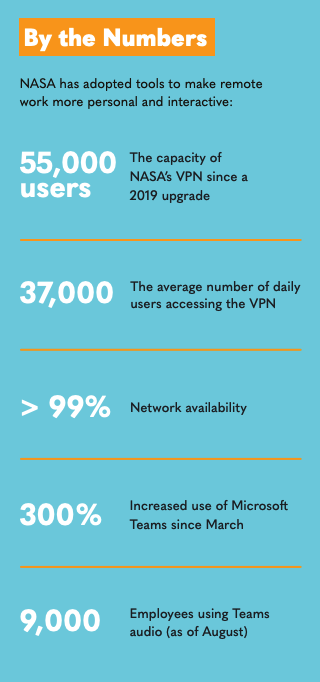 To its benefit, NASA had taken steps in recent years to modernize systems and make them more resilient. The agency routinely tested capabilities and trained employees to work remotely and securely. Before the pandemic, some employees regularly worked remotely.
In recent years, NASA invested in modernizing its network, collaboration tools and cybersecurity capabilities, enabling work performed remotely, securely and effectively. By quickly moving most of the workforce to telework status in March, the agency continued operations while limiting employees' exposure to the coronavirus.
The coronavirus has nonetheless provided opportunities for NASA to further improve its systems. "While our VPN availability rate is above 99%, there have been instances of outages that pointed to architectural improvements that we were able to rapidly implement, further strengthening our infrastructure," Seaton said.
The COVID-19 pandemic has provided an opportunity to underscore the importance of IT modernization and the benefits of adopting digital tools, such as recently launched initiatives:
Development of a mobile/web Contact Tracing & Tracking (CTT) application for entrance temperature screening
Increase in Virtual Private Network (VPN) capacity
Launch of Microsoft Teams Mobile Device/Apps
Enhanced collaborations through audio or video meetings via Instant Meeting, Jabber, Microsoft Teams, WebEx or other NASA conferencing services
Secure video streaming
Establishment of a remote process for badge renewals As most NASA teams moved to remote work in March workers learned to use IT-based collaboration tools like video meetings and collaborative, online content creation.
"We are investigating how to effectively bridge on-site and remote employees as we consider the future of work across NASA.  – Jeff Seaton, NASA CIO (Acting)
Home-internet connections could largely determine their remote-work experience. "Helping individuals troubleshoot home network performance has been a challenge," Seaton said. "With so many people working remotely, we are reviewing and improving processes for resolving problems and customer outreach."
Seaton predicts that NASA will always have work that is best to do on-site, yet remote work will continue. "We are investigating how to effectively bridge on-site and remote employees as we consider the future of work across NASA," Seaton said.
Despite the early stumbles, NASA's IT systems have performed well, even as the agency tripled the load on some components. As most of the NASA workforce began working remotely, cloud-based email, collaboration and backup tools made it possible for them to work seamlessly and securely.
Looking ahead, effective IT management and proactive cybersecurity will be top priorities at NASA, which for years has deployed IT tools to enable highly matrixed teams to be mobile and collaborate on complex missions. As NASA transitions more data and capabilities to cloud services, the agency will seek to:
Train employees to understand benefits and risks in the cloud and their responsibility to protect sensitive data.
Hold cloud service providers accountable for the security standards established in operating agreements.
Work with other federal cybersecurity partners, including the Homeland Security Department and the FedRAMP Program office, to ensure NASA is following best business practices, including cybersecurity protocols.
When the next crisis arrives, NASA will be prepared. "We will apply what we have learned to be even better positioned for unforeseen situations we may confront in the future," Seaton said.
NASA remains committed to becoming more secure, effective and resilient. The agency "has risen to the challenge of keeping NASA's missions moving forward during these challenging times," Seaton said. "I have no doubt that they will continue to do so in the future."
This article is an excerpt from GovLoop's recent report, "Bouncing Back From Crisis." Download the full report here.