Open Season 2018 is almost here! And as a federal employee, it's important that you choose the health insurance plan that best meets your needs. But where do you begin? And more importantly, what does Open Season really mean for you? Don't worry, we've got you covered.
This year, Open Season is taking place from Nov. 12 to Dec. 10, 2018. In this time, you'll be able to enroll, change or cancel your plan for coverage year 2019. This is crucial because unless you have a qualifying life event (like marriage, divorce or birth of a child), you can't make changes to your plan outside of this period. So, as a federal employee, it's a season you don't want to miss!
Even if you like your current health insurance plan and don't plan to make a change, it's encouraged that you still check on the plan offerings to ensure your current plan is still available and to determine whether any changes are being made to the pricing structure or benefits.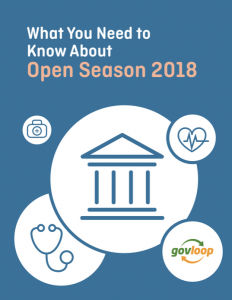 If you're still confused or unsure of where to go from here, we've created this guide, What You Need to Know About Open Season 2018, to help. In it, we share which important Open Season dates to remember, how to choose the right plan for you and your family, what Open Season lingo you need to know and more. We also include five steps to help you determine your needs and budget, as well as tips for making the right Open Season decision.
Still need more clarification? Check out this free on-demand training, Open Season Unlocked: Understanding Your Benefits, to explore everything you need to know about your federal benefits so that you can accurately make your selections. Happy Open Season!