The current global landscape has rapidly transformed the notion of digital innovation and upended traditional models of both work and the workplace, placing businesses around the world at the precipice of change.
With digitalization initiatives and workflows set to significantly accelerate across industries and sectors, now is the time for organizations to leverage this catalyst to drive competitive advantage, using it as an opportunity to enhance efficiency, productivity and performance.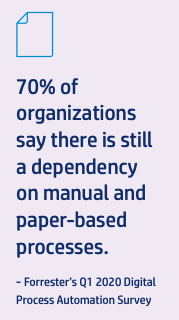 By embracing innovation and understanding technology-specific dimensions for opportunities, business leaders can make impactful strategic choices in creating flexible and agile workflows that are capable of accelerating growth amid the uncertainties ahead.
While the focus is on digital, it is also critical to recognize the value of traditional workflows in how work was being done, so that they can be incorporated into wider digital transformation strategies. Organizations must exploit current opportunities to reevaluate their processes, to remain relevant and to ensure long-term revenue growth and survival.
Paper remains essential
In an increasingly digital and fragmented workplace, print and paper is still a key component, as part of a legacy of established working processes and norms. According to Forrester's Q1 2020 Digital Process Automation Survey, despite the new remote working environment, more than 70% of organizations say there is still a dependency on manual and paper-based processes.
Standing the test of time since the invention of the Gutenberg printing press, print continues to play a critical role in the workplace as it relates to organization, process improvement and communications. Despite a more distributed workforce, these are core tasks that do and will continue to exist.
Business leaders recognize this with research indicating that 82% of commercial decision-makers believe that printers help employees work more effectively.
At the same time, the importance of paper is not evenly weighted for all individuals across an entire workforce.
The role of paper as part of a critical workflow process varies across specific industries and departments. For instance, highly regulated industries including law, finance and accounting use printed documents as part of a key functional micro workflow. This is unlikely to change anytime in the near future despite the rapidly changing landscape, due to enduring regulatory and compliance requirements.
It is now more important than ever for business leaders to consider these implications when developing their digital transformation and adoption strategies, especially if employees with these work style needs are working from home part or all of the time.
The human element in print
Paper plays a fundamental role in addressing human needs at work, as it relates to productivity, comprehension and organization.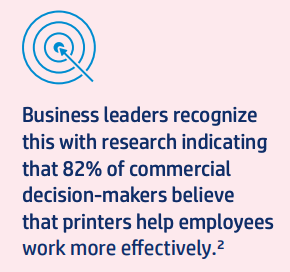 While printed material has long been a more effective tool for the retention of important information, evidence also suggests it supports a mental space of focus, more significant now given the onset of digital and virtual fatigue being experienced through working from home.
With less workplace printing taking place, there has been an increase in employee screen time. With increased screen time, there has been a shift in sentiment around engaging with print collateral.
A US study found that a majority of consumers would like to restrict screen time on various devices, with 66% of respondents wanting to engage with printed information3 as opposed to digital.
In addition, print has been seen as a key enabler in boosting remote working productivity levels and keeping employees engaged.
Among employees who reported increased productivity levels:
64% stated that they had increased printing, compared to;
30% of respondents who were printing less or not at all
This presents an opportunity for IT decision-makers to resource their workforce not just with printers but more importantly, the right processes and policies to ensure security and compliance vulnerabilities are being addressed.
It is evident that there are still contemporary sustained needs for print within organizational workflows. Yet, as remote working gains pace in the workplace of the future, the role of paper and printing will see a paradigm shift in setting the stage for innovative ways of working.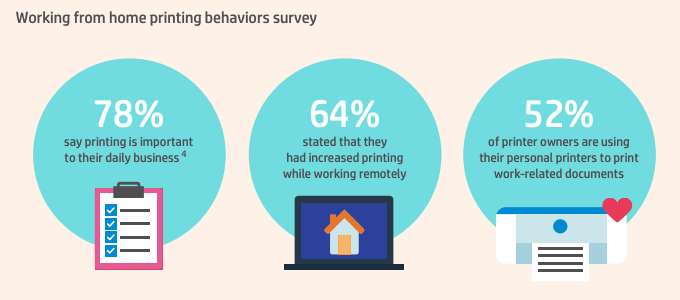 This blog post is an excerpt from a partner spotlight report, " The Role of Paper in a Digital Workplace." Download the full report to learn how you can create flexible and agile workflows that meld paper-based processes with digital ones here.