Want to Enhance Your Resume? Take advantage of GovLoop's resume resources!
Let's be honest. Navigating the application and interview process for a job in the public sector is less than straightforward. Processes are lengthy, complicated and often time-consuming.
And while many components of getting a government job can feel like they're out of your hands, there is one thing you can control – your resume. We've compiled the best go-to resources for creating a rock solid government resume.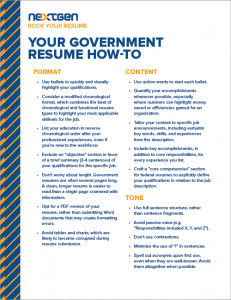 Here are some of the resources available in the free Rock Your Resume Toolkit
Cheat-sheet: Your Government Resume How-To
Templates: 3 Customizable Government Resume Templates
Guide: 10 Tips for Finding a Job on USAJobs
Guide: Getting into Government: A Guide for High Achievers
Article: How to Get Your Resume Government-Ready
Article: 8 Do's and Don'ts for Cover Letters
Article: Tailor Your Cover Letter for a Government Job