Lightning strikes the ground, thunder rumbles across the sky, sometimes hail plummets onto your roof, but you don't think much of it. Thunderstorms are a hallmark of summertime. You've seen storms like this before.
And then your phone buzzes. There's a message telling you to take immediate cover; a tornado has been detected in your area.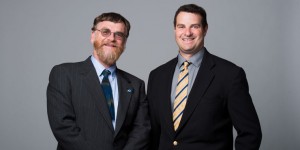 In his 23 years as a meteorologist with the NOAA's National Weather Service (NWS), Michael Gerber has dedicated his career to preparing the public for dangerous weather emergencies. With the help of software branch chief Robert Bunge and a team of several others, Gerber helped develop the National Weather Service's wireless emergency alerts, or WEAs. These messages, which are part of a nationwide emergency alert system, have saved millions of lives by giving people real-time emergency alerts via their mobile devices.
Recognizing the colossal value this service has to the public, the Partnership for Public Service nominated Gerber and the NWS's entire Wireless Alerts Team for a 2015 Service to America Medal Award, or SAMMIE, for Homeland Security and Law Enforcement.
In a recent interview with GovLoop's Emily Jarvis on the DorobekINSIDER program, Gerber discussed the innovations that helped create wireless emergency alerts and how WEAs are changing the way government agencies communicate with the public when it matters most.
Opening up the Channels
According to Gerber, the general "theme" of his job is to encourage integration of NWS alert information into the widest possible range of consumer electronics. He works most with the Common Alert Protocol to provide interoperability across many channels of communication. The Common Alert Protocol, or CAP, provides industry standards for exchanging emergency alert information. Gerber and his team use CAP to publish wireless emergency alerts across many channels of communication.
After creating an alert, the National Weather Service pushes the information through FEMA's integrated public alert and warning system, or IPAWS, where it's then passed on to wireless service providers. Through this process, "[w]ireless alerts get out to millions of cellphones and we're able to save lives," Gerber said.
None of this would be possible if it weren't for a 2006 executive order. The integrated public alert and warning system was conceived by executive order and implemented by FEMA soon after. Any alert from a government agency, regardless of whether it's at the federal, state, or local level, come together in IPAWS and are transmitted across many channels. These "channels" include mobile applications, highway road signs, radio, TV and wireless emergency alerts.
The WEA service officially rolled out in 2012. Gerber said that while they had the technology to do it, they also were tasked with educating people about this new service. Partnering with the wireless industry, the Wireless Alerts Team had to constantly communicate credible information. Citing reports of public response to NWS alerts, Department of Homeland Security studies on mobile alert efficacy, and the social science behind emergency response, the team was able to convince wireless carriers to broadcast this information and save lives.
Rather than mass texts, WEAs are actually a radio-type broadcast known as "cell broadcasts." Once they receive an emergency alert from the Gerber and his team, wireless carriers transmit the information through cell towers in the impacted areas. This technique sends a geographically-targeted broadcast messages to people's cellphones within range of an at-risk area. Unlike texts, these alerts are not subject to network congestion, allowing people to receive emergency alerts as soon as possible.
Making a Difference
After just three years, WEAs have become a nationwide technology. With help from the wireless industry partners, most mobile devices are now WEA-capable. Reflecting on the evening he first activated the WEA, Gerber said he realized, "almost overnight you're going to have millions of cellphones being hit with these alerts…[y]ou are taking a big risk, but the reward is potentially very high."
For Gerber, the payoff was almost immediate. On July 1, 2013, a camp manager overseeing 29 children and several camp counselors in East Windsor Connecticut got a wireless emergency alert on her iPhone urging her to take cover immediately from a tornado in the area. She immediately rushed everyone out of the soccer dome where activities were taking place to a sturdier building. "Just seconds after she closed the door, a tornado came through [and] obliterated the dome," Gerber said. At that moment, he realized that their alert helped avert what would have been one of the worst disasters in the history of Connecticut. "That's a big payoff," he concluded.
Over time, Gerber has found that he derives a "great sense of accomplishment" from his job. He hopes that when people get a wireless alert message, they will take decisive, life-saving action to prevent weather-related tragedies. Gerber's goal has always been to make people more prepared for disaster. While these alerts are "not a perfect system," they are constantly improving. As the incident in East Windsor Connecticut demonstrates, WEAs have already made a meaningful difference.
Saving lives one cellphone at a time. For their outstanding service to communities across the nation, we congratulate Michael Gerber and the National Weather Service's entire Wireless Alerts Team on their 2015 SAMMIES nomination.
*Photo credit to the Partnership for Public Service