In the past decade, government agencies have experienced a massive influx of data, much of it unstructured. Understanding where all of that data resides, managing it and protecting it are gargantuan tasks, but if that data is safe, accounted for, accessible and managed efficiently, agencies can reap its value and use it for advanced processes such as high-level analytics and DevOps.
These challenges and benefits are causing some agencies to reevaluate their existing data management tools, technologies and processes. For many agencies, this reevaluation is coming at the right time, as they also aim to modernize IT infrastructure, move more workloads to the cloud and embrace cutting-edge technologies.
To learn more about how agencies can get ready for a data-centric future, GovLoop teamed with Pure Storage to survey 71 federal, state and local government workers about their agencies' data strategies. The results point to what agencies want and need to manage, secure and make the most of their data. Here are some of the highlights: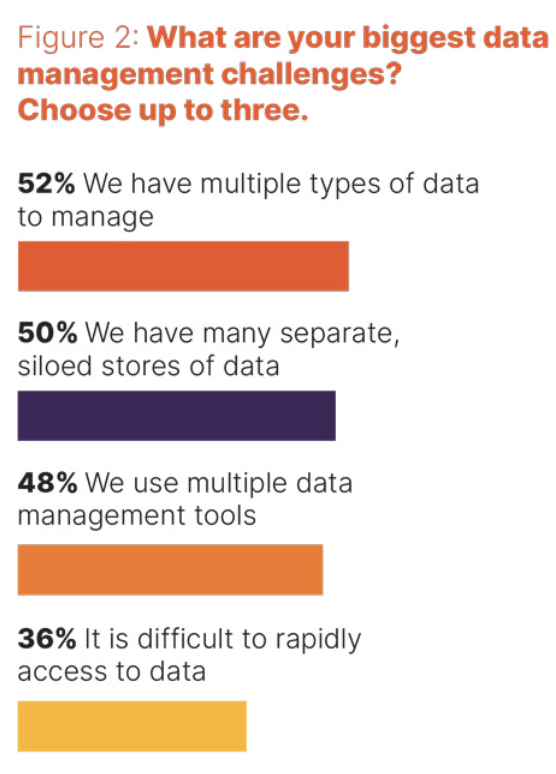 Ensuring that data is fully available and accessible can be a major barrier for many agencies in achieving a truly data-driven culture. Not only is data often spread among different on-premise environments and multiple clouds, but the expanding variety of data types — image data, data in legacy databases, sensor data and web data, for example — complicates the situation. According to the survey, more than half of agencies consider having multiple types of data to manage as a top challenge (see Figure 2).
Creating a Data-Driven Culture
One way of enforcing a data-driven culture is by using the self-SaaS model, which provides data architects, managers and administrators with a way to consolidate data and enable data services from a centralized pool. It also helps eliminate many traditional challenges, including provisioning, maintenance and patching, sizing, human error, and cost. With a true subscription model, agencies can scale capacity up and down without disrupting operations while getting consistent support.
The survey found that just over a quarter of agencies use storage-as-a-service (see Figure 3), but Psaki didn't find that surprising. In fact, he said that many more probably were using it but didn't know it. "If you're doing it right, your users don't know the difference, which is why they may not realize they are actually using it," he said.
A truly data-driven organization, with a data-centric architecture, gives an organization the ideal "360 degrees of freedom," said Nick Psaki, Federal Principal Engineer at Pure Storage.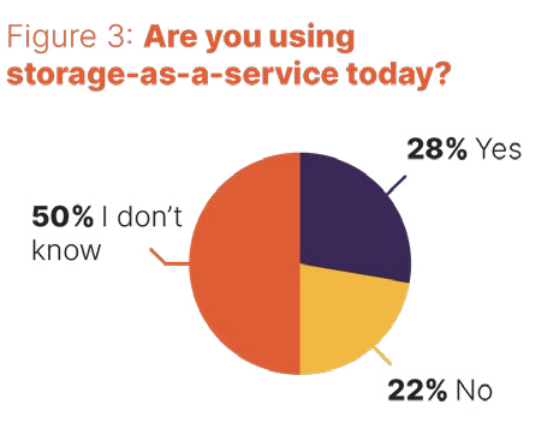 "You can put your data where you want, when and how you want, without worrying about compatibility, interoperability, availability or durability, and you will be ensuring that your agency is ready for whatever comes next," he said.
The goal is to have a seamless environment, in which agencies spend less time worrying about the mechanics of managing data and more time deriving value from it.
This article is an excerpt from GovLoop's recent report, "Embracing the Data-Driven Future." Download the full report here to view survey results and glean additional insights.