There are many clichés to describe hybrid work's transformative impact on society — hybrid models are "on the rise," for instance — but whichever words you choose, they mean the same thing: People have more work flexibility than they used to.
The new freedom calls for innovative employee management and some spiffy technology tools, so during Wednesday's GovLoop session entitled "State of GovTech: Tips for Collaboration in the Hybrid Workforce," we asked three experts for their opinions on creating hybrid systems.
Joining us were:
Lisa Jammer, Director of People and Culture, Texas Department of Information Resources
Alex Wilson, Program Analyst, Government-wide IT Accessibility Program, Office of Government-wide Policy, GSA
James Greene, Business Development Manager for Public Sector, Jabra
Here is some of their insight.
Team Building and Connections
Everyone agreed on the importance of fostering relationships — with existing employees and with new hires — because as Jammer said, "The one thing an employer cannot automate is culture." She said that how we engage workers and foster an inclusive environment affects productivity and employee retention, and that managers should encourage wellness programs and look for signs of burnout.
For Wilson, team building includes holding one-on-one chats, giving "spot feedback," organizing in-person events when possible, and starting staff meetings with icebreakers that require people to reveal something personal about themselves.
Greene described team building efforts in a partially remote world as "virtual watercooler" encounters. Collaborative discussions today are more formal than spontaneous moments in the hallway used to be, he said, but the conversations still happen.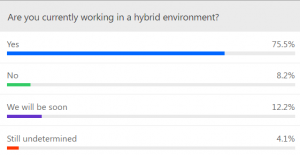 The vast majority of session attendees either worked in a hybrid environment or soon will be.
Technology for All
Agencies must provide collaborative tools and platforms that all their employees can access and understand, Wilson said. And Jammer agreed: Organizations must find ways to give employees similar experiences, whether onsite or offsite.
For Greene, that means that cool new laptops, cameras and headsets shouldn't be reserved only for remote workers. Technology also should improve experiences for people on the other end of interactions. Does a consumer hear your dog barking in the background, for instance? Well, technology can help mask that, Greene said. He added that firms like Jabra "want to enable the ability to hear but also to be heard."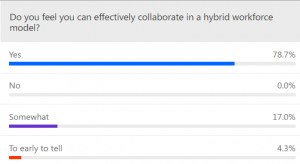 Almost all attendees felt they at least sometimes can collaborate effectively in a hybrid work model.
Other Standards for Success
What other things make hybrid systems successful? According to Wednesday's speakers, effective hybrid work models, among other items:
Are structured and based on metrics (productivity, employee surveys, etc.) and clear expectations
Compensate for leadership and training opportunities that are lost when people work remotely
Take employee work preferences (remote, onsite, hybrid) into account
Recognize the importance of quality audio and visual tools, and minimize distractions
There was no doubt that hybrid work will continue — it's proven to be an effective model, Wilson said — and that hybrid models, as they evolve, can be even more transformative.
This online training brought to you by: