What started as a small program in the State Department in 2009 has initiated a wave of digital internships across government agencies. Through the Virtual Student Federal Service program (VSFS), U.S. citizen college students can offer their digital expertise and talents to government agencies through digital internships, regardless of their location. More than 50 federal agencies offer 500 virtual projects through VSFS, guaranteeing that there is something of interest for people of all academic backgrounds.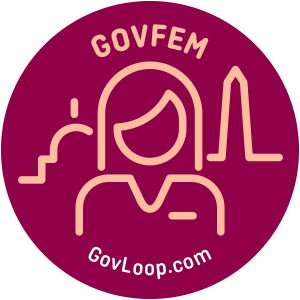 Bridget Roddy and Nora Dempsey, the State Department's Creative Diplomacy Team, have been behind this successful program for years. Together, the pair spearhead visual & UX innovation within their agency and beyond, and manage to nurture a strong partnership along the way.
Bridget Roddy studied anthropology and graphic design before joining the State Department as Director of Virtual Student Foreign Service. "I followed interests that I enjoyed and didn't think it would ever come together, but it did. It's exciting when that happens," she said. As Director, her goal is "to improve the program's functioning to make it a great resource for government and students." Roddy feels that this role is the most dynamic and interesting to date.
Nora Dempsey became Senior Advisor for Innovation for the State Department after a "long and interesting diplomatic career" focused on partnership creation. "My undergraduate degree was in graphic design and creative communication, so this is the perfect position to marry my diplomatic experience with my background," she said. In her current role, Dempsey works to expand the reach of VSFS and uses technology to provide innovative solutions for State Department operations. "We try to open new doors and see what we can improve."
In this GovFem Q&A, Roddy and Dempsey discuss teamwork as well as the challenges and rewards of being digital pacesetters.
GOVLOOP: You both mentioned that people come to you two asking for help implementing VSFS. What are the most common problems they present?
RODDY: We do a lot of design, visuals and user experience. People come to us to find a creative solution with no budget, no money, understaffed and no time. We talk through what to do and we offer creative suggestions for a new path forward.
DEMPSEY: A perfect example is the security clearance process for internships.  It's so onerous that many student interns don't have the time to get the clearance to have in-person internships. But, our virtual intern is producing great products and outcomes because we were able to engage in a digital internship with her when an in-person internship wouldn't work.
GOVLOOP: What have been the biggest challenges to innovation within the State Department and how do you overcome them?
DEMPSEY: The biggest challenge is to keep ourselves inspired when no one else is applauding us. [As a result], we don't ask permission we just move forward. If we ask permission the response is 'who told you to do that?' We don't ask, because it wastes time. Equally, we allow ourselves to envision beyond what's traditional.
GOVLOOP: What has been the biggest payoff?
DEMPSEY: The payoff is how many people come up to us at speaking engagements, both colleagues and others, and say: "Wow you're so positive and innovative and warm, are you sure you're with government?"
RODDY: I agree. And because we empower ourselves and empower agencies across government, people come to us when they're not sure what to do. We try to default to "yes" instead of telling them "no" in order to see how we can help.
GOVLOOP: Can you speak a little more about how your partnership improves your work?
DEMPSEY: Our partnership brings together civil service and foreign service as well as generations. We take advantage of our cross-generational partnership and, as a result, we have a good sense of what's appropriate and what's not appropriate.
[For example] with email and communication, Bridget has learned from me that there are times when a phone call improves the conversation. When someone hears the warmth in your voice, they believe in the purpose. But, I think Bridget added warmth to my email communication. Between the two of us, we've honed those skills.
If I didn't have Bridget next to me, we wouldn't have accomplished half the things we do. With the right creative partner, you can make yourself very excited about an idea and find it very rewarding even if there's no one around applauding you for those ideas.
GOVLOOP: Would you say that a lot of women could benefit from work partnerships, especially in fields that are male-dominated?
DEMPSEY: Yes, and I think two women together, rather than seeming more threatening, are more understandable. It's less threatening to have two people who are credible and cross-generational to present an idea. You can feel the power of the both of us believing in it.
RODDY: I feel that there are things I would not have been able to do if Nora had not encouraged me. Sometimes I may not have the confidence to send a message and it helps when you have someone next to you to encourage you.
DEMPSEY: Our skills complement each other and both of us want our product to be excellent. We aren't satisfied with anything we aren't equally confident in.
GOVLOOP: If you could give any advice to your younger selves, what would it be?
RODDY: The first thing that came to mind was "find a Nora."
DEMPSEY: That's a nice answer! Know that whatever you aim for should be joyous. If it seems like you're hitting your head against the wall, move in a different direction. Whatever you're made of, there's a job out there that will suit you and you shouldn't give up trying to find one that will combine all of the things that you are.
RODDY: Don't be too confined by your job description. Try to find a way to incorporate the things that you're passionate about into the work that you do. Your work should work for you.
VSFS is accepting applications from July 1-31. If you're interested in participating in the eInternship program, visit USAJOBS.gov to apply.