GovLoopers:
It's hard to believe but 2018 will be the 10-year anniversary of GovLoop.
And it's been quite a journey from:
Our June 2008 launch from my old white Macbook at a coffee shop (ouch that's not the most beautiful site, and ouch that's the most embarrassing YouTube video of all time)
Hitting our 10,000th member and celebrating in style
Being acquired by GovDelivery and then given the freedom to continue to run independently
Hiring our first employees (shout-out to Megan, Andy K, Doug), growing the team across three different office moves, all the while building a super smart team and a great culture
Launching as a joke the "Government Doesn't Suck" Rally and ending up with 100+ folks at our rally and coverage everywhere from local papers to Fox News
Joining with YGL to launch and grow the largest conference for rising leaders "Next Generation of Government Training Summit" from Second Lady Jill Biden to Automattic/Wordpress CEO Matt Mullenwag .
Launching the "Lynda for Government" – GovLoop Academy and building 50+ free on-demand courses for government leaders
Our staff being asked to speak about GovLoop in conferences from Singapore to Israel to Germany, at associations from OECD in Paris to State Associations in Washington, speaking at agencies from OPM to HUD
Rocking the best swag in government from the original "Government Rockstar" t-shirt to dozens upon dozens of variations of stickers, e-cards, lanyards, t-shirts galore.
And over time building the largest online community for public sector leaders with 250,000+ government employees where every year tens of thousands of leaders take free online trainings, read hundreds of research guides, learn from each other & innovative companies, share ideas as featured contributors, all in the name of trying to improve public service.
Ten years is a long-time for an entrepreneur and it's time for me to get back to my entrepreneurial roots and explore new horizons. Starting January 12, 2018, I'm stepping down as President of GovLoop and will be moving into a senior advisor role with GovLoop (and our parent company Granicus).
Don't worry – I won't be far and you'll be in good hands with new GovLoop head Doug Mashkuri who will step in to to run GovLoop day-to-day. The decision is easy for me because of the people who will lead GovLoop forward. Not only is Doug the most compassionate and talented leader I've worked with, behind Doug is the best team I've ever had the honor to work with – 25 smart, talented individuals that come together as a team to get 1 percent better every day in serving you (our community). And our parent company, Granicus, run by Mark Hynes, is terrific and standing behind us along the way.
At the core as a member, GovLoop will look the same as it does today. Our mission never has and never will change – we are dedicated to connecting government to improve government and will continue to launch new great resources and learning opportunities for public servants.  Yet while our mission never changes, at the same time, change has been the only constant at GovLoop and every year we've changed in how we deliver that mission as we continue to test, iterate, and evolve new ways to serve you better, from items like last year's launch of GovLoop Academy nanocourses, worksheets, and case studies (and we have some great stuff cooking for '18 like our GovLoop ambassador program – stay tuned).
It's been an honor to be part of the journey of GovLoop the last 10 years and there's a huge list of folks who made GovLoop what it is today. Personally, I've changed a lot in 10 years.  I went from never having managed anyone to having managed over 40+ folks across roles.  From never having given a public speech to keynoting for 1,000+ attendees. From being single and living in Florida to married with a great wife and two kids in D.C. The list is too long to possibly thank but from GovDelivery founder Scott Burns who took a shot and invested in me, to both my mentors and my mentees who gave me strength in the journey, to all the current and former members of the GovLoop team that have poured their blood sweat and tears in making GovLoop what it is, to all the GovLoop members who have shared their ideas, spoken at events, or just invested one hour to learn how to make government better…and of course my wife Elizabeth who has been my rock along this journey…I say thank you.
Together as a community we've accomplished a ton in 10 years. Personally, I can't wait to see what the next 10 years for GovLoop has in store.
I'm sure it will be awesome.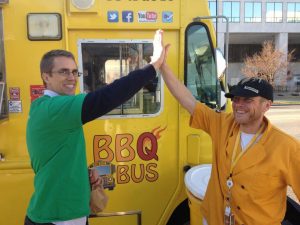 -Steve