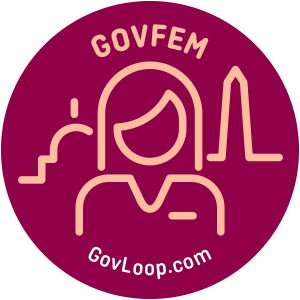 Five leading women in government technology spoke about their careers in the public sector at AFFIRM's Trailblazing Women in Government event on Jan. 26. We heard from:
Stacy Dawn, Assistant Director for Privacy and Security Compliance, Office of Information Technology, U. S. Securities and Exchange Commission
Beth Angerman Executive Director for Unified Shared Services Management Office, General Services Administration
Adrian Burton, CIO of Information Technology, Health and Human Services Department, Health Resources and Services Administration
Janice Haith, Deputy CIO, Department of Navy, Retired
Renee Macklin, Director of IT for Enterprise Services, Commerce Department
The women shared what they learned from their experiences and how these lessons could benefit rising female leaders in technology. While many of us aspire to have half the impact and success these women have had throughout their careers, their guidance may make our goals more attainable. Here are four pieces of advice from the AFFIRM panel for women and girls in tech.
If you want to work in the public sector, be persistent
After working in the private sector and later being hired as CIO of International Trade at the Commerce Department, Macklin offered tailored advice for women looking to transition from the private sector to the public sector. "There are a lot more steps that we go through [in the public sector]," she said. "We're looking at resumes only in some cases, because that gives you an opportunity to see somebody's working experience."
Let's say you've kept up with USAJobs announcements and put all of your relevant experience on your resume and you still haven't heard back. Dawn said to be relentless. "Just keep applying. There's this thought out there that all the positions are already [filled, but I've always hired the most qualified person for every position."
The same applies to promotions within the public sector. Instead of letting your self-doubt get the best of you, apply for whatever position interests you. "You might be a little unsure, but they're going to pick the best qualified," Dawn said.
Prepare for Change
Given that the face of technology is always adapting, every panelist was in agreement that women seeking careers in both tech and the public sector should prepare themselves for constant change. "If you have a really strict career path that you've already laid out, it may be harder to do that than it would be to give yourself flexibility," Angerman said. "Times change so fast and technology changes so fast that you have to be willing to accept whatever the new challenge is going to be."
So how do you stay on top of the ever-changing face of tech? Be attentive. "Keep your head up," Angerman said. "Pay attention to what's happening around you, and how the technology and political landscapes are changing."
"Education is still very important," Macklin added. "It's very important to continue to develop professionally, because if you don't, you can't stay on top of what's happening".
Seek out diverse experiences
In addition to being prepared for change, the panelists suggested seeking change as well. Burton mentioned receiving a lot of skepticism early in her career after moving from the Office of Management and Budget to The Centers for Medicaid and Medicare services and later to Indian Health. She said that the diversity in her experiences make her a better CIO. "Move around, try different positions, and be open to new experiences in life. Don't let yourself stay in one organization for a really long time."
She also said that with new experiences, come welcomed challenges. "Do some unusual or hard things, because you learn from them. Don't wait for somebody else to push you. You have to push yourself."
Dawn learned this critical piece of advice as an intern for the Air Force. "They always told me that if I wanted to move up the ladder, I needed to get a breadth of experience. I rotated between databases and information assurance, helpdesk and networks. I got involved in each of the layers, so that I understood how IT works together," she said.
While changing positions often welcomes risk and rejection, the panel acknowledged that risk is essential to achievement for any career. Plus, Macklin encouraged that if you're capable of taking risk, "yu can always rebound."
If you don't have a seat at the table, pull up a chair
Burton was once the only woman at a table of 27 CIOs at the National Institutes of Health. So what do you do if you're one of few women in the board room? "Sit at the table like you belong," she said. "Because you may be the first and it may be uncomfortable initially, but over time you build credibility." In order to build this credibility, the panelists had a few words of advice:
Speak up: "Participate in the conversation to ensure that you're helping to build what the solution is, whatever that may be," Macklin said.
Be Prepared: "Make sure you understand all the different aspects of the issue and the diversity of the opinions about the topic," Haith said. "Then you can get your case across. "
Listen: "I find that most often everybody has something to say," Angerman said. "You have to find the courage to say it, but we always have something to learn. Assert yourself in the same way that you are listening to other people."
Finally, remember that you belong at the table. Diversity in IT is important, because differences in opinions leads to better outcomes. "Everybody brings something to the table," Macklin said. "And no one point of view is this is the only way. When you embrace that, you get a better solution."