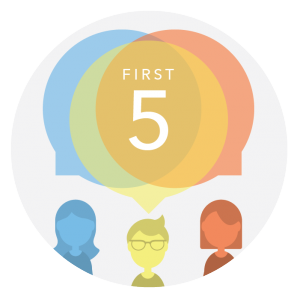 There's a reason why we take those internships. Even though we may be sacrificing time, money, and (for some) dignity, we tough it out in the hopes of gaining relevant experience and eventually attaining the ever-elusive full-time gig. The good news is, according to the National Association of Colleges and Employers 2016 Internship Survey, the average job offer rate to interns is 72.7 percent, which is the highest since the pre-recession market.
But navigating the intern to full-time process isn't as easy as it sounds. How exactly do we turn that internship into a job? While I'm no expert, I recently went through this experience transitioning from being a Fellow at my organization to a full-time employee. What I learned is that, even if I didn't realize it at the time, I was being assessed from day one.
That's why it's critical to prepare accordingly if you're interning at the place you want to work. Here are five tips gathered from both research and my personal experience to help you make that transition:
Act the part. Forbes explains that in order to even be considered a full-time employee, you have to look and act the part. Make sure you adhere to the organization's dress code and act with the utmost professionalism. Sure, you may be at the bottom of the hierarchical "food chain" for a while, but acting like an intern will only keep you being an intern.
Strive to do more than what's described in your position. Demonstrate that no matter how little the task, even if it's filing paperwork, you take it seriously and can get it done. Don't be afraid to ask for more work and responsibilities if you have the bandwidth. Setting goals with your supervisor can also be especially helpful for your professional growth and for grooming yourself to be a more valuable employee to the organization.
Network. The first piece of advice I got when I started my fellowship was to ask my colleagues to coffee. It doesn't matter if they're the CEO or the HR administrator: get to know the people who work at your office. Ask them questions and get a better sense of who they are and what they do in their jobs. Try and get to know people outside of your department to gain a more holistic picture of how the organization works. Not only will you get a better sense of how you can play a role in the organization, but you'll also demonstrate that you take your work seriously and that you're actually invested in the people and the company.
3.  Innovate. Fortune emphasizes the importance of remaining innovative. At GovLoop, our motto is to get better everyday by at least one percent. Even if you may be there temporarily, find some way you can contribute to your organization that would really help your colleagues.
During my fellowship, for example, I wanted to start a blog series that was unique and that would gain more readers for GovLoop. Not knowing that I would eventually work here full-time, I wanted to leave a legacy after my fellowship. That's how this First 5 series was created.
Think of ways you can innovate your company. You may not end up working there, but at the very least you can leave a lasting good impression.
Speak Up. There's no way your organization can hire you if you don't make your intentions clear so speak up. Let your supervisors and colleagues know that you're interested in working there and be ready to explain why. Ask them how you could better yourself as a potential candidate should anything come up.
Even if they aren't hiring at the moment, don't be discouraged. Organizations grow and change all the time and anything can happen. Just be sure you've voiced your interest so your name is one of the first they think of when something opens up.
Stay Gracious. Be ready to apply as if you are completely new to the organization. Even though I was an "insider" having been a fellow, I still had to submit an application and interview for the full time position. One of my bosses later commented that he usually sees inside candidates do poorly because they're too lackadaisical about the whole situation.
In short, stay gracious. Make sure you update your resume and organize your thoughts to explain what you've learned during your time as an intern. Don't get lazy during the hiring process and assume that, just because you've already been working there, the job is yours. Treat it as any other potential job.
There are plenty of opportunities to turn internships into the jobs of our dreams. But it takes diligence, perseverance, and taking the entire process seriously. For more about turning internships into jobs, see the following resources:
This post is part of GovLoop's millennial blog series, First 5.