Government service delivery is changing. From advanced analytics to digital forms to self-service portals, government agencies are investing in technology that improves how citizens access information. Digital transformation efforts are also positively impacting how government employees effectively do their job.
To learn more about digital transformation and its impact on government in the years to come GovLoop and Adobe partnered to create the below resources. Happy reading!
Industry Perspective: Increasing Efficiency in Government with Digitized Forms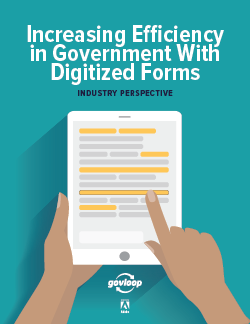 Citizen interactions with government agencies, compared with private companies, can seem like night and day in terms of ease, efficiency and speed. However, several agencies have taken steps to improve these cumbersome interactions by transitioning from manual, paper-based processes to digital experiences that empower citizens to quickly serve themselves.
In this resource, we build the case for why this change is needed and how you can better understand the benefits that come from investing in better digital experiences. Download here.
Industry Perspective: Enhancing Digital Experiences with Innovative Communications Tools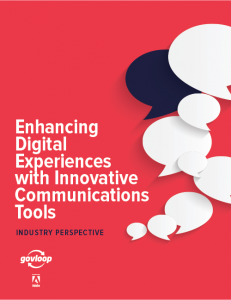 You would be hard-pressed to find a service in the private sector that hasn't become digital. And government is following suit.
In this report, you'll learn how government can use innovative communications tools for optimal digital citizen experiences. You will hear about how organizations like the HHS transformed content and communications to improve their web experience. We'll also explain how a customer-centric approach and modern technology solutions enable agencies to connect, predict and personalize user interactions across web, mobile and social media platforms to create a continuous citizen experience. Download here. 
Industry Perspective: Securing Digital Content Beyond Your Network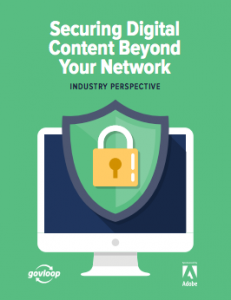 One of the greatest challenges agencies face in their digital transformation journeys is securing electronic content, particularly sensitive information, in a time of increased cyberthreats. But there are practical steps agencies can implement to enhance their approach to security.
 In this report, we take a deep dive into the challenges and opportunities that agencies face as they look to secure digital content beyond their network. Our experts share specific case studies on how they approach digital security at their organizations, the issues they face, and steps they took to enhance cybersecurity. Download here. 
Industry Perspective: How Government Can Thrive in the Digital Economy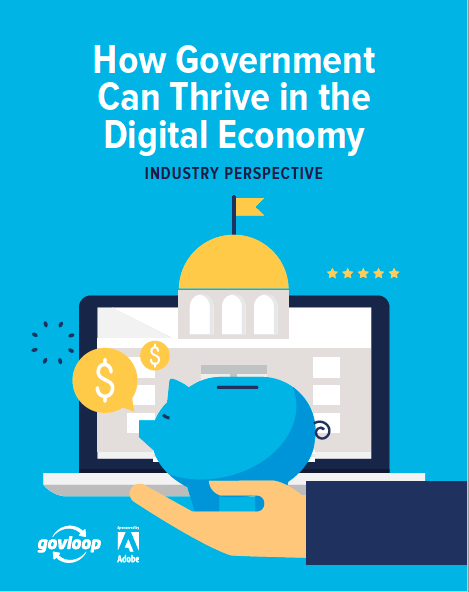 Data has shown that the way citizens want to interact with agencies is very similar to the way they expect to interact with brands in the private sector. For government agencies, economic trend data from organizations such as Adobe can bring greater perspective and diversity to their existing analyses of operations and the citizens they serve.
To help agencies explore new options for gathering, collecting and analyzing data, GovLoop partnered with Adobe for this report. In the following pages, you'll learn how Adobe is working to help government agencies take advantage of big data through its Digital Economy Project and what the overall effort entails. Download here.
Be sure to also check out our on-demand online training on the Digital Economy.
Pocket Guide: Mobile Fieldwork in Government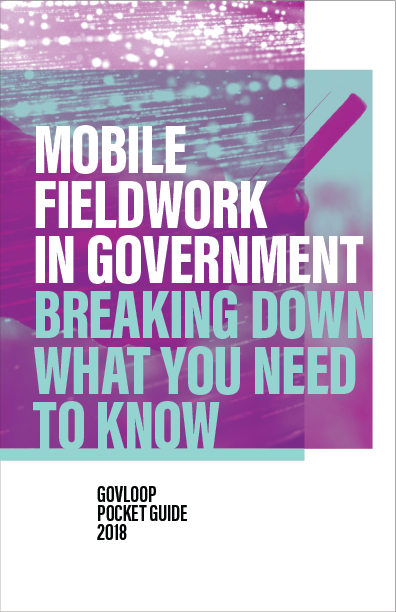 A growing number of government workers are operating in the field and away from their desks and the office. They spend most of their time collecting information that can be obtained only in person to support the delivery of mission-critical services. Unfortunately, these mobile fieldworkers often struggle with burdensome paperwork. Download this pocket guide to learn how replacing paper processes with streamlined digital forms and documents can reduce operational costs, improve citizen satisfaction, accelerate service delivery and transform government services. Download here for more.
Pocket Guide: HR Modernization Breaking Down What You Need to Know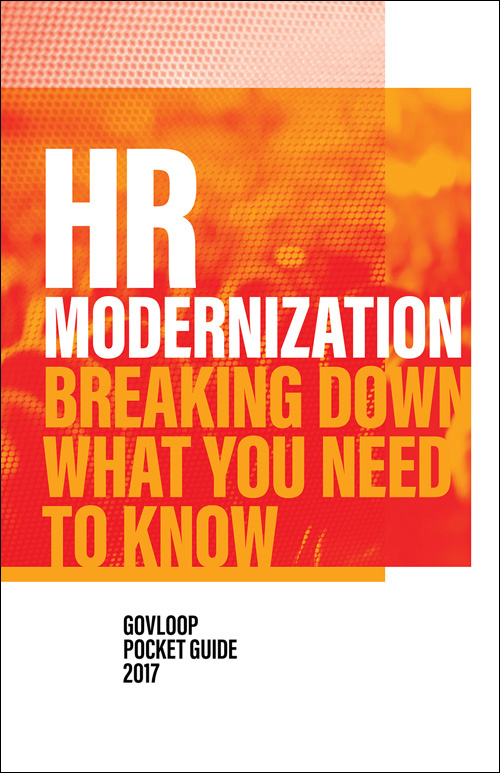 The use of modern technology in the government workplace promotes citizen and internal employee engagement and efficiency by making jobs easier and more enjoyable. The pressure is on for government decision-makers to provide online and mobile-friendly services that are comparable to those offered by the private sector. But preparing agencies to provide this level of digital experience is no small task, and it is especially critical and daunting in the area of government human resources.
To meet the challenges and opportunities presented by the emerging digital environment, public sector HR must transform its processes—from streamlining workflows and adapting to mobile to adopting e-signatures and e-documents. This pocket guide will give you an overview of HR modernization in the public sector, why it matters, and how we can be better at it, as well as case studies and how-tos . Download here. 
Other Online Trainings:

  Adobe's trusted and proven enterprise solutions enable next-generation digital government. We help government agencies modernize service delivery while reducing cost to serve, and processing time all while delivering remarkable digital experiences. www.adobe.com/government.