The Digital Accountability and Transparency Act, or simply the DATA Act, is tranforming the way federal spending is reported, managed and disclosed. Are you ready?
Once signed byPresident Obama on May 9, 2014, the DATA Act became the first federal law to mandate standardized data transparency. It requires the entire federal government to publish to adopt a consistent data structure for all spending reports and data compilations, including agencies' financial, budget, grant, and contract reporting. The new data structure must also cover the information reported by grantees and contractors. Ultimately, that structure will enable agencies to deploy analytics against spending data, particularly those that integrate.
Several agencies hit the ground running, and have made progress towards the goals outlined in the Act. Last Friday, the Treasury Department and the White House Office of Management and Budget (OMB) met their statutory deadline and announced the common elements and common format that will govern federal spending reporting. Over the next two years, agencies must align their financial, budget, grant, and contract reports with these standards.
Meanwhile, a pilot program has kicked off at the Department of Health and Human Services to test the use of the DATA Act standards for reporting by grantees and contractors. Once the pilot program concludes, OMB must decide whether to impose the standards on recipient reporting as well as agency reporting.
In the meantime, feds are trying to get up to date with these developments and prepare for a more transparent future. The Data Transparency Coalition's second annual DATA Act Summit, with media partner GovLoop, will be the first opportunity to explore the transformation with the policymakers from Congress, Treasury, OMB, and HHS who are leading it. On June 9th, Coalition companies will demonstrate their DATA Act solutions on Capitol Hill. On June 10th, we'll gather at the Washington Convention Center.
Treasury, OMB, HHS, and over two dozen agencies will participate in the June 10th main summit. Confirmed speakers include Deputy Assistant Secretary Christina Ho, Deputy OMB Controller Mark Reger, a special colloquium between Grover Norquist and Ralph Nader, and GovLoop founder Steve Ressler. The Summit is an opportunity to demonstrate the possibilities of data standards, as mandated by the DATA Act, for improved public-sector management, using tools already well-used in the private sector.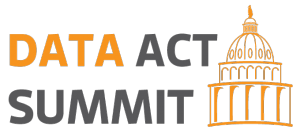 Join us to explore the DATA Act transformation on June 10th!