GovLoop is a vibrant community of more than 300,000 government employees, industry partners and knowledge experts — who are extremely engaged. You all have insights to share about career development; leadership; diversity, equity and inclusion; and other top-of-mind issues that matter most to government employees.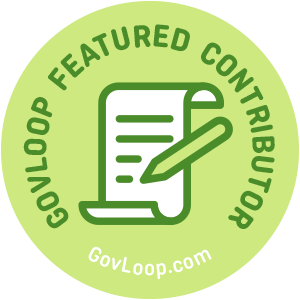 We launched the GovLoop Featured Contributor program several years ago as a way to elevate the knowledge and experiences of our community so that we can all benefit from shared insights. We also know that many of you are prolific writers. You're looking for opportunities to document your knowledge, workplace hacks and lessons learned while developing your professional brand and investing in others.
Your contributions to GovLoop are so engaging and valuable that we're looking to expand on them. Today, we're announcing the 29th round of the GovLoop Featured Contributor Program.
We've already had very successful runs of this program, with more than 300 amazing GovLoop Featured Contributors (whose posts you can read here). We're looking to keep the momentum going with new voices.
The Details
We're looking for 10-15 great GovLoop voices to write two articles a month (12 total), starting mid-July through December. Articles are typically around 500 words. We accept applications on a rolling basis, so if you can't participate in this cohort but are interested in writing in the future, please apply and we can discuss future opportunities.
We welcome you to write about topics that you're deeply passionate about, and we ask that you use one of the following categories below to frame those conversations. We want to ensure that your stories resonate with as many public servants as possible.
For example, if there's a technical topic or work experience you'd like to write about, consider how you might tell that story through one of the following lenses:
Leadership
Diversity, equity and inclusion
Resilience/change management
Process improvement/agency outcomes
Professional and workforce development/learning
Employee and public engagement/experiences
Communications
Career advice for new and current supervisors
Workforce planning (hybrid workforce, retention, etc)
If you want to be a part of this prestigious program, it's easy. The deadline for applications is Thursday, June 16. All you have to do is email [email protected]. At the moment, we are giving preference to government employees at every level but do welcome private sector professionals to apply as well. Use the subject line "GovLoop Featured Contributor," and include the following:
Three blog post ideas and the bulleted categories you'd use to frame your stories. We are giving preference to topics that touch on the bulleted topics previously mentioned.
A writing sample
Your resume
What's in it for you? In addition to having your articles read by our community of 300,000, you'll get:
A featured homepage slot on GovLoop every time you post
Promotion and re-sharing of your posts to our social network communities
Recognition of your efforts and status via a special GovLoop Featured Contributor logo
Published articles and a great line on your resume
Opportunities to have your writing featured in GovLoop editorial projects
Any questions? Email us ([email protected]), leave a comment on this post or tweet @GovLoop. We look forward to your ideas and contributions.