I have some bad news. There is no such thing as paint-by-numbers training. In fact, trainings come in all sizes and shapes. But there are some basic tenets that make an effective online experience.
In GovLoop's new guide, Your Virtual Training Playbook, we talk about how each type of training still starts at the same place — with clear learning objectives.
Creating a Clear Learning Objective

Regardless of training type, the root of every memorable learning experience is identical: Start with clear learning objectives. An objective is different from the overall goal of the course because the objective describes the predictive outcomes of the course. In other words, the objective tells participants exactly what they will learn by taking the course.

The University of Washington created a three-part guide to crafting a learning objective that states, "The learning statement should be a clearly worded sentence that expresses what participants will have learned and how they will demonstrate their learning."

We have adapted the university's guide to fit government needs: 

Step A: Use the following eight questions to guide the development of your objectives.

1.     Does your statement clearly describe the type of training (i.e., teaching information, improving a skill or changing an attitude)?   2.     Is the learning objective realistic for your proposed audience, available resources and length of time?   3.     Is it focused on one specific job-related task or knowledge area? Does the training tie to specific learning objectives, executive core qualifications or continuing professional education credits?   4.     Is it worded as a behavioral statement — something they actually have to do, not just understand or believe?   5.     Is the statement specific and precise about what they are supposed to be able to do?   6.     Is the entire learning objective stated clearly, with no extra words?   7.     Can you measure an objective to determine if learners understood the material?   Is anything missing?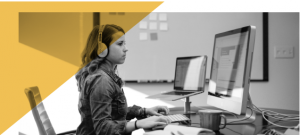 STEP B: Ask a subject-matter expert (SME) to analyze your learning objective. How can it be improved?
STEP C: If necessary, rework your learning objective so it helps learners achieve the outcome you identified at the beginning of this exercise.
At the end of the learning statement you must be able to fill in this blank: By the end of this training, a participant should be able to _________________.
To help you out, we drafted two examples of well-crafted learning statements
Following the mentor training, government professionals with less than five years of federal experience will be able to explain all five steps for enrolling in an OPM-crafted mentorship program.
After attending this cybersecurity training, all new federal employees will be able to articulate the basics of how to securely password-protect their work computers and mobile devices. 
The I-Tech Implementation Guide states that the best learning objective statements are SMART: specific, measurable, action-oriented, reasonable and time-bound.
"We are living in the age of the learner outcomes," Bozarth said. "We spend a lot of time talking about, 'How can I teach this?' when really we need to be asking, 'How can we make sure the attendee understands the new requirement or best practice?' We need to design for the learning outcome first."
If you want to learn more about how to create an engaging virtual learning experience, download our new guide, Your Virtual Training Playbook.