This article is an excerpt from GovLoop's recent guide, "Solving the Cloud Conundrum: Security, Procurement, Workforce." Download the full guide here.
Cloud has been changing the game in government services for over a decade now. Whether it's helping agencies innovate more quickly, be more efficient, save money, or provide better services, the public sector has embraced cloud computing to modernize both their technology and the ability to connect with citizens.
To learn how government is using cloud to innovate in increasingly new ways, GovLoop sat down with Brett McMillen, General Manager, U.S. Federal Civilian and Ground Station, Amazon Web Services (AWS), a leading provider of government cloud services.
When cloud first entered the public sphere, many viewed it as an inexpensive and more efficient way to compute and store data. It still does that, McMillen explained, but he's seen agencies begin to use cloud-native solutions to do more than was previously possible.
"This is a really exciting time to be in government IT, because the number of solutions that are out there, or the number of tools that an IT organization can utilize, has increased dramatically over the last several years," he said. "And a lot of that has been driven because cloud computing makes it easier for these innovators to come up with a software solution and make it available to the customers."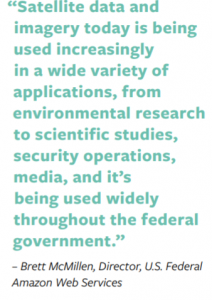 The Veterans Affairs Department (VA), for example, used cloud computing to increase uptime and improve user experience. Over at the Centers for Medicare & Medicaid Service (CMS), staff used cloud for robust data migration and deriving measurable benefits. And the team at healthcare. gov used cloud to deliver a stable and highly scalable set of features capable of handling hundreds of thousands of simultaneous users during peak insurance signup periods.
Now, AWS is taking these cloud services to space, with their new AWS Ground Station service.
Using AWS and AWS Ground Station, agencies can streamline their current satellite data workflows, rapidly experiment with new applications, and deliver products to market faster without the constraints of long-term contracts for infrastructure. Using AWS Ground Station, customers can save up to 80 percent of their ground station costs by paying for antenna access time on demand, and they can rely on AWS Ground Station's global footprint of ground stations to downlink data when and where they need it.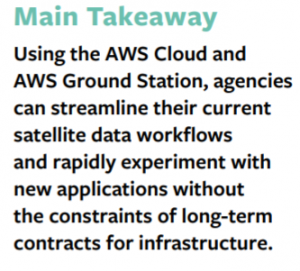 Government uses satellites for a wide variety of use cases, McMillen said, including weather forecasting, surface imaging, communications, and video broadcasts. Ground stations are at the core of global satellite networks, which are facilities that provide communications between the ground and the satellites by using antennas to receive data and control systems to send radio signals to command and control the satellite.
"Today with cloud computing, you're able to quickly and easily get access to best-of-breed technologies and deploy them in near real time," McMillen said. "Cloud computing could solve federal IT's challenges in ways they never could before, and it's really only limited by their imagination."