State and local governments are facing ever-increasing pressures to become more agile and resilient. In the past, making these changes typically called for cost-intensive modernization projects. Implementing new digital services can be the answer, but the high cost of modernization projects and disruptions caused by these upgrades mean wholesale rip-and-replace transformation may not be feasible or even desirable for the public sector. Financial considerations are more important than ever in the aftermath of COVID-19, which has strained state and local budgets. Government officials must balance the need for new services with severe funding restraints.
Packaged Business Capabilities (PBCs)
Packaged business capabilities, or PBCs, offer a solution that enables agencies to incrementally roll out modern digital services at a pace that balances citizen needs with budget realities. These lightweight application building blocks can concentrate on specific business functions and be deployed independently. PBCs are low-risk and minimally disruptive, allowing agencies to modernize specific components of larger systems. Government organizations in Wisconsin and other areas are already taking advantage of PBCs in case management systems and other resources.
Portability and interoperability are two hallmarks of PBCs. They can be plug-ins for large enterprise systems. They also can be small, purpose-built programs designed to address a targeted business need. In addition, multiple PBCs can be combined to create composable applications that let government agencies offer new end-to-end services without making a huge investment in a new system. Highly tailored PBCs and their mix-and-match reusability for composable apps can help agencies reduce development time and costs for modernization projects. What's more, they enable governments to respond to citizen needs faster and can also be valuable for meeting federal initiatives that promote greater integration of business and information technology. The Center for Medicare and Medicaid Services' (CMS) Medicaid Information Technology Architecture (MITA) is a good example of the latter.
PBC Approaches
To make incremental innovations, there are three primary PBC modernization approaches that agencies can consider: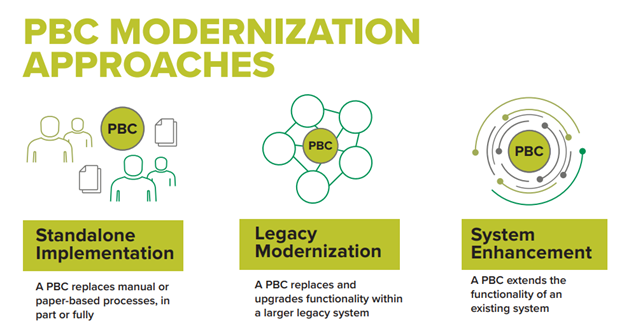 1. Standalone Implementation

Even in the technology age, agencies may still rely on manual or paper-based processes. With this approach, a PBC is used to replace these more traditional workflows. This can be a partial or a full transition depending on the agency's preference.
2. Legacy Modernization

Many agencies operate with legacy systems that would be too time-consuming to shift away from completely. Using this approach, a PBC is used to replace and upgrade functionality within a larger legacy system.
3. System Enhancement

When agencies are satisfied with their current system, they can introduce a PBC that extends existing functionality. This allows agencies to offer new end-to-end services without making a significant investment.
In short, packaged business capabilities let agencies modernize quickly and incrementally. Agencies can mix and match these approaches to implement the PBCs that benefit them the most. The concepts of microservices and composability have been around for a while, but the approach is gaining momentum with the rise of public cloud offerings and the variety of robust services they offer. Using PBCs to create applications that are hosted in the cloud gives government agencies a rapid and low-cost approach for modernizing important services and systems.
Interested in becoming a Featured Contributor? Email topics you're interested in covering for GovLoop to [email protected]. And to read more from our Spring 2021 Cohort, here is a full list of every Featured Contributor during this cohort.
Meredith Trimble is a former municipal official and Town Council Acting Chair, who focused on strategic planning, annual budgeting and bonded infrastructure projects. Her government experience also includes posts in both federal and state-level executive branch agencies: Associate Editor of the Federal Election Commission's FEC Record; and Director of Education for the CT Office of State Ethics. In her current role as a Content Manager, Editorial with Tyler Technologies, Inc., she writes content to help empower those who serve the public. Her current focus is to help facilitate data-enabled organizations and create connections between governments and those they serve.