Changes in federal government keep coming fast. That's why GovLoop gives you these monthly recaps of federal news that may affect agency management and employment. If you've fallen behind, check out the previous recaps.
By the time you read this, there will undoubtedly be new developments. And, this roundup can't include everything. The focus is on federal news most relevant to government employees. Check out the linked sources for more information to stay on top of the latest news in government.
1. Staffing and agency issues
The Washington Post described the hiring headaches created by "the extent to which Trump demands loyalty" from potential new hires, resulting in "hundreds of national security officials" being "nixed from consideration because they spoke out against Trump." Meanwhile, BuzzFeed News reported the "grim job prospects" for people who have worked for the Trump administration.
Talking Points Memo discovered "a full third of the senior Interior Department (DOI) career officials reassigned under Secretary Ryan Zinke in a major agency reshuffling are Native American, even though Native Americans make up less than 10 percent of the Department's workforce." And, after the White House released a photo of its new spring interns, the administration was criticized for the lack of diversity shown and for hiring practices that appear to favor white interns.
Trump issued an executive order creating a task force to evaluate the U.S. Postal Service's finances soon after he posted a number of tweets criticizing Amazon, which ships many of its packages through the Postal Service. As NPR and others pointed out, while "the Postal Service has lost money for years…it actually makes money on package deliveries, with Amazon accounting for a large chunk of that."
Simon Edelman filed a whistleblower complaint with the U.S. Office of Special Counsel, alleging "criminal corruption, obstruction of justice, and ethics violations" by Energy Department officials, including secretary Rick Perry
Advocacy groups are suing the White House to remove Robert Wilkie as acting secretary of Veterans Affairs, arguing his appointment violated federal law by bypassing the order of succession.
2. Pruitt's EPA problems
After Environmental Protection Agency administrator Scott Pruitt testified to Congress about his spending and other ethics issues, Politico characterized the mood at the EPA as "enraged and demoralized" because Pruitt blamed his aides and did not defend his staff.
The New York Times reported at least five EPA officials, four of them high ranking, were "reassigned or demoted, or requested new jobs" after questioning Pruitt's spending and management of the agency. One of those staffers, deputy chief of staff Kevin Chmielewski, was placed on administrative leave without pay earlier this year, and has since turned whistleblower, saying Pruitt "bold-faced" lied to Congress.
To summarize the allegations, investigations, and scandal surrounding Pruitt would be a monumental task. Thankfully Politico has created a complete guide to it all.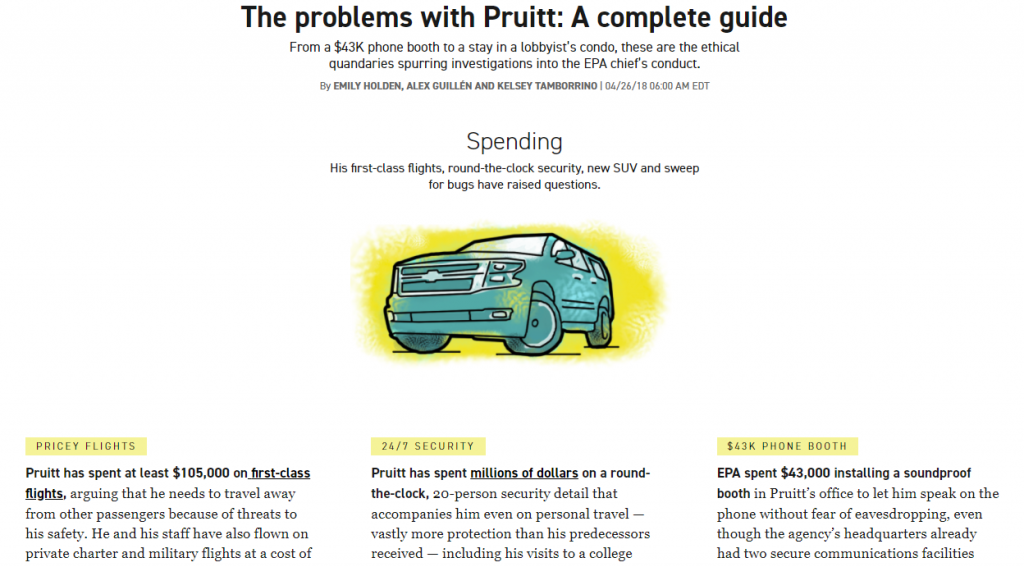 3. Departures
John Bolton has been busy reshaping the National Security Council, leading to many departures. NSC spokesman Michael Anton, deputy national security adviser for strategy Nadia Schadlow resigned, and deputy national security adviser Ricky Waddell all quit. Deputy executive secretary Megan Badasch left, though her departure was in the works before Bolton took over. Homeland security adviser Tom Bossert was pushed out by Bolton, and acting homeland security adviser Rob Joyce voluntarily but abruptly decided to leave the NSC and return to the National Security Agency.
The Weekly Standard reported that this "Bolton purge" means that "Bolton is inheriting an increasingly demoralized NSC staff in a West Wing that has seen a higher turnover rate than normal, even for Trump." Wired explained the loss of Bossert and Joyce "will slow the ability of the US to think about big-picture cybersecurity concerns" and CyberScoop described the situation at the NSC as a "power struggle…that will shape the fate of the nation's cybersecurity posture."
Just days after Mike Pence hired Jon Lerner, deputy to US Ambassador to the United Nations Nikki Haley, to take on a second role as his national security adviser, Lerner withdrew from the new role because Trump was "reportedly upset that a man who engaged in opposition research against him would be offered a prominent role in the West Wing."
Todd Johnson, advance officer at the Defense Department, resigned after a CNN investigation revealed he had "posted birther conspiracies about then-President Barack Obama and shared a video that claimed Obama was the Antichrist." Scott Blackburn, the acting executive in charge for the office of information and technology at the Department of Veterans Affairs, resigned for unspecified reasons. Thomas Homan, acting director of Immigration and Customs Enforcement (ICE), announced he will retire in June.
Samantha Dravis, senior counsel and associate administrator of the EPA's office of policy and a top adviser to Scott Pruitt, resigned. The House Oversight Committee is investigating if Dravis didn't show up for work for months. The EPA removed Mario Caraballo, deputy associate administrator of the EPA's office of homeland security, who "approved an internal report that undermined Administrator Scott Pruitt's claims that he needed around-the-clock bodyguards and other expensive security protection." Pruitt's head of protective detail, Pasquale 'Nino' Perrotta, accelerated his retirement after reports revealed his role in EPA spending decisions.
4. New hires
The Senate confirmed Mike Pompeo as secretary of state. Soon after, the Senate also confirmed several State Department appointees: Andrea Thompson as undersecretary for arms control and international security, Dr. Yleem Poblete as assistant secretary of state for verification and compliance, and Kirsten Madison as assistant secretary of state for international narcotics and law enforcement affairs.
The Senate also confirmed Andrew Wheeler as deputy administrator of the EPA. The former coal lobbyist "rejects the science behind climate change." Wheeler is first in line to lead the EPA if administrator Scott Pruitt resigns.
Trump appointed Susan Combs as acting assistant secretary for fish, wildlife, and parks at the Interior Department. Combs has a history of opposing endangered species protections.
Some key senior leadership positions not requiring Senate confirmation have been filled. The Pentagon named Dana Deasy as chief information officer. The National Geospatial-Intelligence Agency created a new chief technology officer position, hiring Anthony Vinci for the job. New national security adviser John Bolton hired Mira Ricardel as deputy national security advisor. At the FBI, David Resch was hired as executive assistant director of the Criminal, Cyber, Response and Services Branch; Andrew Vale as executive assistant director of the Human Resources Branch, and Nancy McNamara as assistant director in charge of the Washington Field Office. Homeland Security named Preston Werntz as the new chief data officer in the Office of Cybersecurity and Communications.
Though these new staffers at the U.S. Digital Service aren't political appointees, it's good to see the government's tech startup get an infusion of new energy. USDS hired Meenal Sedani , UX designer at Defense Digital Service; Leah Bannon , product manager at Digital Service VA; and at USDS HQ Cyrus Sethna,  communications lead; Bryan Lam ,  director of communications; Eunice Garcia , office manager; Andy Lewandowski , designer; Chris Eldredge , software engineer; and Jenn Noinaj , UX designer.
The Senate pushed through many more confirmations in April, including:
Energy Department: James Edward Campos, director of the office of minority economic impact; and Theodore Garrish, assistant secretary of energy for international affairs
Interior Department: James Reilly, director of the United States Geological Survey
Labor Department: Patrick Pizzella, deputy secretary
Education Department: Carlos Muniz, general counsel
NASA: James Bridenstine, administrator
National Endowment for the Humanities: Jon Parrish Peede, chairperson
Veterans Affairs: Paul Lawrence, undersecretary for benefits
Agriculture Department: Kenneth Steven Barbic, assistant secretary
Small Business Administration: Hannibal Ware, inspector general
5. Nominations withdrawn
Ronny Jackson withdrew as Trump's nominee for secretary of the Department of Veterans Affairs. The nomination of Jackson, who had been Trump's personal physician at the White House, surprised people within and outside the administration. After the nomination was announced, allegations were made by "current and former colleagues that Jackson overprescribed pills, drank on the job and created a hostile work environment." Jackson will not return to his role as Trump's physician. Trump has not nominated a new person as VA secretary.
The Washington Post and Partnership for Public Service nomination tracker report that 209 positions requiring Senate confirmation still have no nominee.
Note: This article not an opinion about or endorsement of any policies, regulations, or orders, nor of the behaviors of elected officials, political appointees, government employees, other individuals, organizations, or agencies.
Featured photo credit: Shealah Craighead, White House.
Lauren Girardin is a marketing and communications consultant, freelance writer, and trainer based in San Francisco. She helps organizations engage their communities and tell their stories. Her website is laurengirardin.com and you can connect with her on Twitter at @girardinl.