With more than 35,000 plugins in total and thousands of sharing plugins, WordPress is the hub of variety and options. But if you are a WordPress user, you would have noticed yourself changing plugins very often.
We keep on experimenting with WordPress plugins because it becomes quite difficult to choose one from thousands of them.
The purpose of providing us with so much variety is that the developers and WordPress managers can choose the most functional and suitable plugins for their websites. Keeping the fact in mind, we should remember that a plugin effectively working for the audience of one website may not be suitable for the audience of another website.
In order to keep it simple, we have picked eight awesome WordPress plugins for social media marketing which work for all types of audiences and websites.
1.     Monarch by Elegant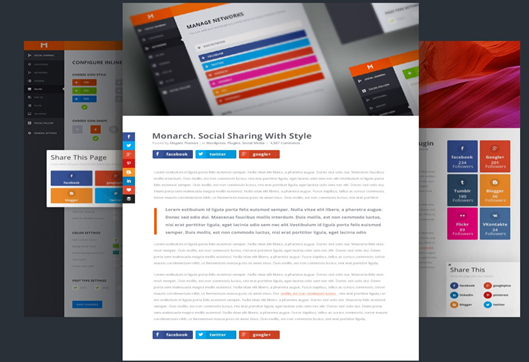 Picture courtesy: Elegant Themes
Boasting impressive features and style, Monarch by Elegant is not only the eye0candy but it is also your helping hand in social media marketing. Unlike other social media sharing buttons, it shows the sharing numbers only when they reach a certain number set by you. This feature encourages the visitors to share the content on social media.
With impressive and easy-to-use interface, its features also include the following.
Support for all social media platforms
Customizable fly-in and pop-over sharing buttons
Optional shortcode or widget display of social media icons
Multiple display options.
2.     Social Warfare by Warfare Plugins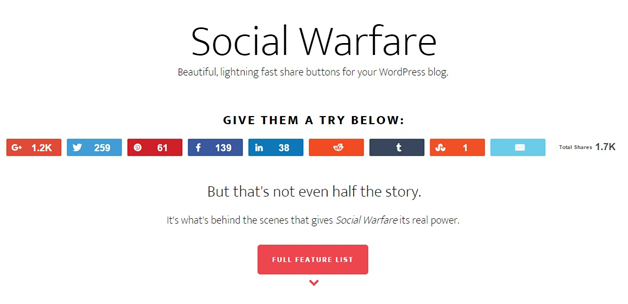 Picture Courtesy: Warfare Plugins
These simplest social media plugin buttons can boost your social shares up to 3X, according to a customer report on the website. Apart from boosting social sharing, it also offers you unique features – some of them are listed here.
It helps you produce Pinterest-friendly images and descriptions. Taller images get more traction on Pinterest than shorter images. With social warfare, you can customize the images and upload them to your posts to share on fastest growing social networking site; Pinterest.
It allows you to create customized tweets in tweetable quote boxes. The boxes are also available in a variety of great designs.
It allows you to hide low share count by revealing the number of counts only when it reaches the number set by you. This feature helps encourage more people to share your content.
The UTM tracking code can be used to track the number of traffic coming your way.
With a number of eye-catching themes, it also offers floating share buttons.
Above all, it is fully responsive so that you don't need to reposition the buttons from CSS.
3.     Ultimate Social Deux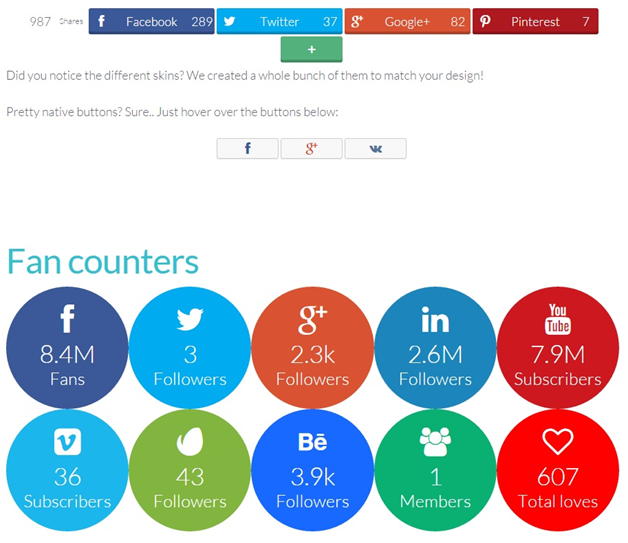 Picture Courtesy Social.Ultimate-WP
Supportive to all WordPress versions, Ultimate Social Deux comes with modern design and a number of facilities at very low rate. This plugin requires light javascript and CSS to position the buttons and ensures optimum page loading speed. Apart from its fast and responsive design for all screens, it also allows you to show the social media profiles sharing your content on sharing buttons.
With five placement options including page top and bottom, post top and bottom, floating buttons, vertical or horizontal layout, and left, center and right position in horizontal buttons, it becomes one of the most customizable social media sharing plugins.
4.     AddtoAny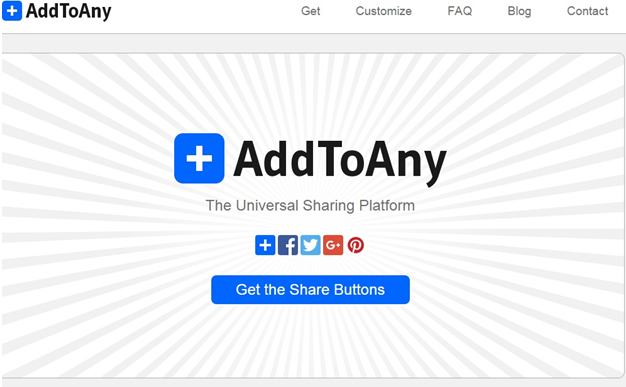 Picture Courtesy: AddtoAny
AddtoAny is one of the smartest and most customizable social media sharing plugins. It wouldn't be wrong if you call it the most advance sharing plugin. Its advance feature allows you to click and add your desired social media sharing buttons from 100+ options. In other words, it allows you to cater and market your content at all social media forums and to all types of audiences.
It also allows you to track the traffic in coordination with Google Analytics. With numerous placement options, it gives you compete authority to customize your social media marketing buttons the way you want.
5.     Easy Social Share Buttons for WordPress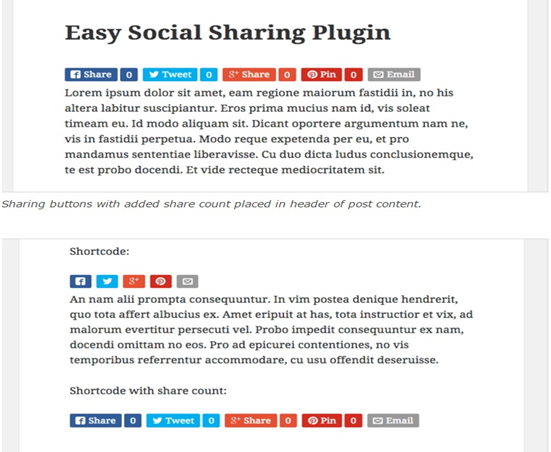 Picture Courtesy WordPress-Plugins
Easy Social Share Buttons for WordPress is a package of featured plugins offering you a wide range of placement options and amazing visual designs to make your website more attractive. It allows you to manually choose your sharing buttons from the given 35+ options. With cleaner interface and fast loading and sharing speed, its package also offers the following.
22 built-in templates
Fly-in and pop-up positioning options
Customizable button text
Built-in metrics
Option to set a number of shares to be displayed (the buttons will not show the number of shares before it reaches the set number)
Customizable button text
Mobile optimized
6.     Social Media Feather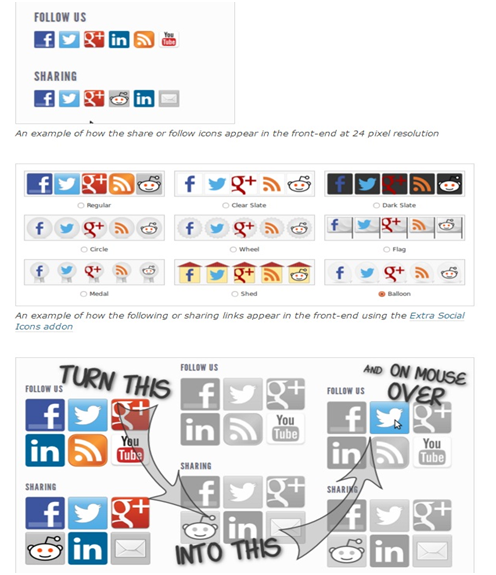 Picture Courtesy WordPress
Social Media Feather is a perfect option for people looking for simplest social media sharing buttons. Offering customizing options, it allows you to add more social media sharing buttons or remove the old ones. With full support to high resolution and Retina display, it is compatible to all WordPress versions. Its high quality icons provide fastest loading and sharing speed which is why it is named as Feather – light as feather.
It also provides you shortcodes for customizing the visibility of social media sharing buttons. 2 template tags or PHP functions are also available if you don't want to use the option of shortcodes.
7.     Social Share & Locker Pro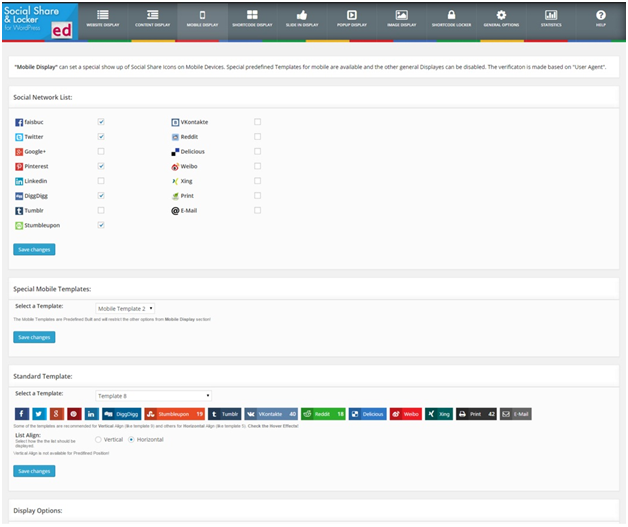 Picture Courtesy Code Canyon
Social Share & Locker Pro is a handy plugin that fully supports retina display and all screen sizes. Offering you 10 themes in the package, it also gives the option to customize button text. With various placement options and built-in content locker, it also displays the number of shares.
8.     Jetpack

Picture Courtesy Jetpack
The most commonly used WordPress plugin is still the favorite of all. Jetpack allows you to pick your favorite or required social media sharing buttons and add them to the plugin. If you are already using Jetpack template of WordPress then you can simply activate its sharing module to add these buttons.
When customizing your WordPress website with social media sharing plugins, make sure to pick the simplest ones with most versatile compatibility, not only to CMS and software versions but also with different types of audiences. Too much customization can deteriorate the overall look of your sharing buttons therefore it is recommended to stick to their original forms and keep tracking user stats to know the effectiveness of your plugin's functionality.