Did you get the memo? Social messaging has become a standard for citizen engagement. From young to old, people are using Twitter, Facebook, WhatsApp and similar platforms to engage with brands and organizations – and these organizations are increasingly meeting them there.
According to a Forrester report from June 2020, more than 40% of online adults use social messaging to communicate with brands. And Gartner predicts that by 2025, 80% of customer service organizations will have abandoned native mobile apps in favor of social messaging for a better customer experience.

You may think that social messaging is a nice-to-have when it comes to government. That's what David Moody, Vice President and General Manager of Citizen Engagement at Verint, thought too. But after the pandemic, with the upshot in digital communications, Moody sees the increasingly critical role social messaging plays for the future of citizen engagement and reaching the digitally excluded.
"What we're talking about here is expanding the reach of government services to more people," Moody said.
At GovLoop's online training Wednesday, Moody spoke about three reasons your agency should adopt social messaging into its engagement strategy.
1. Social messaging includes the digitally excluded
In Moody's life, people like his 86-year-old mother and 80-year-old mother-in-law will never visit a website. Yet they are comfortable – nay, prolific – users of social messaging apps.
Older generations are normally considered the digitally excluded, whether due to a lack of skills or technology access. But Moody's mother and mother-in-law use messaging platforms like WhatsApp religiously.
"Given that, wouldn't it make sense to give an opportunity [of engagement] for those folks?" Moody said. They would use government services more readily than a website. Social messaging channels also provide increased access for younger generations, who are using social messaging more than websites too.
"For certain people, both young and old, it is already their standard for communication," Moody said. "So government should follow suit."
2. Texts and calls aren't enough
Despite this, agencies may believe they are already offering channels to reach the digitally excluded through SMS and phone calls. But these aren't sufficient.
What's great about texting is that agencies can reach anyone with a mobile phone. But, there is a charge for each message that someone has to pay for. And, automated bots in SMS are quickly becoming outdated and unintelligent.
Interactive voice response (IVR) is another method that helps route callers to specific departments or representatives for their needs. But there's a reason it is sometimes endearingly called "death by a thousand options." It erects a barrier that makes it difficult for constituents to speak with government agents due to the numerous paths they have to take on the phone.
Social messaging, on the other hand, can use artificial intelligence (AI) to streamline communication. "You type something in, you get an answer. You type something in, you get an answer," Moody noted. It's not going to keep you "in a straitjacket" like texts and phone calls.
3. It's the future
Private sector organizations have already been pushing ahead with social messaging, but some governments have started offering this too. The city of San Francisco, for example, engages with constituents on Facebook. And it was the first government to use a bot for communication through Twitter.
At the webinar, 30% of poll respondents said their agencies offer social messaging today, and 18% said they plan to. In other words, nearly half of respondents are offering or planning to offer social messaging for their constituents.
Additionally, a 2021 Verint survey found that 40% of respondents believe messaging channels will have the biggest impact on their customer experience strategy in the next 12 months.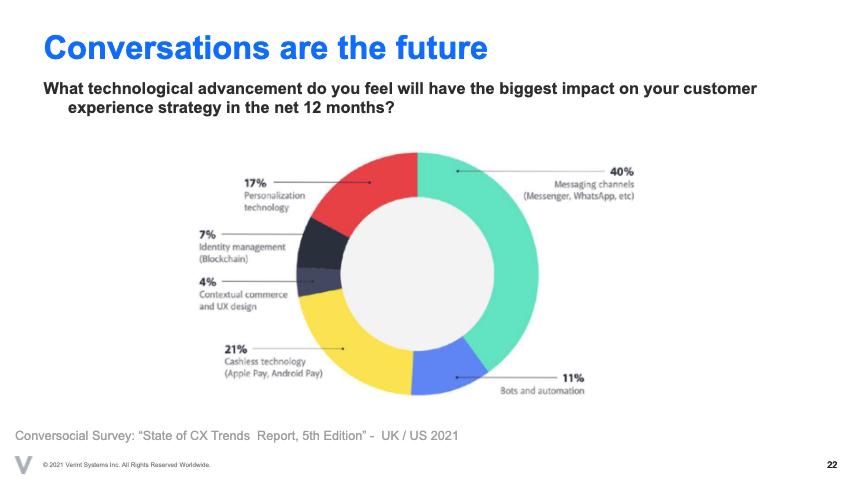 It's clear that social messaging is the future of citizen engagement. Is it part of your strategy?
This online training was brought to you by: