By Elizabeth Kiken, Teena Hampton, and Annette Picon
When media planning is done well, media selection is based on big data through syndicated research surveys. All people want media to reach the right audience. And some companies know who their audience is, while others may be surprised to find out who their audience actually is through analytics of previous media campaign insights, or through media research surveys. Once the audience is identified, it's imperative to understand their media consumption habits-whether they're high consumers of TV, online, or print. Research surveys also allow media planners to identify individual websites, or categories and genres of stations or websites. Based on hard data, media is strategically planned to maximize performance and cost efficiency. Media planning is so much more than, "I watch X program or visit X website, so let's run there."
DATA-DRIVEN INSIGHTS AND KNOWLEDGE

ICF has access to a multitude of syndicated research tools that provide intimate knowledge of our clients' target audience and their markets. These research tools are the engines of our data-driven media plans and allow us to make campaigns more scalable.                                                               
EXAMPLE RESEARCH SURVEYS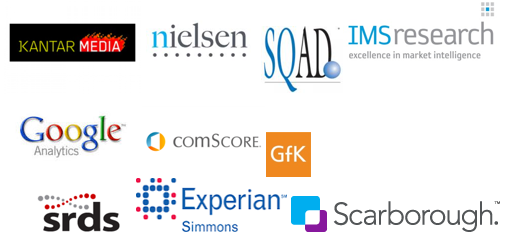 DESIGNING THE PLAN

Understanding Who Your Customers Are
Understanding the details of your customers is imperative to reaching them through media. The demographics, psychographics and purchasing habits of the consumer will lead to better marketing strategies in terms of creative, and offer campaign segmentation and geographic targeting.
Once demographic and psychographic details are known, media consumption habits are also able to be noted. Knowing what percentage of your audience is using the Internet or reads newspapers, and what kinds of newspapers or category of websites, is key to the ICF media team crafting the media plan. This allows the ICF media team to select the most effective media channels to use throughout multi-channel campaigns.
Varying Levels of Analytics Available Depending on the Media
Different media channels offer varying levels of analytics used for planning. Some, like digital and broadcast, offer syndicated research surveys, while other media, like newspaper and direct mail, use customer-provided information combined with third party research to come to appropriate areas and levels of outreach. Across all media channels, a specifically calculated reach and frequency is desired.
TRADITIONAL MEDIA

Traditional media can be used for building awareness, driving response, expanding reach and scale and establishing brand equity. Planning traditional media varies based on the kind.
Broadcast Media
When developing the plan for Television and Radio, the ICF media team uses SQAD, a cost analysis benchmark to evaluate the relative cost efficiency of the marketplace and to target geographically. We use MRI and Scarborough research tools to discover media coverage trends and target audience consumption habits. Our strong and holistic understanding of the audience is the basis and inception of our strategic planning and buying.
Print Media
Developing the media strategy for a print or direct response campaign requires different levels of data in order to determine the proper media channels, to reach the desired target audience and to develop maximum reach at a cost-efficient level.
Through the use of program participation data and census block identifiers, ICF's geo-spatial team has the ability to pinpoint select "hot spot" zip codes, even down to select neighborhoods and street levels, where the propensity to participate in a particular program is highest. ICF's media team uses this data as one aspect in its media strategy to identify the proper media mix for each program (especially relevant for print direct response, digital media and out-of-home).
In addition to participation data and census block identifiers, the ICF media team also uses Scarborough data to identify key consumer behaviors as well as media consumption habits. The media team uses many sources of data to determine the proper media strategy for each client and program. It is not a "cookie-cutter" approach. Each program is unique; our team explores all of the data and analyzes it to develop a custom media approach for each client and program.
Below is a list of print | direct response and out-of-home channels that the ICF media team has incorporated into the media strategies for clients and programs. Each element incorporates the use of data and analytics to determine its value in the media mix.
Print | Direct Response Media
Newspapers
When considering newspapers as an element in the media mix, the ICF media team reviews the target designated market areas, or DMA(s), and the newspapers available in the region(s). In addition to the program participation data and census block identifiers, the media team also incorporates the use of the SRDS Newspaper Advertising Source and media kits for newspapers.
Direct Mail
Direct mail is a highly targeted medium with distribution based on demographic and geographic targeting, as well as prior program participation and sophisticated granular criteria, including Tapestry codes.
Free-Standing Inserts (FSIs)
FSIs are geo-targeted, shared mailers with cost-efficient reach. Consumers look to FSIs as a means to find special offers and savings. Inserts can be geo-targeted down to hot spot ZIP codes or zoned areas.
Out-of-Home Media
Billboards
Billboard advertising provides 24/7 messaging exposure to drivers, passengers and pedestrians. Through the use of program participation data and census block identifiers, messaging can be placed in strategic, target-rich locations resulting in high awareness and broad reach.
Gas Pump Toppers / Tear Pads
ICF has the ability to pinpoint select gas stations in particular neighborhoods where the propensity to participate in favorable. The gas pump topper signage is placed on every pump at the selected stations. A customer engagement opportunity is incorporated into the strategy via "take-one" tear pads at each station pump. ICF was able to identify participation using a unique vanity URL for this particular element.
DIGITAL MEDIA

Common research surveys for planning digital media include comScore and Nielsen. Both offer deep insight into the consumer, including: technology ownership and usage, expanded demographic profiles, lifestyle, attitudinal, product purchase and offline media consumption data. Examples of available information include:
Food, beverage and restaurant preferences (including coffee shops and quick-serve restaurants)
Health histories and attitudes
Movie, music and video preferences
Purchasing propensity for new technology, vehicles, etc.
Retail/apparel preferences
Sports and leisure preferences
Traditional media consumption (TV, newspapers and magazines)
Travel preferences and experiences
Internet behavior
Once consumer attributes are identified, including internet media consumption habits, identifying websites and category of websites can be pulled to help craft how digital media buys should be planned and purchased. Understanding how consumers are using the web and which devices they use is key to having as accurate pricing as possible when planning digital media for clients.
DATA INTO PLANS

Media Plan Creation and Optimization
Once research is done and data is dissected, our team begins to draft the media flowchart, outlining media channels, weights and flights.
Our team regularly measures, analyzes and reports campaign results to improve campaign performance over time. We dig deeply into campaign data to discover those "nuggets" that will drive conversions and improve cost-efficiency. We don't rest. Our campaigns are dynamic and are continually being optimized to improve performance.
Understanding which media underperformed allows us to put marketing dollars towards media with a higher return on investment while reducing the media spend, or test into new media channels.
A multi-media approach has shown to increase awareness and consideration by increasing reach and reinforcing the message through distinct touch points that complement one another.
CONCLUSION
Media planning is done by using complex syndicated research and proprietary data to ensure it reaches the desired audience. I've heard the phrase before, "Anyone can do media." Yes, anyone can do it, but can anyone do it properly and well?