If you're on the hunt for a job or think you may be looking in the future (so … nearly all of us), you should be on LinkedIn. You probably already know this, and you probably already have a utilitarian account with your basic vitals on it. But is it an attention-grabbing, job-offer-getting portfolio? Or is it simply an online resume?
These days, your LinkedIn profile is often one of the first ways people will be introduced to you professionally, but few people take advantage of the powerful tools the platform offers. If you're sending hiring managers to your profile – or better yet, hoping to be discovered by recruiters – you need to polish it to a gleam.
A quick note: Before you start changing things, be sure to turn off notifications to your contacts (look in the upper right corner of your screen for the dialog box). By default, LinkedIn will notify all of your contacts every time you make a change to your profile. While you may want that when changing jobs, you don't want to inundate contacts with dozens of notifications as you tweak your profile. Plus, you may not want to notify your boss of all these snazzy resume updates if she doesn't know you're looking for a job.

1. Get found in search
If a recruiter is looking to fill a position via a LinkedIn search, he'll probably type in a few keywords related to the position, location, and industry. If you want to get found, those keywords need to be scattered throughout your profile.
Two caveats: Don't lie (it'll come back to bite you), and don't go crazy seeding keywords or your profile will come off as spammy.
Here's where to put keywords:
Title: If you're looking for opportunities, rewrite your job title from whatever the default is to read something like "Financial Analyst for logistics and transportation companies".
Summary: Your Summary should be a friendly introduction to who you are and what you offer to employers, written from the first person point of view. A good tactic is to use the first few paragraphs to sell your overall skills, then list off specific skills further down.
Experience & Volunteer: Rewrite your job titles and descriptions to include specific keywords that relate to the skills you used there. For example, if you want to find new jobs as a project manager, rewrite sentences like "oversaw team in charge of doing X" to read "acted as project manager for X."
2. Get noticed with a catchy profile pic and headline
Once your profile is showing up in the search, you need to entice a recruiter to click on it. As she's scanning down the list, you have only a few seconds to convince her that you're potentially a great fit for the position.
How do you do that?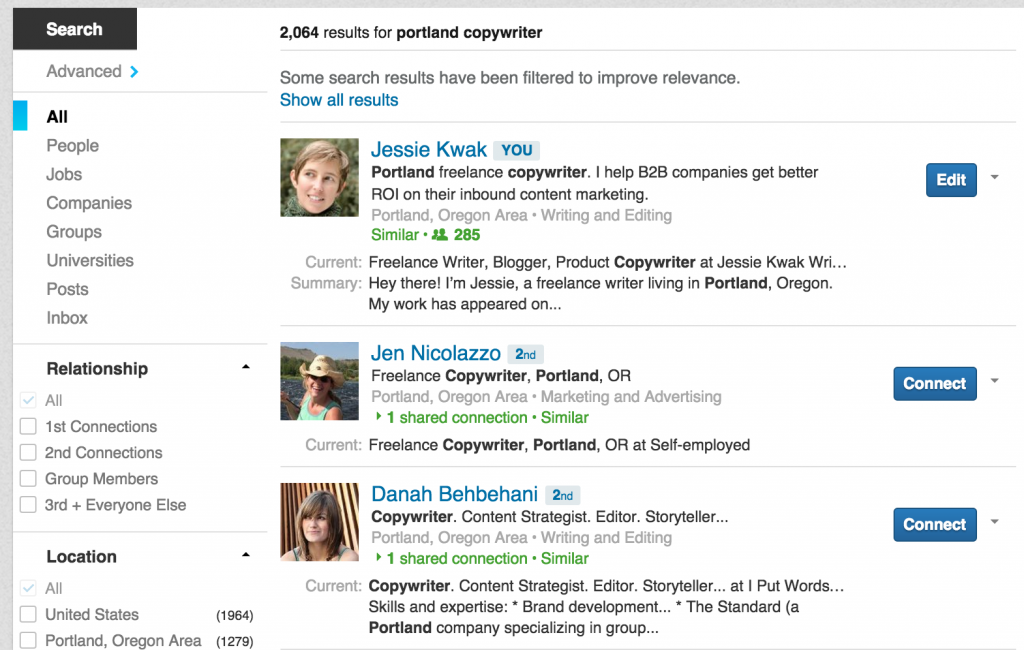 Start by searching for the job you'd love to have in the search bar, and look at who shows up in the top listings. Notice what parts of their profiles you see:
Profile picture
Name
Headline
Location & industry
Current job
That's all you get! This is another important reason to write a custom headline, rather than just using your current job title – it gives you two distinct lines in the search area to describe yourself, rather than just repeating yourself.
Make sure your profile pic that is both eye-catching and professional, and that it gives you some personality. If you're not sure what to do, take a look at others in your field – different industries can have different standards for photos. If you're in a creative field, for example, you may be better off with a more playful choice than if you're looking for jobs in sales (and, of course, that depends on what you're selling…).
3. Make your profile eyecatching
The recruiter clicked! Now, what will he find on your profile?
One thing that LinkedIn has that a resume doesn't is the opportunity to add visuals – so be sure to take advantage of it if you want your profile to stand out.
Add a cover photo. The opportunities here are endless:
Use a photo of yourself leading a meeting or working at a volunteer event.
Use a stock photo that illustrates what you do or the industry you're in.
Use a nature photo that gets across the mood you want.
Use a logo banner of the consulting business you're starting.
Mine is a picture of me running across sand dunes (incidentally taken about 2 seconds before I totally bit it), which I chose because A) it's a very regional photo, and B) it's got just the touch of whimsy to fit my personality.
Add rich media to your Summary and Experience. Instead of just writing your skills and accomplishments, draw extra attention to them by using compelling images. To do this, find the Add Media area in your Summary and Experience.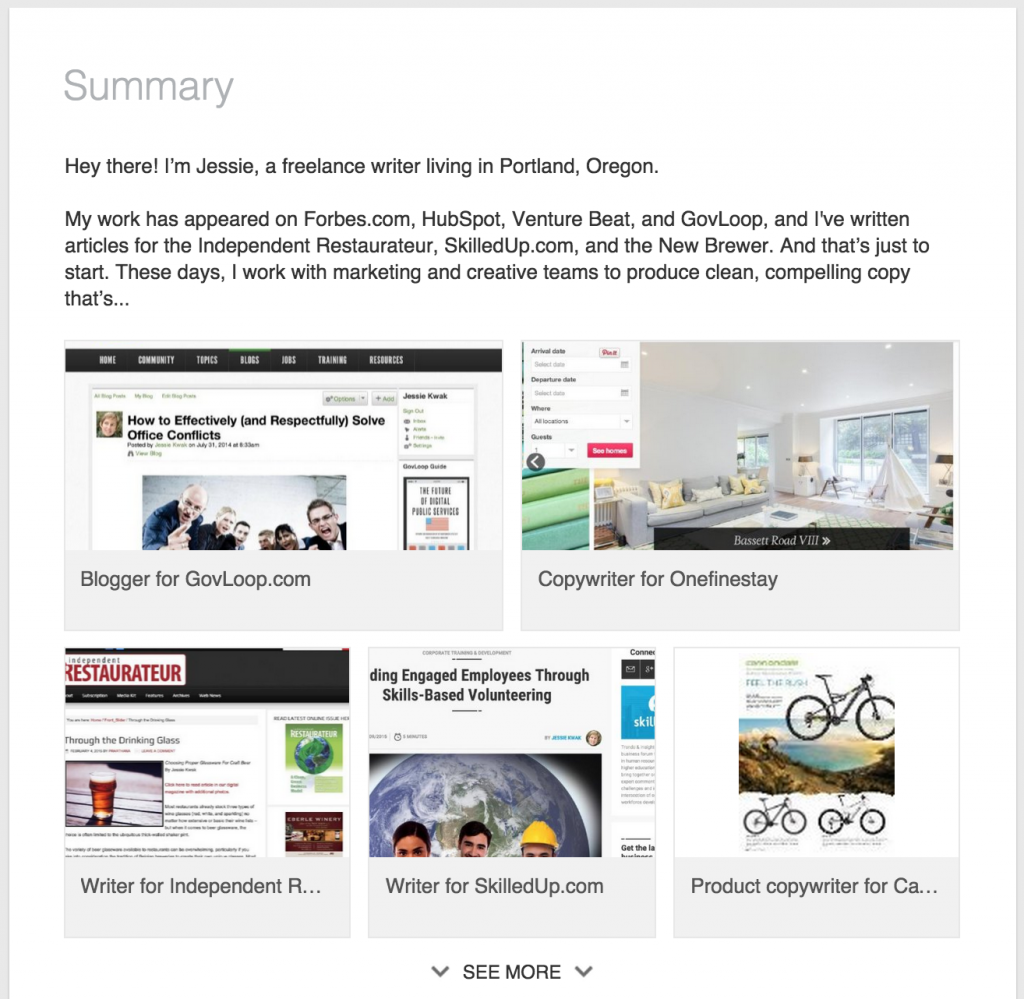 Even if you're not working in a visual field, this is easy to do. As a writer, I often take screenshots of live articles or the websites of companies I write for in order to illustrate a certain project.
What should you showcase? If you have a particular project or piece of work you want to call attention to, find a photo of it or snap a screen shot. Or, showcase a skill you learned on the job by using a stock photo (try MorgueFile for good free images). Write the skill in the title, and in the description write about your experience. (Here's another good spot to use keywords.)
Just look at the before-and-after difference between these two entries on my profile:

Congratulations on your attention-getting LinkedIn profile!
If you want to take your LinkedIn game one step further, try using it to actively network with people in your industry, or start building a name for yourself by curating links and publishing your own content.