Trusted Workforce 2.0 is a new initiative to fix the U.S. federal government's woefully backlogged security clearance process.
The initiative was launched in March 2018 by the Office of the Director of National Intelligence, also known as ODNI. If you aren't hip to the recon scene, ODNI is an independent federal agency whose mission is to "lead intelligence integration, forging an Intelligence Community that delivers the most insightful intelligence possible." That Intelligence Community is the collection of 17 government agencies and organizations that work to gather and develop information to protect the security of the U.S.
Basically, ODNI does cat herding. Very important herding of very wily cats.
During a March 7 Senate Intelligence Committee hearing on security clearance reform, Brian Dunbar, Assistant Director of Security at ODNI's National Counterintelligence and Security Center (NCSC), announced Trusted Workforce 2.0. He explained that Trusted Workforce 2.0 will convene leaders in government and the private sector "to identify and establish a new set of policy standards that will transform the U.S. government's approach to vetting its workforce, overhaul the enterprise business processes, and modernize information technology."
You don't have to watch the 3-hour Senate Intelligence Committee hearing or slog through the 67-page transcript. Here's what you need to know about Trusted Workforce 2.0.
Why is Trusted Workforce 2.0 needed right now?
As Dunbar explained to the Senate committee:
"When the background investigation process fails or is delayed, mission delivery suffers, the national security is put at risk, and [the U.S. government's] ability to attract and retain the workforce of the 21st century is inhibited."
It's clear that the government's background investigation process is failing or is decidedly broken. The situation has gotten so severe that, in January 2018, the Government Accountability Office (GAO) added the security clearance process back onto its High Risk List of areas that need reform because of their "vulnerabilities to waste, fraud, abuse, and mismanagement." The GAO cited three main points of concern:
timely processing of security clearances and investigation backlog
progress on critical areas of reform
quality of investigations
The backlog is huge. There are more than 710,000 pending background investigation cases in the National Background Investigations Bureau's backlog as of February 2018. That's up significantly from August 2014, when there were about 190,000. The backlog includes the record checks and investigations that the government uses to establish trust in the individual people who make up the federal civilian, military and contracted workforce.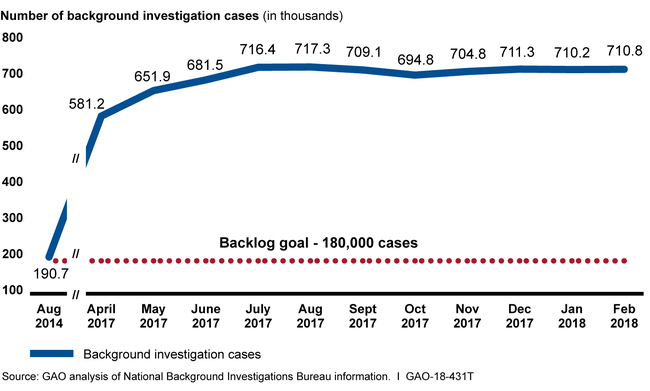 It's more than just the size of the backlog that matters. During the Senate Intelligence Committee hearing, a few other troubling stats were revealed.
The time it takes to obtain a clearance has more than doubled since 2014. In the first quarter of 2018, the fastest 90 percent of top-secret background investigations took was more than 300 days on average, four times longer than required by the Intelligence and Reform and Terrorism Prevention Act of 2004 (IRTPA).
At the same time, the cost of background investigations has risen by over 40 percent since fiscal year 2014. A whopping 98 percent of agencies did not meet timeliness objectives for initial secret and top-secret clearances in fiscal year 2016.
The backlog and delays are having a negative impact on government's ability to function. Mired in the backlog are contractors, civilian government employees, and military personnel — and not just people new to government work, but also those who need to go through reinvestigation to maintain their security clearance.
Kevin Phillips, CEO of ManTech International, told the Senate Intelligence Committee that "since the end of 2014, we estimate that approximately 10,000 positions required from the contractor community in support of the intelligence community have gone unfilled due to these delays."
What's causing the security clearance backlog?
Security clearance is a labor-intensive process that uses outdated systems and procedures, many of which date from the 1940s and 1950s. It relies on handwritten notes, paperwork sent by postal mail, in-person research and interviews, manual processing, and little modern technology. Agencies often use incompatible data and systems, which creates redundancies, inefficiencies, and a lack of confidence in investigations and adjudications done by other agencies.
The Senate Intelligence Committee heard story after story about the ways this backlog affects the workforce. New hires in government and the private sector can wait up to a year or more for their security clearance, during which time they're unable to do their job. Contractors may have to go through different, yet incredibly similar, investigations when they work with multiple federal agencies. Personnel moving from one government job to another may wait many months while their security clearance is redone, sometimes even when their new job is at the same agency they've worked at for years. The government investigates some of the same people, over and over, unnecessarily adding to the backlog.
What solutions are being considered under Trusted Workforce 2.0?
Reforming the security clearance process is a tremendous challenge. There's a demand both from within government and from the business community for a wide range of reforms. Ideas include uniform standards, modernized technology, integrated data, compatible systems, automation, increased staffing, continuous evaluation, clearer guidance and policies on reciprocity (honoring investigations and adjudication done by other authorized providers), portability (being able to transfer someone's clearance from one job to another), and greater collaboration between government and contractors.
Recent attempts to make incremental improvements have not been enough. Implementing these solutions requires greater interagency coordination. Brenda Farrell, Director of Defense Capabilities and Management at GAO testified to the Senate committee that agencies have been unable to make progress on key initiatives for reforming the security clearance process and reducing the backlog because there is not a "government-wide plan" with goals and milestones.
ODNI's Dunbar told the Senate committee that Trusted Workforce 2.0 will be looking at "concrete and transformative action" and taking a "clean slate" approach. What actions that will include remains to be seen.
What does Trusted Workforce 2.0 mean for a regular employee?
The Senate testimony made it clear that there's no quick fix for the current security clearance backlog. It's a complicated, entrenched, multi-agency problem that can only be solved by determined leadership pushing through aggressive reforms.
In the near term, Trusted Workforce 2.0 won't affect most people because changes to the security clearance process were not promised in 2018. By the end of this year, Dunbar said Trusted Workforce 2.0 will "identify and establish a new set of policy standards that transforms the U.S. government's approach to vetting its workforce." Once those policy standards are set, the intention seems to be for the slow wheels of government to start implementing the transformations in 2019.
If you're currently stalled from starting a job because you need security clearance, Trusted Workforce 2.0 isn't likely to shorten your thumb-twiddling time this year. If you're longing to apply for a job that requires security clearance, you'll have to decide whether working in government is worth the wait. And, if hiring new employees is part of your 2018 plans, don't expect the security clearance process to speed up in time to help you quickly hire the people you need to deliver on your agency's mission.
But 2019 could be different. With Trusted Workforce 2.0, there is reason to hope for improvements to the security clearance process.
Lauren Girardin is a marketing and communications consultant, freelance writer, and trainer based in San Francisco. She helps organizations engage their communities and tell their stories. Her website is laurengirardin.com and you can connect with her on Twitter at @girardinl.