In Educating for Deliberative Democracy, contributing authors and editor Nancy L. Thomas explore the critical role that higher education can play alongside expanding coalitions of civic organizations, public officials, and everyday citizens in strengthening democracy. At the heart of these efforts is a conviction that persistent public problems call for dialogue and deliberation that result in collective action by diverse groups of informed, skilled, motivated, and principled citizens–what many call deliberative democracy.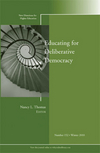 What makes deliberative democracy so appealing is that it holds equal promise for democratic renewal and students' learning. Its principles–inclusion, reason, neutrality, respect, and collegiality–can also guide the academy toward more democratic dialogue and political deliberation about the problems facing our communities, our nation, and the world, more examination of the values tensions that public problems engender, and more learning about how to improve people's lives, build communities, and strengthen democracy.
Educating for Deliberative Democracy covers a wide variety of democratic experiments in the classroom, on campuses, and in communities. Read and download Nancy Thomas's Editor's Notes, the table of contents and a sample chapter. Learn more about democratic education and engagement online at The Democracy Imperative.
A 35% discount is available for orders of 10 or more copies. To place an order, call Sandy Quade at 860-339-5023, or send her an email at [email protected].
This is the 152nd volume of the Jossey-Bass quarterly report series New Directions for Higher Education. Addressed to presidents, vice presidents, deans, and other higher-education decision-makers on all kinds of campuses, New Directions for Higher Education provides timely information and authoritative advice about major issues and administrative problems confronting every institution.
Resource Link: http://www.josseybass.com/WileyCDA/WileyTitle/productCd-1118032454.html